Palace have all the tools to put sides like Man Utd to task, but injuries and tactical rigidity hampered them in their defeat to Manchester United on Wednesday night, says Naveed Khan.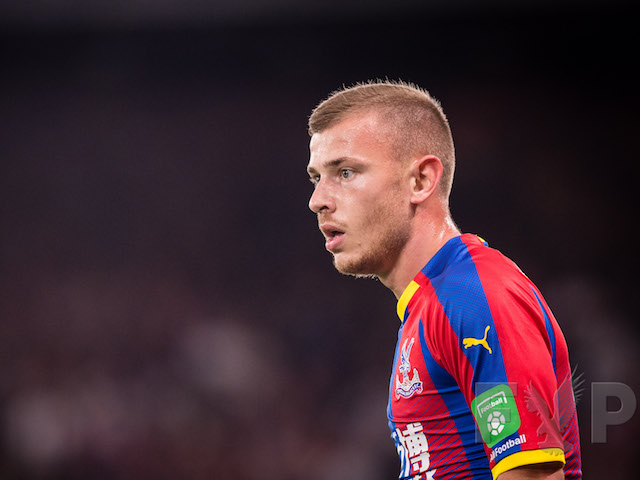 1 – Meyer Needs the Chance to Shine
The "New Meyer of London" was the club's slogan when Max Meyer joined the club in the summer. He came with much hype; and why wouldn't he? A midfielder who had played both in attacking and defensive roles, a German international and in his early 20s. Roy Hodgson's early reluctance to use him was put down to acclimatisation. But we are headed into March and that reasoning no longer stands. He seems to be a go-to option from the bench when chasing a game and his impact is obvious – he demands the ball, moves the team forward and provides a link between the lines. Against Manchester United, Meyer came on at 2-0 down and dragged Palace back into the match. It was not the first time he has done that.
Good players make other good players better – his presence on the pitch has an obvious impact on Wilfried Zaha who himself seems hungrier with Meyer around. James McArthur has been a great signing for Palace and played a big part over the last few seasons, with last season being a highlight. But Meyer is a better footballer and better option. The comparisons with Jonny Williams and Barry Bannan are unfair and have no basis beyond physical stature. The excuses for not starting him have run out. It is time to give Meyer a fair chance to shine.


2 – Sakho's Absence Hurts Defence and Midfield
Some players are more appropriately appreciated in their absence than when they are playing every match. Mamadou Sakho falls squarely into that category. Arguably our best ever central defender, some fans focus on his style or any error they think he may make. His absence against Manchester United was felt – and it is with no disrespect to his central defensive partner James Tomkins or understudy Martin Kelly to point that out. Sakho organises those around him, he makes himself available to receive the ball from the goalkeeper. His use of the ball means that the midfielders ahead of him do not have to drop deep.
While defensively, Kelly did an adequate job, the team's dynamic had to alter with Luka Milivojević having to receive the ball in deeper areas which in turn created gaps between him and his two midfield partners; areas which Manchester United exploited. Sakho's absence will be felt – perhaps the compensation for it has to be two-fold with Kelly at the back and Cheikhou Kouyaté coming into midfield to partner Luka.


3 – Batshuayi Needs to Adapt to Team Surroundings
Michy Batshuayi is an exciting forward player. Always looking to make something happen when he gets the ball and looking for opportunities to shoot. In many ways, the sort of striker the team has seemed to be missing. While he got off the mark against Leicester, neither that performance or that against Manchester United showed signs of the kind of hold-up play which the wide players and midfielders need to be impactful. He brings many benefits with his style of play, but if he is not operating in a way in which Zaha and Andros Townsend can be used optimally, he needs to adapt his game to allow this.
Leading the line in Roy's formation requires the forward to be the focal point from which the rest of team takes queues for their shape and demands that the hold-up play is in deeper areas being closer to the midfield and allows the wide players to tuck in. That tactical requirement is one of the reasons Christian Benteke's goal return was poor last term while his overall contribution to goals was apparent. Batshuayi needs to make similar sacrifices to his own game to maximise the team's output.


4 – Final Ponderings
Much criticism has been laid at the doors of Joel Ward and Kelly after the game; the tribal nature of social media dictating that things are either brilliant or awful. Neither had a bad game, they were victims of not being as good as the players they were standing in for. Wilfried Zaha is arguably Palace's greatest ever player and we are lucky to have him here – but for him to make the next step up in his career, he needs to win the team some games against the big sides. This is not in any way a criticism of him, merely an observation.
Much was made pre-game about Manchester United's injury woes, but they still fielded a side full of internationals and Palace missing Sakho and Aron Wan-Bissaka was a greater miss – it seems we are destined to never beat them in the league so we move on.