Palace secured a hard-fought win over Watford. Here are five things Rob learned.

Benteke needs support and service to score
As surreal as it was to witness, Christian Benteke's minor flare-up of frustration at Wilfried Zaha late in the second half was symptomatic of a player fighting a bout of low confidence. Zaha's pass was delivered a little too late and a little too wide, but it still left the Belgian striker with enough of an opportunity to get a shot off. That he didn't just shows how panicked Benteke is at the moment.
The service to Palace's lone striker hasn't been great. The win over Watford saw no shots on goal whatsoever. He needs passes and crosses to score from, and he's getting neither at the moment. Benteke is clearly desperate to score, as shown by his outburst at Andros Townsend in the win over Middlesbrough
If there is a positive to take from Benteke's performances, it is that there is little question about his commitment or his energy. Since Allardyce's arrival, he has been instrumental in Palace's high-pressing of defenders, allowing his side the opportunity to regain possession.
More work, more passes and more crosses will see him score soon enough.
Just incase you missed it... ????????????❤️???? #CPFC #CRYWAT @CPFC pic.twitter.com/N3czZydooQ

— Jay (@J_Ellen1) March 18, 2017
Ward is working
Joel Ward's performances since last season have been a point of contention for Palace fans. In a more open, less intensively defensive side, Ward lacks some of the qualities needed. His passing isn't wonderful, his positioning can be a little suspect and his reading of the game a little questionable too. However, under a manager that organises teams with precision, Ward is the ideal full-back.
He defends without nonsense, can take control of the ball in tight scenarios and does some of the attacking parts too. It's telling you that Allardyce was happy to forgo the signing of Carl Jenkinson during the January window.
His performance against Watford, against a quick and direct opponent in M'Baye Niang, made a big difference to Palace's performance. His passing wasn't great but he made up for it with an excellent defensive performance. It's good to see.
Sakho's quality isn't just defending
The headline statistic whenever Mamadou Sakho's signing at Palace comes up is that Palace have kept three clean sheets since he started playing for the club. It's a great stat and shows just what a great addition he is to Palace's defence. However, one of the better stats is that of his pass completion rate. According to Squakwa, of 38 attempted passes, he had an accuracy of 82%.
Sakho doesn't just bring defensive quality to Palace's team but he brings all the features of an international standard centre back. Composure under pressure, an ability to read the game and an eye for a quality pass. Sakho takes the ball, controls it and makes a decision suitable to what he sees in front of him. It's not the work of a genius but it's something Palace have missed.
Fitness shows after 90-minutes of hard work
If there's ever an example of how Allardyce has given the fitness of his players priority, it's the performance of Yohan Cabaye. The Frenchman, so often substituted at the 65-minute mark in games under the previous regime, went 84 minutes before needing to be substituted against Watford. This despite running himself into the ground -- another change in his performance.
Cabaye isn't the only player where improved fitness has shown. The entire squad looks better focused as matches reach the latter stages. And with that additional focus comes a greater ability to deal with teams looking to score late equalisers or winners. Palace's three wins are down to myriad factors, but fitness is one of the key ones. The squad just looks healthier.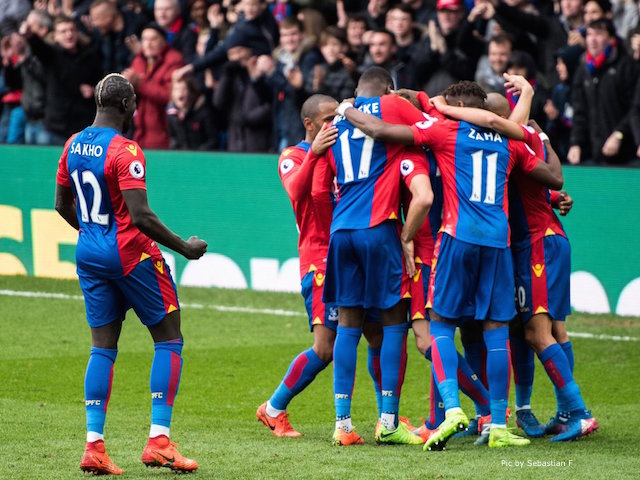 High-pressing brings high standard
The defensive work that Wilfried Zaha, Townsend and Benteke are doing in this Palace side shouldn't be underestimated. All three players are working tirelessly to pressure opponent defenders when in possession. By doing so, they rush them to make passes they can't complete. They also press the better quality players with the intention of exposing those who aren't so great under pressure.
The result is a greater ability to regain the ball. It's worth reviewing the game to see just how many times Watford were forced to play the ball back to their defenders or their goalkeeper.
And with each of those passes, one of the front three was there to put the player under some kind of pressure to rush them into a decision. While it's simply effective, it also requires fitness, focus and dedication to repeatedly chase those passes.
What did you think? Comment below...
---