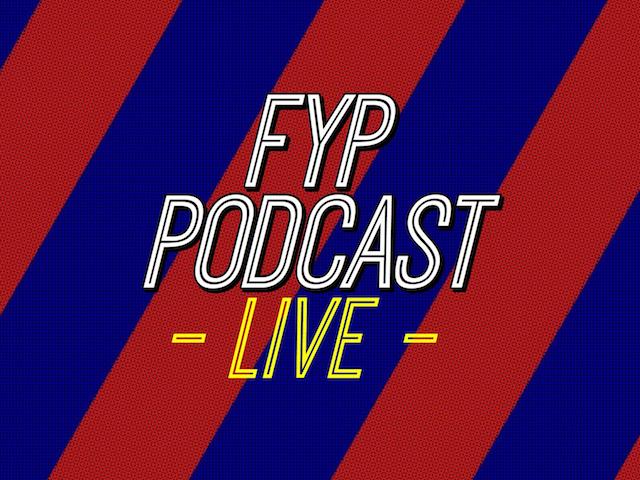 Well, this is exciting. We are doing our first ever LIVE Podcast in January 2020.
It's only taken us 11 years to build up the courage to pod in front of a live audienc which is weird when you consider 50% of our panel are standup comedians and one is a DJ.
Actually we did do one podcast with a small audiance at The Waterfront in Streatham years ago but everyone got so drunk we had to cut half the recording.
Anyway, on Friday January 17th we will be recording the first ever FYP Podcast with a proper live audience in a grown up venue and everything. We have booked the main auditorium at the Streatham Space Project in Streatham Hill. It has 120 seats which is both super exciting and terrfying that we won't fill them out.
We'd absolutely love you to join us on the night, where we'll also have a very special Crystal Palace themed guest. Someone who has played for the club and has a multitude of stories that we can't wait for him to share with us on the night.
Tickets are £10 each and to make sure we sell them in the fairest way possible we'll be doing what Palace do with away tickets and releasing them in stages:
Monday 11th - Available to Patreons on the $5 tier or higher.
Tuesday 12th - Available to all Patreons (including $1 and $3 tiers).
Wednesday 13th - Available to the general public.
If you'd like to make sure you get to the front of the queue you can join our Patreon at patreon.com/fyppodcast and you'll immediately be in the right group to get priority tickets, plus you'll have access to loads more fun content that our Patreons (almost 300 strong) currently enjoy.
That's about it! We really hope you'll join us on the night for what will be a memeorable event and hopefully the first of many live FYP Podcasts. Cheers!
Listen to the latest FYP Podcast here
---