After simulating on Football Manager the rest of this season before it returned and if Palace had won the 2016 FA Cup, Matt Buckland is back with another. This time; what is Frank de Boer hadn't been sacked after four games?
Over to Matt...
I added his backroom staff and kept the squad exactly how it was when the season started.
The goal of this experiment was to see how things would've gone if Frank had been given more time. Sadly, I was not able to start the experiment after the real life 1-0 loss to Burnley that sealed Frank's fate in real life so I ran this experiment from 14th August 2017, the 1st game of the season at home to Huddersfield *Shudders at the memory of that game…*
Anyway, here we go!
August
Decent start to the season with 4 points in the 1st 3 league games but a 1-1 draw with Fulham led to penalties which we unfortunately lost. Who cares right? it's only a winnable trophy… 🤭

September
Not a good month with only 1 goal scored (Benteke vs Man City)
October
No defeats which is promising but a lack of firepower meant that the dropped points in winnable games away to Newcastle and home to West Ham.
November
November brought the 1st win since the opening day of the season with a 2-1 victory at home to Stoke. A Benteke double sealing the points.

December
The busy December calendar provided some entertaining games but with only a 2-0 win at Watford (goals from Cabaye & Loftus-Cheek) to speak of, the half way point of the season was slightly concerning.

The 2-2 draw away to Swansea brought up the mid point of the season and it wasn't the best of starts for Palace. 3 points clear of the relegation zone so close enough for Frank to be looking over his shoulder…
The December ended with a great win at home to Man City (Benteke & Wilf) . This also meant that Palace had scored in each of the last 10 league games. Whilst the results weren't great, could this this be a sign of exciting things to come? Could we "turn a corner"? We shall see...
January
The transfer window arrived with Frank wanted to shake things up in the squad and he got his wish with a net spend of -£5m.
Ins
Outs
On the pitch, results took a turn with no wins piling the pressure on Frank. Only the FA Cup was keeping him in a job at this point. Sounds familiar...

February
This month would be critical for both Frank and Palace. Wins were needed to stave off relegation worries and the new signings needed gel quickly to improve Palace's fortunes. The next to games would be crucial…
Sadly (for Frank) the loss to Everton dropped Palace into the relegation zone in Everton's place and enough was enough for Parish. Frank De Boer was sacked just after the defeat. Literally. At 5:52pm.

Dougie took temporary charge (shocker) whilst Parish looked for his successor. A massive 3-0 (King, Sakho & Luka with the goals) home win against Spurs was a needed boost and the FA Cup wins kept coming (albeit through a replay).
March
Dougie would have one more game in charge before Parish was to name the next Palace manager. A decent 1-1 draw with Man Utd.
On 5th March, Crystal Palace announced their new manager; Andre Villas-Boas. Dougie went back to his "Sporting Director" role (whatever that actually is).
Villas-Boas took over with Palace in 17th place with 9 games to play.
However, losses to Huddersfield and Middlesbrough meant that Palace ended March in the relegation zone and out of the FA Cup.
April
Make or break time is here. 2 big results away to Bournemouth and home to B******n gave Palace a platform to build on. Unfortunately, defeats to Watford and Leicester damaged said platform. Palace ended the month 1 point above Swansea in 18th. With 2 games to play, safety is still in their hands.
May
The final 2 games of the seasons and it's crunch time. The task is simple. Win against Stoke and West Brom and Palace are safe.
Can Villas Boas do it? Can he save them so they can put the De Boer mistake behind them and stay in the Premier League to learn from their error?
Well…
The defeat to Stoke and a win for Swansea meant that Palace dropped to 18th place and into the relegation zone with 1 game remaining and 2 points from safety. Palace had a better goal difference than Swansea however so a draw for Swansea and a win for Palace on the final day of the season would mean that Palace stay up.
The final game…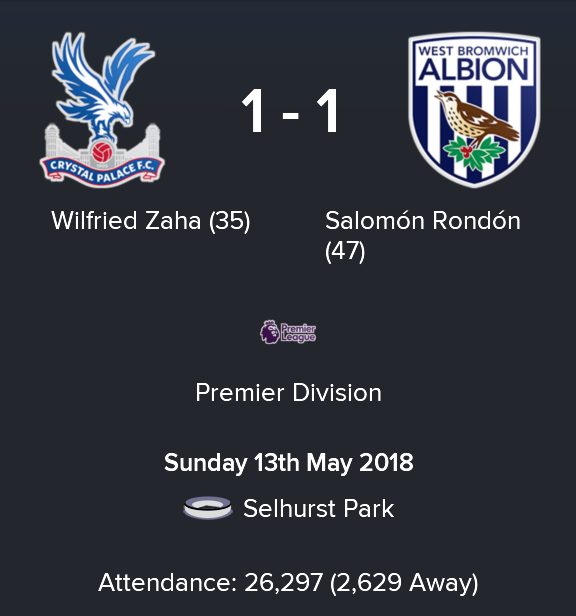 … and Palace fell short. This meant that relegation was confirmed. The final table looked as it does below:
Even with Benteke grabbing an impressive 18 league goals, Palace could not be saved.
So, there you have it.
Had we stuck with De Boer, we would've had a massively disappointing season for Palace and gamble would've failed to pay off. But, thank our lucky starts that this didn't happen and we went on to record a solid mid table finish in real life!
The next experiment… AFC Crystal Palace.
---