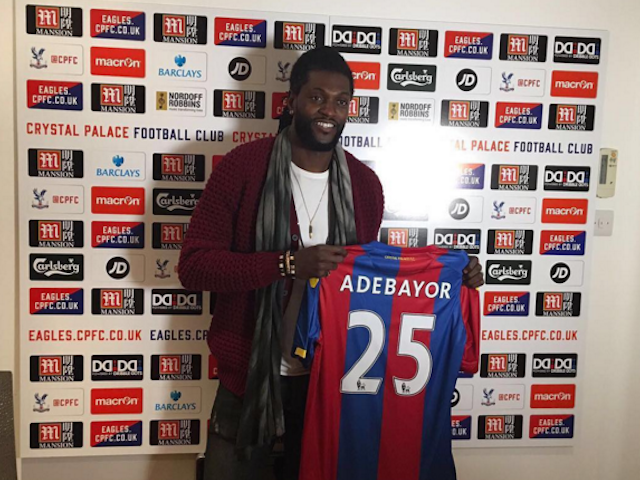 We asked Tottenham fan Dan Fitch to give us the lowdown on what to expect from Emmanuel Adebayor and how to get the best out of him.
The important thing is not to get too carried away.
Emmanuel Adebayor has scored on his debut for Arsenal, Manchester City and Tottenham. A complex and troubled individual, Adebayor is someone who enjoys fresh starts but can't help pressing the self-destruct button to ultimately ruin things for himself.
When you delve into his background in Togo, where he has shouldered the burden of being the financial saviour for a large family, only to be repaid with black magic curses and threats against his life, it's perhaps unsurprising that he is drawn to chaos.
But you don't want my cod-psychological evaluations. All you care about is whether he'll score goals for Palace.
He will. Adebayor has scored goals wherever he's gone and will enjoy being the focal point at Selhurst Park. Still only 31, it says much for his ability that he could overhaul Didier Drogba to become the top scoring African in Premier League history. Drogba, who had stability on his side at Chelsea, has only scored eight goals more than a player who has been regularly frozen out by the managers he's fallen out with.
Some have doubted whether Adebayor can hit the ground running after such a long time without a club, but it should be noted that his career has regularly been punctuated with spells in the wilderness, from which he's emerged with his powers seemingly unaltered.
He starts quickly. Adebayor scored four goals from his first eight games at Arsenal, four in five after joining Manchester City and nine in 14 during his opening loan deal at Spurs.
In that first season at White Hart Lane it looked as if the club had found the world class striker that we'd long craved. Scoring 17 Premier League goals in 33 appearances, Adebayor was the most important player in Harry Redknapp's team that finished fourth in the 2011-12 season.
To be the most important player in a team that contained talents like Gareth Bale, Ledley King, Luka Modric and Rafael van der Vaart is high praise, but it's not hyperbole. Adebayor didn't just score goals that season. He lead the line superbly, holding up the ball to give Tottenham's attacking midfield talents the opportunity to shine. Without Adebayor, the system simply failed to work.
Yet despite the high esteem I held Adebayor in during that campaign, I couldn't help but feel nervous when he was signed permanently in the summer. History suggested that the move would go sour.
My fears proved correct. He just wasn't the same player in his second season. The work rate dipped and his finishing became less reliable.
Redknapp had been sacked and replaced by Andre-Villas Boas, who would eventually fall out with Adebayor when the player refused to take off his hat during a team meeting.
In retaliation, AVB refused to play him, which became a source of tension with Daniel Levy when the team were struggling. Eventually Villas-Boas would also be sacked and Adebayor returned to the side successfully under caretaker manager Tim Sherwood.
His career at Spurs effectively came to an end when Mauricio Pochettino was appointed as manager. Adebayor was never going to fit into Pochettino's pressing system and he was used sparingly by the Argentine.
Tellingly, Pochettino decided to leave Adebayor out of his squad this season, despite the fact that he had no real cover for Harry Kane. Pochettino had no desire to be brought down in the same way that Villas-Boas had and wisely refused to deal with him.
Though popular with his teammates, Adebayor can undermine the authority of a manager. Pochettino identified him as a disruptive influence on his young squad and made the right call. Tottenham fans largely supported that decision, having grown sick of the lack of application from the club's highest paid player.
What Palace should learn from all of this, is that Adebayor can only be successful in the short-term. Given the lack of goals in recent weeks he is the perfect solution, but only until the end of the season.
Should he prove successful, the temptation for Alan Pardew and Steve Parish will be to sign him on a free. Under no circumstances should they do this. This is a player who can get managers sacked and drain much-needed resources from a club while he rots in the reserves.
Instead, at the end of his contract, Palace should simply thank Adebayor for his efforts and point him in the direction of China, Qatar, or some other desperate Premier League club needing a quick fix.
Adebayor is not someone you settle down with, but as a brief fling he'll put a spring back into Palace's step. Enjoy him while you can and make sure you're brave enough to say goodbye.
Dan is the editor of Tottenham Blog and writes for Sabotage Times and Unibet. Follow him on Twitter here.
---