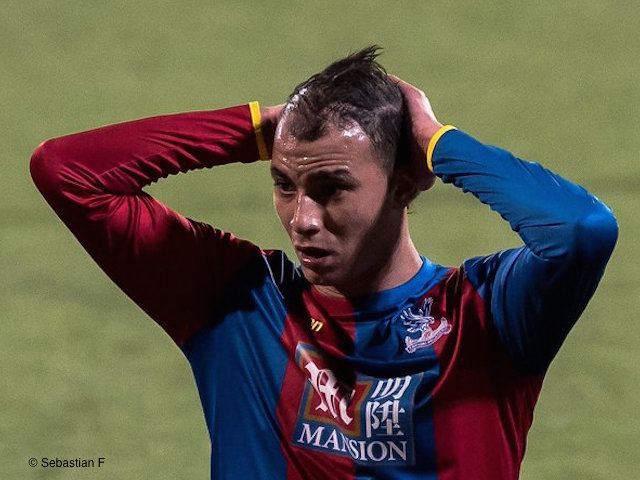 Palace's losing run continue with a disappointing home defeat to Bournemouth.
Scott Dann gave the Eagles the lead in the first half but Danny Pugh equalised before half-time. Benek Afobi grabbed the winner in the second half to leave Pardew's side without any points from league games in 2016.
But was there anything we could take from the defeat at Selhurst? Here ar 5 things we learnt.
1) Wilf Deserves Better Protection, But He Must Calm Down...
We love Wilf. He has been forced to carry much of our offensive threat on his shoulders since Yannick Bolasie got injured, and he has done it brilliantly.
Unfortunately, with such flair and brilliance comes extra - often aggressive - attention. Wilf has spent the last few weeks taking kicks, shirt-pulls and gesticulations in his stride, but in response to the treatment he was getting against Bournemouth, he finally flared up.
Any player subject to constant fouling will look to the referee to get some protection. It's not just a case of the referee looking out for one player - it's a case of general vigilance - and Mike Jones failed miserably. In fact, he missed quite a few of Bournemouth's cynical challenges - or chose to ignore them.
Following repeated fouls from Adam Smith and Harry Arter, Zaha let his frustrations get the better of him - initially needing to be calmed down by Mile Jedinak in the first half following a booking, then subsequently Damien Delaney in the second.
He spent most of the second half walking a tightrope and could have been sent off. It would have put a dampener on what was easily the best performance from a Palace player. He deserves better - of that there is no doubt - but he needs to be careful. Players will go out of their way to wind him up, and he shouldn't give referees an excuse to book him. Wilf is better than that.

2) Souare's Positional Awareness is Troubling
One of the issues we seem to be dealing with is a lack of defensive stability - the element that we were so easily able to rely on during previous seasons. With a more expansive style, it's arguable that there will be more opportunity for opposition players to attack our goal - but that expansiveness doesn't need to extend to our full-backs at all times.
The problem isn't with Souare's movement up the wing, but rather his lateral movement away from the touchline. Whether it's coached or just reactive, the result is very often the same. Souare moves towards the goal, leaving the attacking winger with a great deal of space to move into. And it has been happening quite frequently.
3) When will Chamakh be fit to play?
Marouane Chamakh took much of the first half of the season recovering from injury, and the hope was that he would be ready to return once the Christmas period came to an end. However, whenever he has played, his movement seems laboured, as if he's still carrying some form of injury.
A strong attacking player for us in previous seasons, this current striker crisis we're having would seem to be the ideal scenario for him to make a return - and yet, that return has only come in fleeting appearances.
Yesterday's match, which seemed to lack some composure in the attacking third, could have done with the Chamakh of old's influence. Unfortunately, the one chance that did fall to him was well saved. It would be great to see a little more of him - so long as he's fit.

4) Little service, few goals
Although Wilf's delivery has improved, and looks possibly at it's best ever against Bournemouth, there still isn't whole lot of service for that lone man.
Fraizer Campbell didn't have any clear cut chances and Adebayor only had a snapshot on the turn from a Souare cross at the back post.
Maybe it's the system that needs tweaking but that lone striker up front, whether it's Campbell, Adebayor, Wickham, Gayle or Chamakh doesn't seem to get a lot of chances.
So maybe we shouldn't be criticising them too harshly.
5) We miss Yannick and Yohan

If ever there was doubt that Bolasie is one of our best best that surely has been confirmed in the last few weeks.
Without him, Palace haven't won a game and have only scored two league goals from open play. His chaos factor scares teams and his unpredictability is a major asset.
Without Cabaye against Bournemouth too (and in previous games) the midfield struggles to keep hold of the ball and pressure mounts.
We are far from being a two man team, but take those two out and things change drastically.