Newcastle fan and writer Jamie Smith guests on FYP this week with some background to how things unravelled for Alan Pardew at St James' Park. Read on to see if any of this sounds familiar, Palace fans.
Greetings from Newcastle.
I'm sure that's a statement you all will, at the very least, treat with suspicion given the obvious and somewhat prickly recent connection between our clubs, but rest assured I come in peace. However, it is that very connection that has prompted me to write to another clubs fanzine, if nothing else to add a bit of perspective. I hope your readers will hear me out, maybe even start understand things from our perspective a little.
It seems a bit unsavoury that the #Pardewout hashtag gradually reappearing on social media is apparently so heavily favoured by Newcastle fans (from my observations) and it can appear to be lacking in class somewhat, not to mention hypocritical given our own struggles and current perilous position. However, there is an obvious element of discomfort amongst Palace fans about the recent 10-game winless run that may prompt a re-examination of the facts in the ongoing "dialogue" regarding the managerial credentials of Alan Pardew.
I have been tempted to write this before, but I feel the time is out right now given that certain repetitive trends may be emerging. For the record, I haven't watched any Palace games bar the Match of the Day highlights and am in no position to comment on your team. What I am outlining below are a few factors that led to extremely poor performances under Alan Pardew at Newcastle United that were clear for all to see but patently ignored by the occasional commentators from the national perspective when a parting of ways occurred. They may or may not be starting to sound familiar:
There is no Plan B
In the multitude of (retrospectively ignored) terrible runs we endured under Pardew, the Groundhog Day effect of the games was crushingly frustrating. When the initial set up failed, the coaching staff were clueless and unwilling to adapt. Players continued to struggle out of position, those with shredded confidence remained in the team and pointless like-for-like substitutions on exactly 60 or 70 minutes had no effect. Often games were over by half time as the opposition helped themselves to a 3-0 lead and you wondered if you'd have been better off staying in the pub.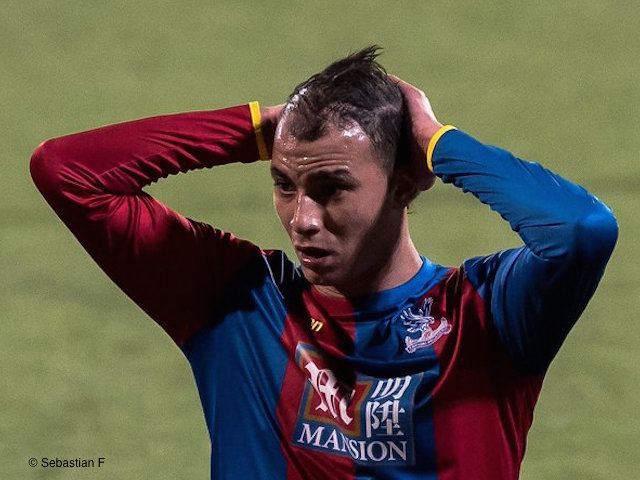 The Losing Culture Festers
I have seen players utterly destroyed at NUFC in recent years. Some of them have made an inglorious exit, some have gone on to prove themselves elsewhere and others..... Well, they're still there actually. There never seemed to be an intervention or an attempt to take responsibility from the management to raise confidence (which there should be in a tactical surrender). This would see the team sink lower and lower. Sometimes a pocket of form would be hit and see temporary respite, but inevitably the next defeat would launch another miserable run where your team walks onto the field looking beaten.
Your Maverick can save you
Palace fans may well remember a visit to St James' in March 2014 where you got absolutely mugged by an injury time smash and grab from one Papiss Demba Cisse (we lost our next six games mind). This was not an uncommon occurrence around this time, as Cisse saved our worthless hides on many an occasion. He is largely frustrating, injury-prone and struggles with the offside rule, but the matches he has salvaged points in over the past two years (often in desperate or last-ditch circumstances) has kept us slightly higher than 18th place. Cisse's inconsistent nature sometimes belied the destructive mood at the club, and he could produce goals unexpectedly. I wonder if Yannick Bolasie may be set to "do a Papiss".
No-one believes you
You don't need me to tell you the life of a mid/lower table team with unspectacular appeal. TV visits occasionally but largely to see you take on the 'big boys'. You tend to feature in the final third of Match of the Day. Generally, the national exposure is minimal for the club you see just about every minute of. However, you may find that passing comment based on this large-scale exposure is frowned upon. Instead you will be hit with a lazy statistic (our 2012 5th place = your 2015 highest ever PL finish) or reminded of your place in the football food chain i.e. Not Chelsea or Man Utd. The fact that your years of watching or being involved in football couple with the constant immersion in the topic in question may give you some credentials to speak is one that doth butter no parsnips.
This final point is, I believe, the source of much frustration amongst Newcastle supporters that Palace fans may have felt, directly or indirectly. We watched our club slowly erode from within only to be told we were ingrates or delusional pricks, regardless of the statistically supported and (chiefly) logically articulated arguments we put against the Pardew regime. We may well have formed the opinion that the success of 2012 was supported by the solid defence inherited from (well-liked) Chris Hughton, or that the Carver/Stone side that was overtaken by Palace last year was suffering from the continuation of Pardew's confidence suffocating culture and staffed by his appointees, but this counted for nothing. Journalists like Paddy Barclay and 'experts' like Ian Wright had seen a couple of games on Sky and remembered that we once drew 4-4 with Arsenal. As people who work in football, their opinion is better. We took a bit of stick, never more so than when we dutifully shipped 5 at Selhurst.
It is because of this reason that some have reacted with unsavoury glee to the recent slide at Palace. I don't think anyone wishes ill on your club as you are pretty much on a similar ride to the one we have experienced. Things going well for a while make you want to believe, then when you hit a blip its dismissed as temporary, something to work through. To validate this Alan's always there with a reason. As we started to underperform regularly in 2012/13 the Europa league copped for the blame, all these pesky Thursday nights in Russia and Belgium causing total devastation to the highly paid professionals asked to play again three days later. It seems that an injury crisis is being trotted out in the current Palace predicament (we had plenty of these as well, but oddly no statement is ever made regarding addressing the root causes).
The realisation is horrible when it dawns on you that the good season was the blip, like the twist at the end of a M. Night Shymalan film. Most in the north east, me included, remain convinced that when your bad run ends it will only be a matter of time before you are subjected to another. There are probably enough points on the board for you guys not to worry this season, but the future may hold more difficult times.
There was a period where we would have felt similarly affronted when these warnings were raised by the fans of West Ham, Southampton and Charlton. The main issue for me is that NUFC fans have been misrepresented as biased towards Londoners/Southerners, filled with unrealistic expectations and guilty of victimisation (trust me, we are well aware Mike Ashley is the main problem). The only problem we had was that Pardew had a management style that fostered a losing mentality, and by the time of his departure this was into a third season of lower table misery.
As I'm writing this on Monday I genuinely wish you very well in your next fixture and hope you come out the other side of all this. Don't worry, when you're trying to warn QPR fans in a couple of years, we'll back you up.
Jamie is a writer and reporter for Newcastle United magazine The Mag and is on Twitter at @Mr_Dolf