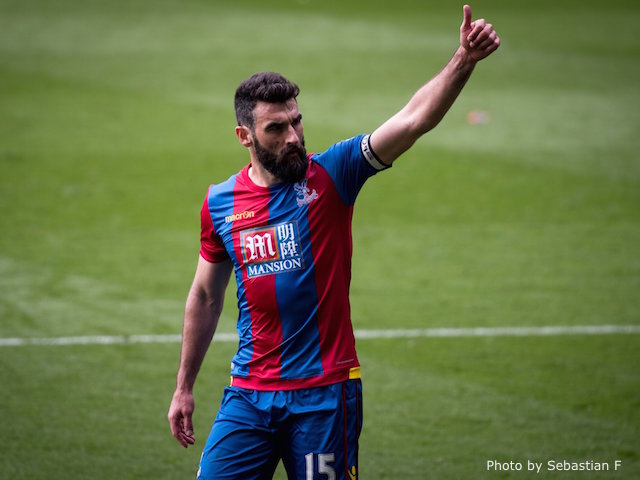 Has there ever been a player to so divide opinions? From the moment he arrived he was loved and loathed in equal measure. Some focused on his strength and dominance in midfield, while others pointed to his passing (or lack of it).
And that remains the case today.
It is true his passing is not the best, he makes mistakes, and sometimes fouls far too obviously - including in the penalty area. But, for me, all of this misses the point. And that is that Mile Jedinak is a leader beyond compare, on and off the pitch, who gives everything, every second of every game and is a major reason this is the best six years ever.
Do we love him enough? Of course not. Because however much we love him, it could never be enough.
Let's look at the basic facts. He has been a key player at the heart of our midfield during the rise and rise of our club. From the lower reaches of the Championship, to the play off victory, survival then a top half premier league finish. And now the FA Cup Final: Jedi has led the way.
Captain for most of this, he epitomised all that has made us great. From unknown to a cult figure? Remember 'Every Palace needs a knight - Ours is a Jedi!'. Remember how he did his ankle early in the play-off final at Wembley and yet won every header, every tackle and played as if he would allow only one outcome?
'Well he won't be able to do it in the Premier League' they said. Not only was he one of the most consistent players in two seasons we confounded all the critics, his stats put him alongside some of the best players in Europe. The man was rightly recognised as a colossus.
When Pulis built a team capable of going toe to toe with anyone, who did he make leader? And who did he try to sign for his next team? When asked, Pulis always says that before he took the job he asked what type of players he would inherit and was told they were special. They were. And he is always clear: Jedi was foremost amongst them and crucial to all we achieved. When Pards came in he too kept Jedi as his leader.
And it doesn't stop there; in this time he has become the most capped Palace player ever and captained Australia to their first ever cup success; once again leading with a typical determination, resolve and heart. In the final, after his team suffered the agony of a last minute equaliser, and clearly exhausted and badly injured, he stepped up another level and forced an Aussie win. And don't forget; he did that despite an injury that would keep him out for weeks. But that's Jedi: He would die on the pitch for his team and the fans.
And so to this year. I am constantly amazed at the regular stream of 'he's past it', 'he can't do it at this level'; all ignoring that, like any player he needs a run of games before being judged and missing the point that without him we started going down the league for the first time.
And is it any coincidence that our return to form coincides with his return to the team? Of course not! Is it a surprise that most had him as MoM in the must win Norwich game (after he threw his body in front of everything) and that he was MoM in the semi final? Another classic Jedi performance. 'They shall not pass': Watford would have had to have shot him to get to that final.
The non believers, with their predictable 'we need a CB CM and CF' (and Who doesn't btw?) should hang their heads in shame as Jedi shed blood sweat and tears for us.
And win, lose or draw who is the only player to walk round the pitch and to the corner and truly thank the fans? Every game. It is our captain; Mile Jedinak. The least we can do is treat him with the same respect.
Like one of our other greatest leaders at Palace - Geoff Thomas - Jedi is an inspiration and a leader of men. We are a different team on and off the pitch with him, and we discard him at our peril. They say 'you don't know what you've got till it's gone'; but I do. We have one of the greatest players to have pulled on a Palace shirt: Mile Jedinak.
Not your modern financial mercenary, but an old school footballer. Not the most talented, but heart, soul and a real edge, that makes us soar. Much like Palace itself.
And I, for one, hope he's still playing at the heart of our midfield when he's seventy-eight.
---