Saturday's FA Cup final is a big day for everyone at Palace, but it's a massive chance for Wilf Zaha to prove to Man United what the missed out on. And Bryan Davies is confident the Eagles winger will do just that.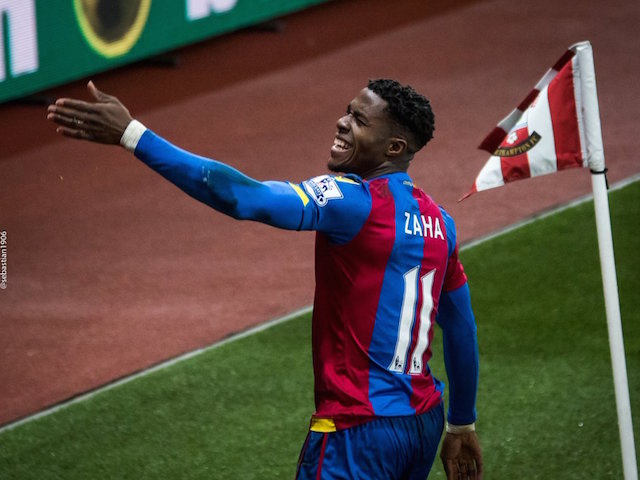 If ever a showpiece occasion was a bespoke fit for an individual, it is surely Saturday's FA Cup final between Crystal Palace and Manchester United. It is surely Wilfried Zaha.
It is old and new versus old. A clash of cultures, histories and priorities. At Palace – his club – Zaha is loved, nurtured and cherished. At United, operating within a stifling framework, he was unwanted, untrusted and marginalised.
Given what we have been through together, and the impact he has had on our football club, it is easy to forget that Zaha is still only 23. He has been a talisman this season, particularly as the post-Christmas blues gripped, and he fully deserves his POTY accolades. More broadly, he has personified the progress made by Palace since the dark spring days of 2010.

Zaha has stamped his personality all over this season's FA Cup, producing winning goals and MOTM contributions. In this year of undervalued and underrated underdogs and cast-offs, you can be sure his impact on Saturday will be massive. He has the form, the motivation, the demeanour, the narrative arc. On the biggest stages, he has always delivered for Palace.
With the extravagant tricks and tools to trouble any defence and any individual, Zaha and Yannick Bolasie must be relishing their match-ups with United's fallible full-backs. Often derided by the wilfully ignorant as a show pony, his skill-set is far broader, the trickery allied with pace, power, work-rate and defensive awareness.

Many cite Zaha's temperament as an area of concern, but I've never regarded it as problematic. Indeed, considering some teams are given carte blanche to tag-foul him, he keeps his cool rather impressively. His end product is criticised and, while the player himself admits it needs to improve, there have been mitigating factors this season, and there is time and scope for that improvement to happen – this is one young player who will improve with age, rather than fizzle and fade away.
Onlookers tend to question the value of dribbling and take-on statistics, but why are they any less important than pass completion or distance covered? They are all part of the process of creating chances and scoring goals, and the facts show that within these key metrics, Wilf is the leading Englishman in 2015/16, and one of the best across Europe.
Palace's historical and contemporary identity is about pace and power and wing play, which is why Zaha – along with Bolasie and Jason Puncheon – is so important in capturing the zeitgeist and defining how we play and how we win. He occupies defenders, who usually arrive mob-handed, and creates space for teammates. He protects his full-back with diligence, and moves the team from one end of the pitch to the other with direct running and adhesive skill.
He will be pivotal on Saturday, and as ever it will be a pleasure to watch him do his thing – to play without fear, with scope to dare and create and do different.
Given Zaha's qualities and growing consistency, aligned to England's deficiencies in wide areas, it seems baffling that he hasn't yet added to his two international caps, all the more so when you consider some of the names ahead of him in the conversation.
Whatever his weaknesses, Zaha can do things with a football that no other England-qualified player can, yet still doesn't get an opportunity in a squad that struggles for width and creativity, and often flaps around for back-up plans. He is a difference-maker, capable of beating a man from a standing start and doing something extraordinary. He is maverick, and perhaps that doesn't chime with Roy Hodgson's inherent conservatism.
Maybe, too, Hodgson swallowed some of the guff which came out of United as they tried to pass the buck and explain away why they failed so spectacularly with Zaha. Briefings were made with regard to his time with United and England's under-21s, but none of it rings true to Palace fans, who know Zaha – such an extrovert on the pitch – to be a quiet, polite and family-oriented man who does a lot of unheralded charity and community work.

Built-up and knocked down by the press in time-honoured fashion, it is easy to forget that Zaha never worked with the manager he signed for – a manager who still speaks highly of him. Instead, he was faced with David Moyes and Louis van Gaal, who both treated him with distain and scarcely gave him a competitive kick.
Both of those managers have fumbled in a messy post-Alex Ferguson climate of sterile, passive football, wasted transfer millions, official noodle partners and bomb scares. It was a wasted period for Zaha, but it has toughened him mentally.
For United, Saturday is a big game, but nothing out of the ordinary. For Palace, it is momentous; defining. It is a day for family and friends and loved ones and much-missed ones, and Zaha and the Palace players understand the significance.
For Zaha, it is the cumulation of a fantastic FA Cup campaign. It is an opportunity to show his former employers what they are missing. It is a chance to show the watching England manager what he is missing. It is a chance to lead the club he loves to their first major trophy. He'll take that chance.
Can Wilf be a matchwinner in the FA Cup final for Palace? Comment below!
---