Still feeling rubbish after Saturday? Here's Matt Tassell with a bit of perspective.
Why do we put ourselves through it?
111 years. Generation after generation. Nothing to show for it. Not a single trophy.
Yes, we've had defining moments. Playoff successes. Semi-final victories. Last gasp survivals. But no one could argue that the trophy cabinet doesn't look a little spartan. A threadbare collection of Zenith Data boondoggles and U21 promotion medals. I think there's a best haircut 94/95 award in there for Bruce Dyer.
Yesterday, while my Dad and I hurtled towards Wembley on the Metropolitan line, he turned to me and said, "I really want this". For a man so customarily reserved and philosophical about our club's fortunes this was an admission that hit hard. This was 65 years worth of passion now desperate to validate, vindicate, legitimize the years of all consuming support. Of course I wanted it too. So much. For myself, for my Dad, for his Dad before him. For everyone who has dared to love this club since 1905. This was payday for the whole cpfc family. So when the dreams we took to Wembley vapourized yesterday evening it was like being hit by a freight train.
It had nothing to do with the opposition being Manchester United. That so much was made of the 1990 final being replayed simply magnified the occasion, but it did nothing to increase my desire to win something. A recognised trophy. Something proper. As soon as that final whistle blew I knew it would take some time to accept the outcome. How could so much of the fairytale have slotted perfectly into place (the valiant blockade of the Palace goal, players throwing their bodies on the line, the Punch of the Rovers substitution, his subsequent 79th minute thunderbolt) yet lack the fairytale ending we so desperately hoped would come? It never materialised. The script was there and it very nearly played out to the end. So close. Again. And yet.
'Hard luck', came the flurry of texts from friends who'd watched back home. 'Great effort', 'You gave a great account of yourselves', 'Shit result but your fans were immense'. "Nevermind," my response. "Didn't want to win that cup anyway. Too big. Can't drink soup from it. Rubbish." Who was i kidding?
The trek back down Wembley way brought tears and pride flooding to the surface. The stoic Palace faithful continued to sing in the face of Cantona-clad plastics, waggling their wanking hands with all the class of Roy Keane in a semi-final replay (how did they get to the station so quickly - did they even bother to watch their team lift the cup?). But as Wembley's great arch dipped down behind the horizon and me and my Dad returned to our respective homes back in the real world, I was left with a deeper sense of loss. Away from the crowds, away from my fellow Eagles, came a kind of loneliness. I should have gone to the pub. I should've gone anywhere but home. But i didn't feel like doing anything. I couldn't forget. I just didn't want to remember.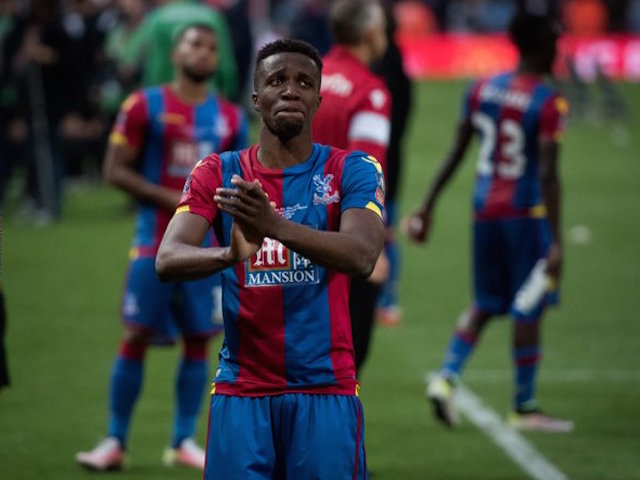 Saturday night turned into a late one. The usual foray onto twitter couldn't provide the usual catharsis. Aside from the odd comment there was radio silence from so many of us. Even the players stayed schtum - the emotion too raw and too clean to put into words. One long, sleepless headache followed. Visions of THAT Lingard goal danced in my head along with a host of other niggling flashbacks. Punch's strike. Mata's equaliser. Smalling's red. Lingard's winner. The hope. Jedi's tears. That dance. Clattenburg's clammy embrace with Sir Alex (is it too late for him to pull the game back?). My poor Dad wondering how much longer he'd have to wait. When? When? When? A whirling dervish of so many might have beens. A kaleidoscope of heartache.
This morning was no better. No doubt we all experienced those first few seconds upon waking where our heads raced to remember whether perhaps we had won after all. No such luck. Why does it have to hurt this much?
It would have been glorious. It would have meant so much more than I can allow myself to imagine. It would've been a vindication of the collective efforts of a group of owners, a core set of players, a fan base and a family that have all stood by a club in it's darkest hour and fired it towards the light. There's no denying that winning the FA Cup will have meant a lot to many Manchester United fans this morning. But you can bet it would've meant much more to us.
So what now?
We do what my Dad has done. We go on holiday. Not necessarily abroad. Not necessarily anywhere. Just away from football. Stupid, painful football. Then when things become a little more bearable, we can all soften the blow of defeat with an inevitable summer capitulation from the national team. Together witnessing the irony of Wayne Rooney doing none of the things in white we've seen him do in red. We can lament England's shocking performances and moan about the Scott Dann shaped hole at the back along with the Wilf shaped hole out wide. We can enjoy watching Joniesta become the toast of europe. We can then politely applaud as Yohan parades the winners trophy around the Stade De France, all the while trying desperately to forget that this could've been quite the sight in a different kind of red and blue.
Then we go again next season. Because like life, we're deluded if we think satisfaction lies in the arrival at a shiny cup-shaped endpoint. It's about the journey. The one we take together. This is why we do it.
Let's take heed from the message we sent the world yesterday. We're not like other football teams. We're a family. Our song is loudest. Our mentality IS unstoppable. We will keep supporting our wonderful club. It's what we do. Because supporting Palace is never comfortable. It's the way football, sport, family should be.
Our love will last now
Till the end of time
Because this love now
Is gonna be yours and mine
---