The FA Cup wasn't important to Naveed Khan. But the semi-final and final changed something. That Wembley result finalised that feeling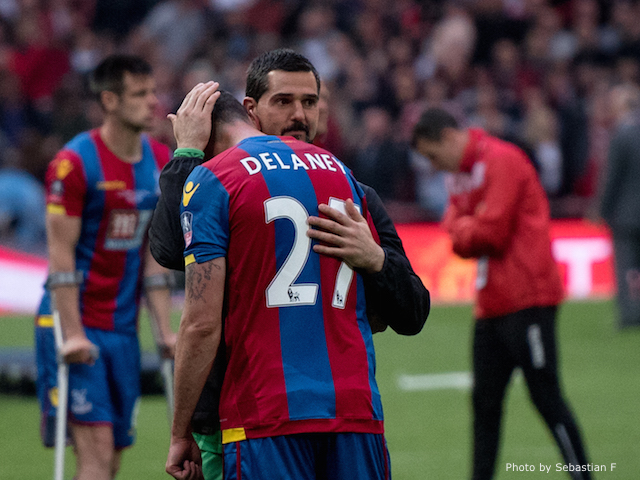 As the final whistle went and "We Love You" reverberated around Wembley, a double take would be needed to grasp that it was the losing finalists' supporters who were doing the singing. That was simply the culmination of three hours of an emotional roller-coaster.
Tears from Wilf while Puncheon was still in his suit. The sadness in the eyes of fans outside when it was thought this would mean he was not playing. The elation when Wilf was named in the stating line-up. The sorrow that it was Puncheon, one of our own, who missed out. The raw pride when the magnificent display was revealed and "Abide By Me" was being sung. The frustration expressed at the referee. The tears when Puncheon scored. The tears when Mata scored. The momentary silence when Lingard hit the winner. Then the ultimate depiction of what Crystal Palace is – players on the pitch with yet more tears after giving it their absolute all, while the fans continued to sing their hearts out.
Whether you were at Wembley, at home, at the pub, at Selhurst or abroad, we are all still recovering from the day in different ways. For some, a fear that we will never again get so close. For others, the absolute desire that the club focus on cups and this real glory every season. For me, I have had a complete u-turn. From thinking the league was the priority for me, the league all of a sudden feels meaningless. Nothing we can realistically achieve in the league will come close to the feeling for those precious few minutes after Puncheon scored.
Occasions like Saturday can redefine how you see your club and it has certainly done that to me. Maybe it is part of the emotional reaction. Maybe it is a form of football grief. But whatever the reason, I have gone from thinking we desperately need an upgrade on Delaney to thinking I would rather have an error prone and pace lacking Damo with his heart every time. I used to think we need to move on from a player like Jedinak in order to progress as a team. Now? Well, now I get that to progress, he is exactly the sort of leader I want at Palace. Sure, we may not progress as fast, but we will progress with the right spirit.
And Pards. I have been a critic. The atrocious run in the league in 2016, some truly bizarre tactical decisions and press conferences drove me to being close to wanting him gone (but not quite). Now, such thoughts are far from my mind. The brave team selection, the tactical plan (which worked for 80 minutes) and the dignity with which he took defeat all combined to give him credit. The dance for which some are ridiculing him, plus him orchestrating his own chant ("Alan Pardew's Red Blue Army") just make him more Palace; it means something to him and he gets it. It is my resolution to not snap at him next season and let him be. Because he is us.
And maybe that is why there has been such an expression of emotion. The match ended, Palace had lost yet the vast majority of fans remained. Remained to show unity. Remained to show appreciation. Remained to show that we are different to other clubs. It isn't just about winning or losing. If we continue to define our own success by trophies, then we will never be satisfied and soullessness will become the norm. We were so close to FA Cup glory, but even in not winning the competition, the fans sung as if they had. They showed love to the players as if they had brought us glory because Saturday showed that Crystal Palace's glory transcends trophies.
We didn't lose; we just came second in the FA Cup.