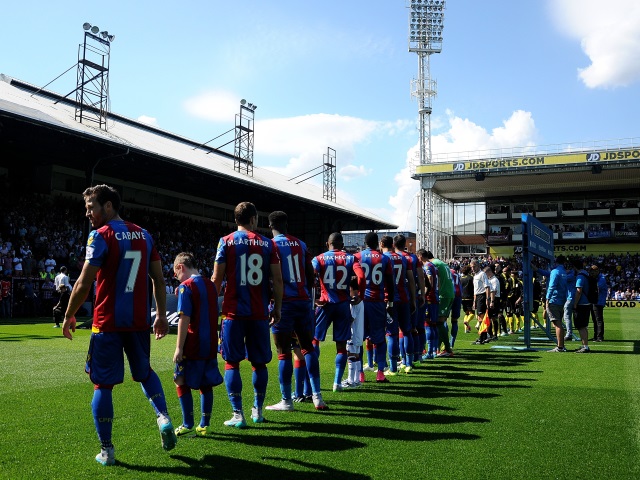 So the fixtures for the new Premier League season are here and already Palace fans are getting worried about the end of season run in.
And it's understandable; the Eagles have Chelsea, Southampton, Liverpool, Manchester City and Manchester United as their final five games. That's a nasty run for any team, less one that's going to be trying to break back into the top 10 again this coming campaign.
It won't be easy but Palace have a history of turning up when they need to. Yes, the 2016 run in the league so far has been pretty poor but the Eagles did enough to stay up (although they shouldn't really have been in the position in the first place). They were also 11 minutes away from winning the FA Cup.
In 2013/14 Palace fans were all worrying about the end of season run-in with Everton (when they ere good), West Ham, Manchester City and Liverpool waiting but by the time the Citizens rolled up to Selhrust we were safe and then embarked on one of the greatest comebacks ever against the Merseysiders.
Plus Palace did actually win two of those games last season; starting the rot at Stamford Bridge with a 2-1 win and inflicting Jurgen Klopp's first home defeat with a similar score at Anfield.
And Leicester have shown us all that maybe fixture lists mean nothing. They won the league with a fixture list last season that looked a lot like Palace's this season. Obviously we're not saying the Eagles are going to win the Premier League, but the notion of big teams versus little teams have been blurred a bit since the Foxes historic title win.
Here are some key dates for your diary... #CPFC pic.twitter.com/e5Tv7oPDEh

— Crystal Palace F.C. (@CPFC) June 15, 2016
And with the TV money that is pouring this season being the highest yet (and we'll continue to hear that every season for the next few years no doubt) there has never been a bigger chance for those teams outside the traditional Top 6 to compete. We saw it already last season with Leicester top, West Ham sixth and Southampton seventh and Tottenham breaking into the Top3 (although they should really have
finished second at the very least).
The real worry for Palace fans shouldn't be the fixture list because the Premier League is getting to a place where the playing field is becoming more level than it ever has. No, the real concern should be about whether the Eagles actually use their chance to improve this summer in the transfer window.
Last year they signed Yohan Cabaye and that was a statement of intent; and it worked. He was fantastic during the opening few months of the season as Palace rose to fifth in the table.
This summer they will need two or three Cabayes to compete but if they do then there's no reason to be worried about the fixture list. Of course if they don't we are all given permission to panic.
---