The Euros are well underway and there is a host of talent out there Palace should be looking it. Over the course of the tournament we will highlight some players who could make an impact at Selhurst. First up, Carl Mortimer has spotted a talented Czech midfielder...
Name: Vladimir Darida
Age: 25
Nationality: Czech Republic (33 caps)
Club: Hertha Berlin
Position: Midfield
Height: 5' 7"
Club history:
Viktoria Plzen: 2010/13
61 apps 11 goals
Freiburg: 2013/15
53 apps 9 goals
Hertha Berlin: 2015 - present
31 apps 5 goals
"I prefer to play in central midfield, mostly as the 'six' [German footballing lexicon for 'defensive midfield']. I believe I can add a lot there technically as I always try to be one step ahead of my opponents. Anticipating play usually works quite well for me."
And at 5' 7" he is very good at it too.
Like Leicester found with Kante last year being the shortest guy in the centre of a midfield doesn't mean you are a pushover. if you have the ability you can run the show in the centre and like Kante, Darida's impressive engine also means he can run all day never giving opponents a moments peace.
Darida's ability also means that he has chipped in with his fair share of goals & assists for club and country, which for a guy who likes to play defensive midfield is very impressive. He also has great ball control, great vision and has one hell of a shot on him too.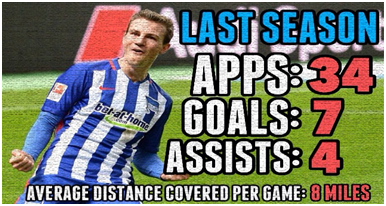 STAT: Last season Darida's average of 8 miles covered per game was a Bundesliga high.
He would say he's two footed as he has scored goals from all ranges with both feet, also no Hertha player completed more passes last season than Darida.
As well as the defensive midfield engine he can also play creator and play in the role just behind the front man which some would see as his main threat due to his passing vision and his shooting ability. (as the video below shows)
In summary he can play anywhere in the centre, whether it's left foot or right foot he can create, score, break up play and doesn't mind taking a penalty. He is 25 years old so right in his prime, he also has 33 international caps for his country scoring once.
He would be a great signing, however he has 3 years left on his current deal and he's just recently helped Hertha qualify for the Europa league so looking at the current market that means the fee could exceed £10mil.
Parish & Pardew would have some persuading to do if they were interested in him but one things for sure, if they are looking for a complete midfielder with the engine of Jimmy Mac, the ability of Yohan and a few years younger then Darida is very much in that mould.
---