2016. The year of the good, the bad and the downright ugly. We've seen Wembley wins, Wembley defeats, winless streaks, sackings, appointments, signings and sales. We've had plenty of highs, plenty of lows and plenty of sighs. To sum all of this season up, we asked Jim Daly, Carl Mortimer and Chris Windsor to answer some questions about the last year.

What was Your highlight of 2016 and why?
Jim Daly (JD):
Getting to the FA Cup final. It was a massive achievement for a club of Palace's size and only the second time we'd ever managed it. For fans of my generation, who had to grow up on stories of 1990, wishing they were born 10 years earlier so they could have witnessed it (despite losing) and assuming they'd never get to see the Eagles walk out at Wembley for the final themselves it was a huge moment.
Carl Mortimer (CM):
Puncheon's goal in the cup final. I have never gone so nuts in my life, quite literally 'limbs all over the place' the place just exploded. We owned Wembley that day, the displays, the noise, it was just amazing and, that goal was a moment I will never forget for the rest of my life.
Chris Windsor (CW):
Highlight of 2016 for me was the Connor Wickham header in the FA Cup Semi-Final where the ball took what seemed an eternity to lodge itself in the bottom corner, but resulted in pandemonium in the Palace end at the famous Wembley Stadium. Even Papa Windsor was inclined to hug me, a feat rarer than an Andros Townsend free kick hitting the target!
2. Your lowlight of 2016 and why?
JD: The FA Cup final.
CM: Jesse fucking Lingard. Losing the final was gut wrenching, as we practically threw it away. If someone had just taken Rooney out on half way we would've won, United were poor but somehow like they do, they managed to grab some luck. And to rub salt in they moved on five minutes after winning it, we would still be celebrating that win to this day, of that I am certain.
CW: Aside from the obvious, the most disappointing moment of 2016 was Swansea away, and the utter dejection felt at throwing away what would have been a brilliant comeback and a much-needed victory through lacklustre defending and dreaded set plays.
3. Your best player of 2016 and why?
JD: For scoring in the FA Cup final, for scoring that goal against Norwich and letting the emotion overcome him like it does for all of us in the stands every week it has to be Jason Puncheon. He may not be a match winner every week (although he certainly has the talent to do so) but he dug us out of plenty of holes during what's been a horrible run in 2016 and still ends the year one of the top chance creators in the Premier League. Plus he embodies South London And Proud and that will make him a Palace legend forever.
CM: Wilfried Zaha. He was really the only one of a few players who shone and he won player of the year for that reason. At times he did everything he could to drag us out of that run. He loves this club and I never want him to leave Crystal Palace FC ever again.
CW:
Wilf for me has been the player of the year by a fair distance. Defensively his game has improved tremendously and he continues to dazzle and excite going forward, adding more goals and assists to his game.

4. Your most disappointing player of 2016 and why?
JD: Andros Townsend. Remember last summer when we spent £10m on Yohan Cabaye and it seemed like such a huge moment for the club? A record transfer, a world class midfielder, finally a game changer for little ol' Palace? So much was expected of him and he has certainly delivered, albeit while finding it hard to maintain that form at times. Fast forward 12 months and £13m on a winger doesn't really seem to get you anything. He's been a huge flop and for that sort of money we expected a lot more.
CM: Emmanuel Adebayor. I honestly didn't know what I was supposed to expect but, I expected more than what he gave. I shouldn't have been surprised really, especially after seeing snapchats of him in stupid outfits measuring Midgets. Glad it's over.
CW: From being touted as an England International to keeping one clean sheet all season, it's been a rather disappointing year for Scott Dann, who has failed to take on the leadership roles as well as his predecessor. An unquestionable talent, all Palace fans hope 2017 will be a much better year for Dann.
5. Your most surprising result of 2016 and why?
JD: Winning the FA Cup tie at Tottenham. Considering how well they had been playing last season and the terrible run we didn't realise we had just started, and considering how one-sided the game was I'm still a bit shocked we managed to win it. Especially with the winner coming via Martin Kelly. It was at that moment, though, I knew we'd make the final.
CM: The 1-0 loss at Villa. I did not see that result coming (or maybe I should've, being the Palace way) it was something that should never have happened. If we win that game I think it's a completely different season for us but, it was the catalyst of how it went.
CW: Amid a streak of defeats, defensive mishaps and the calls for the recently departed manager to go, Southampton at home this season provided a rare glimmer of how this team can perform against a team pushing for European places in a result that few could have predicted.
6. Best opponent we faced in 2016 and why?
JD: Chelsea. They smashed us on the opening day of the year in the first game we'd really been dominated in last season and it set the tone for the following 12 months. They also did a job on us last week and it seems, like Liverpool, that our curse over them in the last few seasons is well and truly over.
CM: Chelsea at Selhurst. They tore us apart in that 0-3, we just couldn't get near them and it could've been a cricket score to be honest and they were definitely out for revenge after our win at Stamford bridge earlier in the season.
CW: The recent match versus Chelsea showed a team that demonstrated why they are favourites for the title. Defensively resolute, well organised and clinical at critical moments, they were arguably the most complete team Palace faced this year.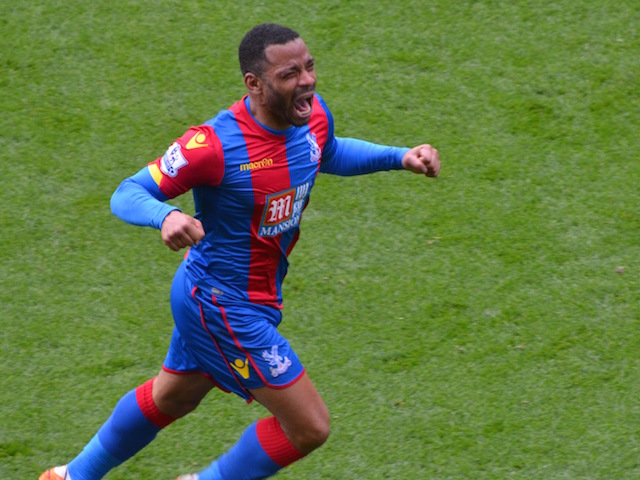 7. Best goal scored in 2016 and why?
JD: Much as it pains me to relive the pain of that day, it has to be Punch's volley at Wembley. For the crispness of the strike, the sheer elation it brought us all for two sweet minutes, for the expletives he thrust in Pardew's direction, for everything about that moment. It was a hugely important goal in our club's history, but it was also a hell of a strike. It's just a shame *someone* ruined it with that stupid dance.
[Watch this clip to relive it, if you have the heart.]
CM: It's Puncheon, it's beautiful. His goal in the final was glorious but this goal was vital, it effectively made us safe and Puncheon's tears showed that along with Wilf, he clearly loves Crystal Palace. This is his home. I'll admit, he didn't have a great 2016 until the back end but, without him we do look lost at times.
CW: It's hard to look past last season's Goal of the Season from Jason Puncheon as the goal of 2016. An impressive strike with his left foot, the goal was not only crucial in a relegation "six-pointer" but once again demonstrated Puncheon's importance and love of the club.

8. Your Crystal Palace player to watch out for in 2017?
JD: Whatever left-back we buy.
CM: Christian Benteke. The best striker we've had at Palace since AJ I think and he's already scoring goals. it's a major step up from the Calvin Andrew's & the Frazier Campbell's of this world and, Can't wait to see him continue to score goals In the red and blue in 2017.
CW: Andros Townsend has failed to provide the impact many fans hoped he would when he joined this summer. Perhaps a change of management and inevitable change in style will galvanise Townsend into producing performances that have earned him thirteen caps for his country.
9. Your expectations for 2017?
JD: I hope we stay up and recover something from this god awful year. I expect Palace to continue doing what the do and drag my emotions through the mud as per.
CM: I want to see the kids getting a chance. Luke Dreher and Sullay Kaikai are good enough for our bench at the moment and we should have them on it, we supposedly pride ourselves on our academy but, so far since promotion, we've yet to show it.
CW: I expect (hope) Palace to revert back to basics, become more defensively resolute and to improve on the appalling home form. With the transfer window on the horizon, reinforcements in the full back area, a strong defensive midfielder and competition for the wing would be high up on my shopping list.

10. Sum up 2016 in five words.
JD: That dance. Why? God Why?
CM: Should have won the cup
CW: It's the hope that kills.