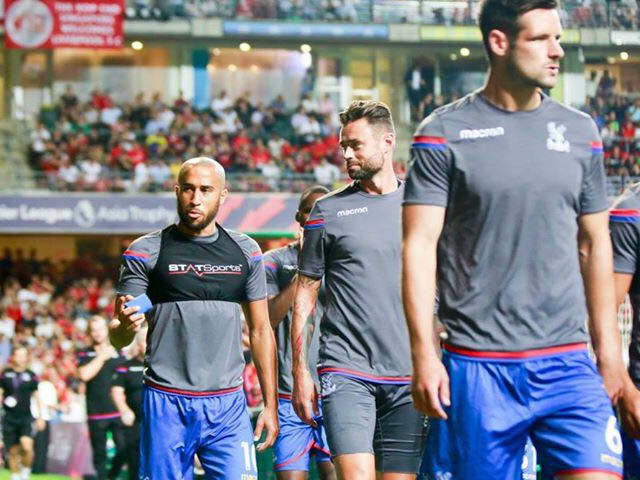 1. Joel Ward is a centre-back now?
One of the most surprising elements of Wednesday's friendly with Liverpool was that Joel Ward, one of Palace's only remaining promotion team regulars, started for the club in a back three rather than as a right-back.
It ties in somewhat with Ward's physical attributes, which appear to have changed slightly over the summer -- the player has returned to training with a little more upper body muscle -- which would certainly suit a more central, physical defensive role.
Ward excels in his native right-back role when the managers he works with are more defensively minded. When he's asked to play in a more expansive set-up, that assured approach seems to abandon him.
A centre-back role, as part of a tighter back-three unit, might just suit him.
2. Defensive recruits are needed
When Palace lined up with Damien Delaney, Scott Dann and Joel Ward in the back-three, there was an element of alarm. Delaney is 36 years old today, while Dann has struggled with injury problems for the last nine months. And as discussed in the last point, Ward isn't a natural centre-back.
There is also the need for another goalkeeper, with Hennessey's decision making still unfathomable at times.
With Jasper Cillessen, Jairo Riedewald, Callum Chambers and Bruno Martins-Indi linked however, that back line definitely looks like it'll be different by the time the Huddersfield Town game comes along.
Failure to make changes in defence could make any plans de Boer hopes to implement difficult.
3. The Kids Could be Alright
We worry that Palace's academy hasn't been successful, that players won't get opportunities because 'they're just not good enough' but the only true way to test whether a player is capable is to put them in a position where their ability is actually challenged.
Aaron Wan-Bissaka spent a fair while on the pitch and did a decent job in the right wing-back role. He had pace, awareness and was incisive with passes. It was an encouraging performance.
It's also fair to say that these kind of opportunities are nerve wracking for younger players. The pressure to perform, the willingness to succeed and the fear of failure can all play on their minds. To manage that emotion and perform well is a good sign.
4. De Boer wants to give Wilf Space
After the match, in an interview with Palace TV, de Boer indicated that his preference with the 3-4-3 formation that was played was to allow Wilfried Zaha the space to take on opponents, with less focus on defensive duties.
Zaha excelled in that role, especially in the first half. Being able to save his energy for attacking moves meant that he had a greater burst to get past opponents. He made Liverpool's defence work hard throughout the game.
If you needed an indication that Zaha had pushed Liverpool to the brink, Marko Grujic's nasty, intentional foul on the winger was it. The midfielder should be warned about his behaviour, given his role in James Tomkins injury last season too.
5. We just don't know what to expect
Friendlies mean nothing. Everything that's written above is an observation on what we've seen so far -- pre-season is no real indicator of future outcomes and there's little point in criticising tactics, line-ups or player performances.
However, there were some indications of the kind of direction that de Boer might want to go in, and the kind of players he will seek to sign. It was also interesting to see Ward in the back three and players like Wan-Bissaka make an appearance.
But whatever we witnessed, it doesn't provide any real indication of where Palace are headed. We won't really know where Palace are until an hour before kick-off vs Huddersfield, when the line-ups are announced for the first Premier League game of the season.
---