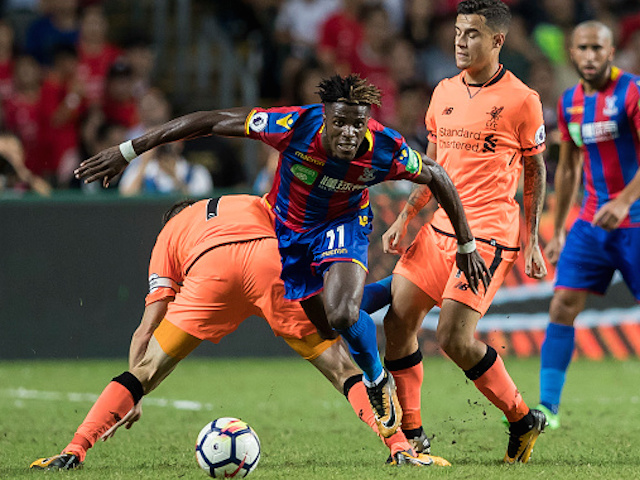 It's no small feat that Crystal Palace are now set for their fifth consecutive Premier League campaign, only seven years since CPFC 2010 saved the club from liquidation at the final hour.
Like every Premier League season, with the arrival of a new manager Palace seem to be in transition as they yearn for consistency and stability. With that in mind, after the conclusion of preseason and with the opening match of the season against Huddersfield Town approaching, it's worth evaluating the health of the club, both in the long run and short run.
Short Term Health: The Season Ahead
Being the club's first ever permanent foreign manager (Attilio Lombardo was temporary), much anticipation lies on the shoulders of new Palace manager Frank de Boer. Youthful and innovative, he carries an ambitious possession-based footballing philosophy.
Having been educated the Ajax way and refined at Barcelona and the Dutch national team, de Boer is a fan of pretty, patient, and possessive football. The new gaffer is young; his first managerial role was in 2010 at Ajax. Originally, the Dutchman was hired in a caretaker capacity after much time coaching in the youth setup at the club and having been the assistant coach of the Dutch team that reached the World Cup final in 2010.
At Ajax, de Boer won four consecutive Eredivisie titles between 2010 and 2014 while promoting many youth academy players from within. In 2016, de Boer had an unpleasant stint at the tumultuous Inter Milan as he became the club's ninth manager since 2010 where he faced disputes with the board, forced signings, and trouble implementing his philosophy.
The prospect of Palace's first permanent foreign manager is exciting, especially considering de Boer's successes in Holland. This season should see a departure from the club's traditional default style of explosive counter-attacking football. Palace's new manager will seek to sew his philosophy into the squad in a style of play that focusses on possession and recycling the ball back and forth across the pitch until an opening for forward play appears.
Such a style of play is easier said than done however. It wasn't a problem at Ajax, a team that promotes from within its category one academy and has played such football for most of its existence before de Boer came in. At Inter Milan however, he struggled to bear fruits with his Inter squad and the board's patience ran out before the squad could play possession with purpose.
For Palace, there will be a learning curve as they adopt the Dutchman's style of play. Palace are hardly like Ajax, a team with a long history of playing football like de Boer. In this case Palace are more analogous to Inter Milan. While hardly as tumultuous, the squad will have to learn to play the Ajax way.

While certain players such as new signing Jairo Riedewald, Yohan Cabaye, and the club's talented wide players are equipped to thrive in patient and creative possesion, some of the club's less technically gifted players may have hard time in the new set-up. Key figures from Palace's last few seasons may struggle under de Boer. One such player could be Christian Benteke. Despite being a vital player last season, the technical football Palace's Dutch manager will demand of his players will be akin to that of the Liverpool side he struggled in during the Brendan Roger's era. This is not to say the Belgian forward will not be able to find his footing, but he may not hit the ground running, seeing less direct service and possibly being asked to play a deeper lying role.
Overall the starting XI is strong despite one key weakness. Palace must sign a goalkeeper in the coming weeks. Last season, Palace had the worst goalkeeping in the league as measured by the ratio of saves to shots. Steve Mandanda's spell at Palace was dreadful after his fallouts with managers, injuries, poor performances, and poor attitude. Wayne Hennessey again proved to be inconsistent and not much more than average. Julian Speroni meanwhile, despite being adored by the Palace faithful, is reaching the twilight of his career and the club need to seek out a longer-term solution. De Boer knows this to be critical as the club have demonstrated interest over the summer in Barcelona's Jasper Cillissen and West Ham United's Adrian.

Depth up front is also an issue for the South Londoners in the short run. In attack, Palace's only real striking options are Benteke and Connor Wickham who hasn't played in almost a year due to injury.
De Boer possesses a very talented squad with players who currently feel very settled in South London.
Palace have three first-team quality center-backs in James Tomkins, Riedewald and Scott Dann while Damien Delaney is still capable of a useful shift despite his lack of pace and technique. At full back, Palace have variety, ranging from the more attacking Patrick Van Aanholt and Jeffrey Schlupp to the more defensive-minded Joel Ward.

Midfield is where Palace are strongest. Luka Milivojevic's ability to screen his defenders was vital to the Eagles' turnaround under Allardyce and Cabaye has improved with every season at Palace as he becomes more and more like the player that earned a move from Newcastle United to Paris Saint Germain. Competition for a spot in the Palace midfield will be high with the loan signing of Ruben Loftus-Cheek from Chelsea and with the desire of players like James MacArthur and Jason Puncheon to play a role in this season's campaign. Meanwhile on the wing, Wilfried Zaha and Andros Townsend seek to build off their spectacular late season displays from last year.
Then, if Benteke can find his footing in de Boer's style of play, Palace could push for a record-high finish.
Arguably, this is the strongest and most attractive Crystal Palace squad in the club's history. It is a season of transition for Palace but signs of continuity do exist. The squad looks similar to last year's except for some additions while backroom staff members such as Sammy Lee and conditioning coach Ryland Morgans have carried over into de Boer's setup and will provide necessary Premier League experience for the Dutchman in his maiden season in England. A top-half finish could be on its way but Palace should be able to steer clear of any relegation scrap and have a comfortable season unless things go AWOL.
Long Term Health
Economists Simon Kuper and Stefan Szymanski, authors of the widely-regarded book, Soccernomics, criticize football clubs and fans alike for being wildly short-sighted, often overlooking their club's long term health.
Steve Parish, since his takeover in 2010, has made a big deal of securing Palace's future and rightfully so. There is no doubt that Palace's four years of top-flight football have impacted the club positively. Increased revenue allowed Steve Parish to purchase Crystal Palace's Beckenham training ground in 2013 and establish full control over the club's facilities. Ownership of all the club's facilities provides infrastructure but also greater financial security in the event of relegation and subsequent falls in revenue. Discarding costly players is easier than discarding costly properties and dealing with high lease payments.
The Eagles' latest financial figures were released in June from the 2015-2016 season. Despite showing losses of £7 million, the club seemed to be healthy having managed to pay off all creditors and achieve debt-free status, an achievement only Swansea City and West Bromwich Albion were also able to achieve.

The losses of 2015-2016 however don't seem to be much of an issue considering the club had been making profits in the seasons leading up, including £8 million in 2014-2015. Football clubs, excluding mega-clubs like Manchester United and Real Madrid, are not very profitable and the best a club like Palace can hope for is breaking even, something they are doing in the greater scope of things.
In 2015-2016, 79% of Palace's turnover went to wages, meaning that if the club were to seek profits, the first way to do that, unless new revenues were found, would be to curtail wage spending. That would be an unwise sporting decision because as Szymanski and Kuper show in Soccernomics, wage spending very much determines success in English football. In a study of Championship and Premier League teams between 2003 and 2012, wage spending accounted for 90% of the variation between league positions. To remain competitive on the pitch, Palace must compete on the wage tables. For that reason, profits in the boardroom would mean lost potential for victory on the pitch.

The wage bill is growing. The 2015-2016 figures do not account for the wages of Benteke, an expensive worker, nor the wages being paid to Riedewald and Loftus-Cheek either.
During last season's rut, the argument was made that Palace were harming their long-term future by playing "overpaid" players and had to go back to cheaper players. That argument has little statistical evidence and was soon discredited as Allardyce transformed the club's fortunes. Wage spending is a reliable way of judging a team's quality, explaining 90% of the variation in the League table.
Anomalies exist, such as Leicester City in 2015-2016, but Palace fans should be happy Parish isn't pocketing profits as that means almost all the turnover is going back into the club. The resentment many Manchester United fans have for their owners, the Glazer family, has to do with how they have made profits in the past and pocketed it themselves.
In football, profits and sporting success tend to be competing interests. What matters is that Palace are financially sound and solvent.
The way to growing is for Palace to keep seeking revenue. While TV deal money is expanding, other competitors also see increased revenue from those sources. Parish must find new ways to make money, through player development and sales and stadium revenue.
The capacity of Selhurst Park, has stifled growth for Palace due to lost potential revenue. Crystal Palace's home has operated at full capacity for the last four years without any expansion and still not kept up with demand, with matches selling out quickly and fans being left without a ticket to the action. Parish has made it clear that the Eagles are staying at Selhurst and that plans have been drawn up for expanding stands up to 36,000 potentially. There are roadblocks in the way because of stubbornness from the Sainsbury's located behind the Whitehorse Lane stand and refusal to sell land. The board must continue pushing for progress here to increase revenue to improve the squad.
At the same time, progress could be made on the Youth Academy that has nurtured talents such as current England manager and former international Gareth Southgate, Chelsea's Victor Moses, Liverpool's Nathaniel Clyne, and obviously South London's darling Zaha. These players have provided on the pitch but also can be large sources of revenue for the club to grow and spend on other players for its wage bill. Today, the youth academy is in suboptimal facilities, housed in a Goals center across the road from the Beckenham training ground. De Boer, who valued youth highly at Ajax, will hopefully work with Parish on improving the facilities.
But things are good in South London. 2010 seems a long way off and administration is a story of the past. The club is healthy, solvent, and growing.
In the wider scope of things, the Palace rollercoaster is climbing. Enjoy the season!