One of the many keys to Palace's victory over Chelsea was the dynamic way in which Wilfried Zaha and Andros Townsend worked together. Here's Nicolas Berlinski with a deeper look at the numbers.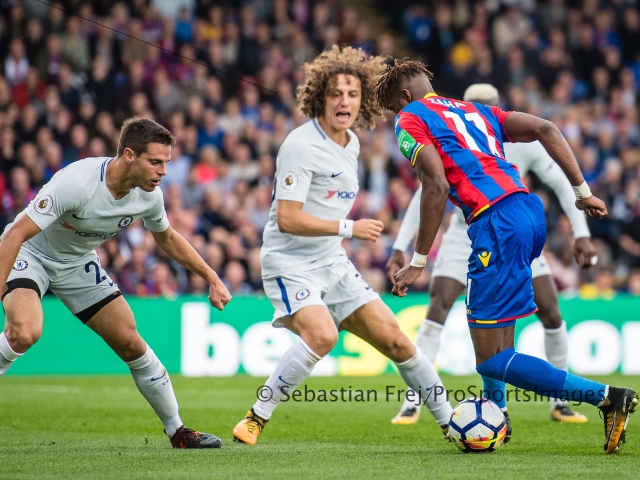 Selhurst may still be rocking after Saturday's monumental win against Chelsea as Crystal Palace won their first three points of the season, scoring their first two goals of the season too. An inspired return to the first team by Wilfried Zaha, bold and fiery performances from all eleven players on the pitch, and a well-versed tactical blueprint crafted by Roy Hodgson disappointed Antonio Conte's Chelsea.
Palace fans will now be hoping that the win is the Eagles' delayed start to a new season eight matches in.
With the dust settling and the outlook shifting towards the Eagles' trip to Newcastle United this weekend, it is worth a reflection on what broke down a solid, albeit leggy, Chelsea side. Man of the match Zaha and his partner up front Townsend were key to this victory in what was a remarkable improvisation act.
After the match, discussing his gameplan for playing as a striker, Zaha mused, "Me and Andros Townsend aren't strikers so we run all over the gaff, but the boss told us that if one had the ball the other needs to get himself into the box."
Keeping true to the way he loves to play, Zaha attempted the most take-ons (11) in this fixture, more than fellow skillful winger Eden Hazard who struggled to break Palace down with his trademark dribbling. Zaha won six of his eleven attempted take-ons. That stat includes the deadly change of pace and direction to get away from Chelsea's David Zappacosta, David Luiz, and Cesar Azpilicueta that set up his clean finish to restore Palace's lead.
Dribbling was Zaha's main way of penetrating Chelsea's defensive setup. On the day, he only completed nine passes with a low success rate of 43%. The stats are hardly shocking and for many players would be indicative of a poor performance. For Zaha though, these stats only go about showing the chaos factor he produces. Outstandingly well-equipped physically and technically, Zaha left his mark on the match with free-form positioning across the pitch and dangerous dribbling that terrorized Chelsea at times. Palace had been sorely deprived of his creativity and spontaneity up until this fixture.
Countering Zaha's erratic yet effective play was Townsend, who achieved far better ball movement, completing more than double the number of passes Zaha made with 77% efficiency. His possession and impact with the ball was less notable than Zaha's but was nonetheless important to the system Hodgson enacted. It was Townsend's passing that often afforded Zaha the chance to run at defenders and the winger served six crosses as opposed to Zaha's none. Townsend also had a decent shout at goal from range in the match, showcasing that powerful strike that has scored him some admirable goals in the past.
With no fit first-team strikers, Hodgson may be well-advised to play Zaha up front again with Townsend. Newcastle have been defensively solid for most of this season, only leaking eight goals. Zaha and Townsend's free-form positioning and dribbling ability could be key to drawing Newcastle players out of position and breaking down the defensive structure.
Zaha and Townsend will surely relish their chance to play the Magpies this weekend. In training this week, Hodgson will have to ensure defensive solidity in his side to maintain and guarantee the partnership the freedom they got against Chelsea.