Tuesday night's 0-0 draw at the Amex was much anticipated but will be remembered for an absolulte shambles outside the away entrance that saw some 150 Palace fans with tickets denied access.
Brighton issued a statement after the game on what happened and this is a response from FYP's own Jesse Boyce, who was there and caught up in the troubles.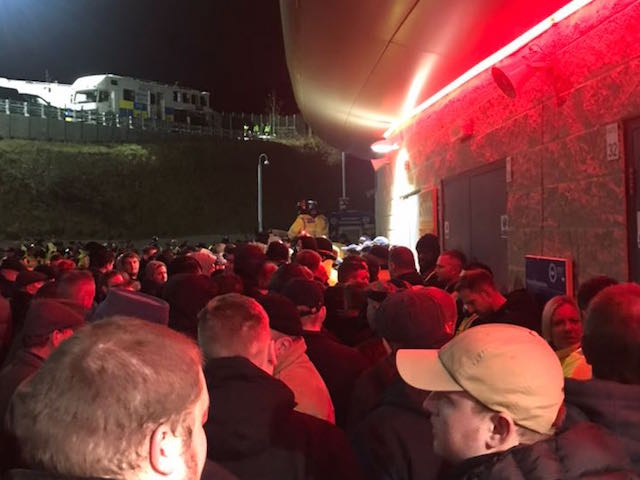 *Responses to the statement are in bold*
"Brighton & Hove Albion have issued the following statement after crowd disorder outside of the stadium, during tonight's match against Crystal Palace.
"The vast majority of supporters who came to the match were a credit to both clubs - but sadly a minority came intent on causing disorder, which left several stewards with minor injuries, and one steward from each club hospitalised."
While there can be no condoning fans attempting to access the stadium without tickets, there can be no hiding the fact that the significant Police and security presence, including riot gear, dogs and horses was designed to be preventative, and failed. The clubs had gone to great lengths to ensure that ticket holders needed ID and couldn't transfer tickets yet these fans were let down when measures were not taken to ensure ONLY these fans could access the away stand. No prevention or cure from Sussex Police.
"A number of Crystal Palace fans travelled to the stadium without tickets, arriving after kick-off, some with the aim of forcing entry into the away end at 7.48pm - three minutes after the match kicked off."
There were Police cordons between Falmer station and the Away end where the only question asked was 'Are you home or away fans?', no tickets were checked so while some fans may have forced entry without tickets, it's impossible to say if fans in any number were held outside the stadium without tickets.
"The club made the decision to close the turnstiles at 7.51pm - six minutes into the game - and with the support of Sussex Police, we made the further decision to let no further supporters into the ground in the interest of public safety."
The turnstiles in the South (Away) stand are not fit for purpose, they can be jumped, as they're not full height like most modern stadiums. These were more akin to London Underground. It's also false to say 'no further supporters were let in the ground', I was one of around 30 fans who were admitted at half time after avoiding the kettling of the main group of fans back towards Falmer.
The @OfficialBHAFC statement claims no fans were let in after the disorder. I can confirm this is a lie. I was one of the lucky few admitted at Half Time (8.41pm) after being separated from friends being kettled and despite all this, wasn't searched upon entry #cpfc #bricry pic.twitter.com/TeftLjmdbJ

— Jesse Boyce (@jesse_boyce) November 29, 2017
"A group of approximately 150 fans - some with tickets - were then escorted back to Falmer station, and onto Brighton Station, before being placed on a train back to London."
A more accurate observation would be that the vast majority visibly had tickets as seen when the Palace fans waved their tickets in the air en masse as a peaceful demonstration of their their case.
"Brighton & Hove Albion chief executive Paul Barber commented, "Firstly, we hope the two stewards hospitalised in the disorder have not suffered serious injuries.
"The disorder was caused by a minority of individuals who attempted to gain entry to the stadium without tickets.
The only disorder was by the minority who DID gain entry to the stadium without tickets, and then continued to let off smoke bombs throughout the match without being challenged at all. The disenfranchised group of ticket holders locked outside were orderly and civilised and imagery and video evidence has shown.
"Thanks to the swift action of the club's stewarding team, supported by Sussex Police, we avoided further, major disorder - and while some genuine fans were left extremely disappointed and unable to get into the stadium, the correct decisions were made."
Swift action it wasn't. It took almost an hour for the Police to decide what to do with the ticket holders outside, which was to kettle them back past where their ineffective cordons were and towards Falmer station. There was total absence in communication. Stewards and Police officers admitted they didn't know what was happening or even what was likely to happen to next or whether ticket holders would be eventually admitted. They couldn't pretend to be interested.
"I'd like to thank the majority of fans of both clubs for their good behaviour and patience in complying with the instructions of our stewards and police."
"Brighton & Hove Albion will be sharing CCTV images with Sussex Police, the Metropolitan Police and Crystal Palace to identify the individuals involved in the disorder.
"Genuine supporters, with tickets, who were unable to gain access to the stadium should contact Crystal Palace's ticket office for further information regarding a refund."
Is there no accountability attributable to BHAFC, the party responsible for managing the whole situation and for making the call to not let the majority of ticket holders in? Can we contact you for travel and expense refunds?
"As this matter is now a Police investigation, the club will not be making any further comment at this stage."
As well as the proactivity you are showing in 'identifying individuals', how about at least conceding that you need to cooperate with the police to corroborate responsibility and take fundamental learnings. Like the Liaison Officer from Sussex Police did over an hour before you released this statement?
Many incidents tonight with what has been a the most challenging match I have known the day will which will be thoroughly reviewed with the clubs. Give us time to analyse, listen and get accounts from today.

— PC Darren Balkham (@SusPolFooty) November 28, 2017
Palace have since released a statement saying anyone denied access with an unscanned ticket can apply for a full refund, while Sussex Police and both clubs have said an investigation will now take place.
Were you caught up in it outside the Amex? Email us what happened to you at This email address is being protected from spambots. You need JavaScript enabled to view it.