Damien Delaney has signed for Cork City in the League of Ireland, returning to where he first started as a kid. Here's Robert remembering the defender's role at Palace.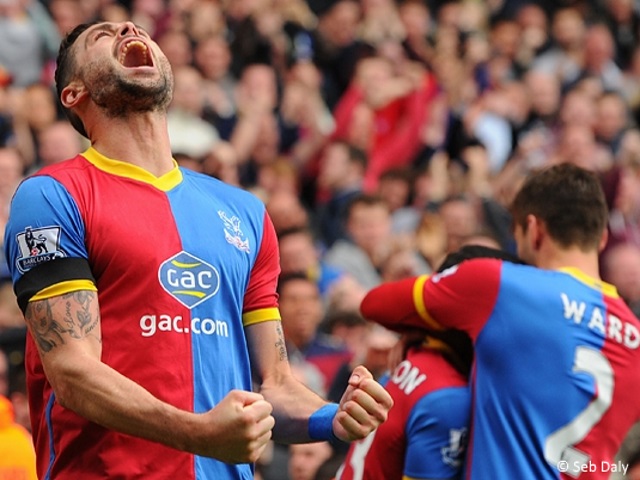 Crystal Palace love unlikely heroes. Bring us your unfashionable, unwanted masses and if they apply themselves, we'll adopt them as our own and give them the backing they wouldn't have had elsewhere. Damien Delaney is such a player. Such a hero.
When Delaney arrived at Palace's training ground following an invitation to train with the club by then-manager Dougie Freedman, few would have expected the Irish centre-back to play a significant role in the clubs run to the Premier League and its establishment in the competition in the seasons that followed.
Delaney had, by his own admission, hit rock bottom following his release by Ipswich Town. He had considered retirement entirely -- an interest in triathlons offered a potential escape from what had turned into a disappointing career trajectory for the player. He was ready to hang up his boots but in Palace, he found sanctuary.
Palace weren't looking at Delaney's situation as a charitable cause. Freedman needed an experienced centre-back to help shore up the club's back line. With Delaney apprehensive to commit, Freedman initially invited him to train with the club and ultimately offered him a short-term contract. From small beginnings come big achievements, and this was one for the club.
Delaney's introduction to the team against Sheffield Wednesday on the 1st of September 2012 saw Palace collect their first win of the season -- the club went on an unbeaten run of 14 games with Delaney present in all of them. He went on to play almost every game for the rest of that season, making a total of 48 appearances for the club.
The aftermath of the final game of the season, against Watford in the play-off final, saw Delaney at his most emotional. Walking up the steps to collect his winner's medal, Delaney fell to the ground in tears. A player on the brink of retirement, not through age or injury but through exasperation at his struggle to make it, helped to win Palace an unlikely promotion.
His experience, to have gone from almost nothing to having something so grand to celebrate, reflected the experience Palace had as a club and as a support. Like Delaney, Palace went from nothing to something. The image of Delaney celebrating the win with his teammates as he's drenched in champagne is just as iconic. It was a celebration in its purest form.
Football can be brutal though, and the assumption was that with the club promoted, Delaney would be one of the players sidelined by supposedly better players coming in. It was assumed that the defender had done his job by getting Palace promoted -- few really expected him to step up to the Premier League.
But that character, which saw him adapt so well to his teammates, helped him to find his way in the top division, too. Delaney made that centre-back role his, initially under Ian Holloway, then under caretaker boss Keith Millen, and then under Tony Pulis. He was very nearly an ever-present in Palace's first team, forming a great defensive partnership with Danny Gabbidon and then Scott Dann.
It's testament to his character that, despite the ever-changing fluidity of Premier League football, Delaney was a crucial player in the first three seasons of Premier League football. While his age caught up with him over time, he played a significant part under Pulis, Neil Warnock and Alan Pardew. He was a defensive leader and helped to lead the side through the many challenges they faced.
Plenty of opponents struggled with Delaney's physical approach -- none more so than Diego Costa. That game against Chelsea, under Pardew's remarkable run, saw the Irishman play at his formidable best; despite antagonism, aggression and cynicism, Costa just couldn't get the better of his opponent. It was a match-winning performance that summed up his qualities.
It's clear that Delaney was an emotional person in the dressing room. On occasion, that emotion would show on the pitch too. There were times where he interacted with supporters when he perhaps shouldn't have. In that fateful game against Sunderland which Palace went on to lose 4-1, Delaney gestured for fans to calm down.
That tension was obviously unbearable for the defender, but rather than calm the situation it worsened it. By half-time, the supporter who ran on the pitch to confront the players happened upon Delaney, as he was the first to jog towards the changing rooms. He would have been within his rights to react with aggression, but he didn't. He understood the frustration -- he often spoke of it in the aftermath of defeats. But his attitude -- of working hard to make it right, always rung true.
He wasn't a world class centre-back. But he was a supremely functional, uncompromising defender. The kind that many strikers would hate to play against and the kind that football fans would love to watch.
His experience at Palace, and throughout his career, should serve as an example to others. That even at the age of 31 it's not too late to play a major role in a club's history. That when you're at your most desperate, there is always another way. Delaney is proof that hard work and dedication can make you a winner.
He'll always be a winner at Selhurst Park. A hero whose contribution will never be taken for granted.
Thank you, Damo.
---