Pre-season is done and Mark Silverstein is well excited for the new campaign to kick off. These are the things he is most looking forward to as Palace embark on their record sixth straight season in the top flight.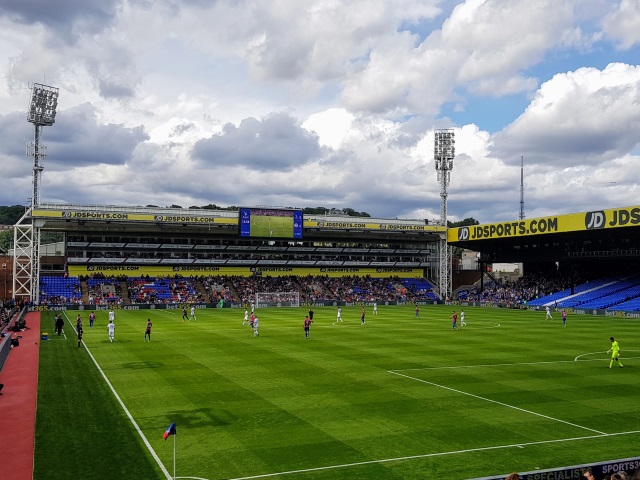 It's Football!
Yes I know the World Cup seems to have only just finished but it feels like it has been a long time since we defeated West Brom to finish the season in style in May. In any event watching the world's best players on television does not compare with watching the boys in red and blue at Selhurst Park.
On top of that there is the whole football experience which I have been missing. Going to matches with friends and family, and, in my case, going to away matches, meeting up in the pub, the anticipation of the away train journeys and the happiness/misery/indifference (depending on the result) on the way home.
It's Palace!
I am refusing to get carried away with our excellent pre-season results. It is pre-season after all-the clue is in the name. What I am looking forward to is another roller coaster season.
Of course the hope is that this season will be more ups than downs and the downs will not be quite as dramatic as the stomach churning plunge at the start of last season. Whatever happens you know it will not be boring and it will be our club and that is all that matters.
There will actually be some new faces in the squad!
At the time of writing we have signed three new players with the possibility of perhaps one more and hopefully a couple of loan signings. Although I do not want to tempt fate I am hoping there will no significant exits before the transfer window closes, in particular ( but not limited to) one W. Zaha.
Only time will tell but it looks like we have signed the sort of players we needed- a top goalkeeper, a robust and dynamic midfielder and young German international who had been rumoured to be pursued by the likes of Arsenal and Liverpool until recently. Actually I cannot say Herr Meyer is a signing we had to make.
No question he is an an exciting and intriguing addition- if plays to his obvious potential we will have a player with the talent of Cabeye but with legs which are ten years younger. I am just enjoying the fact that we signed some players with talent and potential without needing them to save our season in January.
It's Roy!
As an outsider to the club it is really hard to find any fault with Roy. Not only is he one of our own but in my opinion he really should have more recognition for the job he did last season.
The last time a club managed to stay up having the start that we had last season was before even Roy was born. He has handled all his dealings with the press with style and class. I cannot recall a time when I have winced at his public statements unlike Messrs Pardew (in particular) or Allardyce.
Being classy has not stopped Roy from getting the best out of nearly every player in the team, including a number of players we had all but written off. The possibilities of what we can do in a whole season under Roy are another thing to look forward to ( I hope!).
All least the transfer window nonsense will be done soon!
I am very much in two minds about the wisdom of bringing forward the end of the transfer window for the Premier and Football Leagues. It puts us out of step with the rest of the world and that must have it's disadvantages. The good news is that we do know who will be in our squad by the time that season starts.
That has to be an advantage for us as a smaller club who inevitably ends up sniffing around for last minute bargains ( even with our relatively early signings so far). The disruption and uncertainty of who will be in our final 25 will at least be over with before the season starts. Unless of course we sell players in the European transfer window.
Here's hoping not, unless of course Real Madrid make that long anticipated bid for Jordan Mutch.
---