Wayne Hennessey might have thought his time could be up when Vicente Guaita arrived, but Ben Mountain looks at why that might not be the case.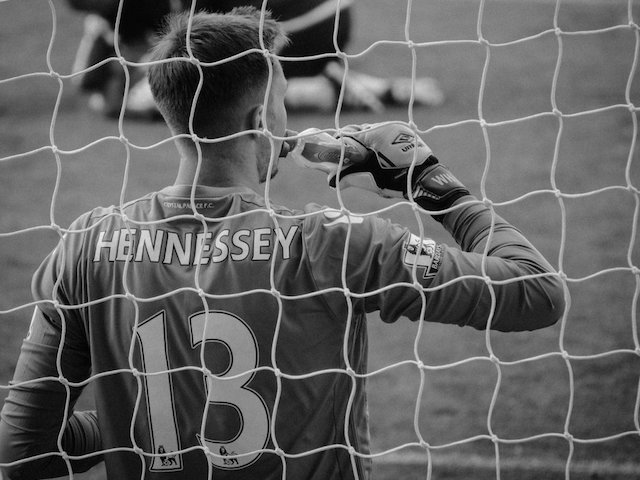 Over the years at Crystal Palace, Wayne Hennessey has become the towering embodiment of a love-or-hate Marmite-type player. Lambasted by some for lacklustre, poorly focussed performances but lauded by others for the potential he shows regularly for Wales and for possessing the height and ability to claim crosses so long desired under Julian Speroni's otherwise infallible stewardship, the fella has divided opinions since his arrival in SE25 over four years ago.
Following Saturday's heroics against Fulham at Craven Cottage, however, the Welsh shot-stopper appears to have united fans in their support of his goalkeeping competence. Pulling off a series of remarkable saves, Hennessey delivered a Man of the Match worthy performance to keep his first clean sheet of the season and reminded fans exactly why he still starts.
But it isn't only against Fulham whereby the 31-year-old has showcased his abilities for Palace. In fact, as last season progressed, Hennessey appeared to do likewise in tandem with Roy Hodgson's side's growing assuredness.
As the now-celebrated centre-back pairing of Mamadou Sakho and James Tomkins began to gel and establish itself as the first choice duo to dominate the Palace backline, it felt as if Hennessey grew in confidence, comfort and capability, too. It may also be attributed to his growing experience and the arrival of Dean Kiely as goalkeeping coach in January, but the No.13 appears from the stands to be an almost entirely new 'keeper behind that markedly solid partnership.
As shown on Saturday, Hennessey seems content allowing his defenders to mop up in and around the box without having to jeopardise his own positioning in front of goal. At times, admittedly, fans were made to hold their collective breath as the Welshman seemed just a little delayed in springing from his six-yard box. It's far from an inaccurate notion to suggest that that apparent delay can't be attributed to Hennessey's confidence in those in front of him and their ability to protect his goalmouth, however.
Given how little belief some fans have held him in, being half a yard off the pace can be forgiven in the Palace season's curtain-raiser.
Frustratingly, the performance against Fulham and successful defensive lineup on display poses a dilemma to Hodgson going forward. With Hennessey playing increasingly well and demonstrating his case to remain Palace's number one with impressive conviction, what happens to Vicente Guaita? A particular issue lies in the 31-year-old's lack of game time with the defenders he's required to keep company with. In that respect, Hennessey has months on him.


Guaita joined Palace with the intention of becoming the side's first-choice 'keeper. Still acclimatising to English football and establishing his rapport with the back four in front of him, the Spaniard was kept on the bench for the Fulham win, perhaps with an eye on starting his Premier League career on Monday as Liverpool travel to Selhurst.
However with Hennessey now undroppable, and Hodgson unlikely to severe his role in the side out of loyalty, how long will it take until the former Getafe shot-stopper is able to make an appearance? Only time can tell, but with Wayne pulling out all the stops - yes, crap pun intended - in order to hold his place between the sticks, Guiata could be sidelined for a while yet.


It's an unusual position for Palace fans, but we're now looking at a situation where two competent 'keepers are fighting over first choice. Of course, Guiata will have to play at some point - the debacle surrounding his move wouldn't be worth it if not - but it's enjoyable to watch a Palace stalwart perform at the level that so many fans said he could and finally demonstrate his much anticipated potential.
Perhaps he'd been waiting for Mama and Tomkins all this time, we'll never know. But as long as that solid partnership remains in front of him, it's tough to see a time when Wayne Hennessey won't remain behind them.
Hard luck, Vicente.
---