It's hard to believe that Crystal Palace won against one of the best sides ever to play in the Premier League, but they did just that. Here are Robert Sutherland's Palace Ponderings about the win...
Sweet Dreams are Made Of This
Wins over this Manchester City side don't fall into the realms of reality often. You hope and pray, but then you remember the 18 goals conceded since promotion, with none scored, and you dismiss both of those things and accept your fate. A trip to the Etihad is a trip to the depths of despair, as Pep Guardiola's side tear you apart and all you can do is watch.
It's like a scene from a David Attenborough documentary, where you know the gazelle is going to get caught by the lion but you just will that gazelle to find that little burst of pace to escape. The gazelle doesn't. But Crystal Palace did. Palace didn't just escape from the grasps of Manchester City's claws, they defeated the lion.
Gazelles dream of moments like these.
Is it just us or does this photo make a noise? #thwack 💥 pic.twitter.com/N7xpUk6QgN

— Crystal Palace F.C. (@CPFC) December 24, 2018
A Premier Goal to Remember
Andros Townsend's goal will be the memory-maker. Everything that you recall from the City win will be tied to that goal. A split-second of utter insanity.
When you see a goal like that, there's a moment where time becomes suspended. A silence falls as the ball careers from Townsend's foot and thunders into the back of Ederson's net. A blissful void of nothingness is pierced by the reality. It was a goal. A colourful, beautiful moment of realisation.
And it happened for fans of City, too. You could hear that reality strike as they collectively gasped 'oh' when the net bulged. It was a fantasy goal made reality. A dream come true.
LISTEN: FYP Podcast EXTRAAA - We #FreeThePod after Christmas comes early at Man City
On the subject of Andros Towsend...
No positive discussion about Townsend's contribution can ever be had without someone muttering the words 'yeah, but his end product...' -- both go hand in hand. But if all we do is look at Townsend's goal tally, you completely ignore the other elements of his game.
While Townsend's fantastic screamer was the highlight of the win, it was his all-round performance which deserves all the credit. Palace wouldn't have won had Townsend not covered as much ground as he did. Aaron Wan-Bissaka wouldn't have had as good a game without Townsend playing in front of him. Jeffrey Schlupp's goal wouldn't have happened had it not been for Townsend's initial touch, and his pivotal move in the centre of the field a few seconds later which fed the ball to James McArthur. These are small, insignificant moments that in sum made his a man of the match performance.
Townsend is proof that you don't have to score goals to make a difference. It definitely helps; his goal was after all the one that gave Palace the lead (and the one we'll be talking about for a lifetime), but it was everything else he did that ultimately put Palace in a place where they could win. And he does that on a regular basis with little credit.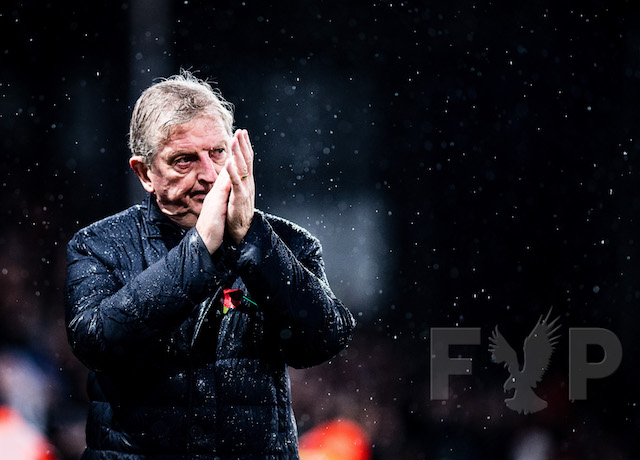 Roy's Tactical changes are Detailed, not Drastic
So much is said about Roy Hodgson's tactics, especially in defeat. His reliance on a 4-4-2 formation is often maligned. His lack of substitutes is criticised. His unwillingness to pick certain players is questioned. But beneath it all, there is a manager with ceaseless willpower and a defiance to persist, this in light of having a subs bench that really lacks quality. And that deserves praise.
Palace wouldn't have won at Manchester City had it not been for the way the team were drilled. They wouldn't have done it had they not been as focused as they were. This is a Manchester City side that, in the second half, changed it's entire attacking line-up to try and break down a defence they'd struggled to defeat in the first half, only to encounter more of the same. A fluke goal from Kevin de Bruyne made the scoreline look a lot more flattering than it should have, as City had toiled for so long.
Often, much of what Hodgson does is in the detail. The formation doesn't always change but the way the players work within that structure does. It was clear yesterday that the squad were happy to let City's defenders have the ball. The time to strike, for Palace's midfield and defence, was when the ball crossed the halfway line. The more City pushed forward, the more Palace's midfield compressed. It's like the Leicester City game to some extent -- Leicester had all the pace but Palace refused to be stretched to give them it. The same was applied to City -- they had all the space in their own half, but once they got near Palace's goal, the area where they are at their most threatening -- with short, sharp, incisive passing -- became a minefield of tackles and physicality.
Not enough will be made of the tactics Hodgson instructed his team to play with. But that win was a credit to him and his coaching staff.
Defeats Don't Have to Mean there's a Disconnect
There has been a lot of talk about the club, the players and the fans losing touch. About supporters losing that connection. Defeats do that, and this season has seen a few.
The frustration of seeing your team lose, very often in scenarios where there are tight margins at play, is disheartening. But this is the team we know and love. This is why we're Palace fans. Disappointing defeats are part of the package. They make the sensation of winning against sides like City all the more delightful. And if you're a Palace fan, you can't have one without the other.
Football clubs go through these fluctuations, and Palace are no different. We have to sometimes learn to take upsets like the Brighton defeat on the chin, because we know that there's always a chance that Palace can pull off the miraculous, as they did this weekend. It's the game we love, and the club we adore.
---