Palace's home form has drawn some ire since the Everton draw, but the frustration is really down to an entire season (and more) of poor home results.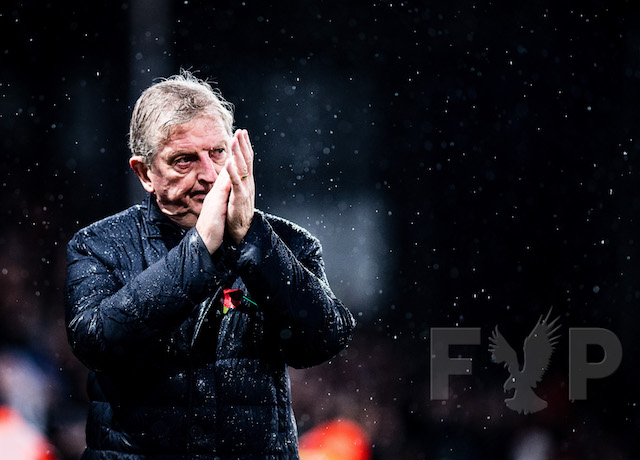 As a Crystal Palace fan, I get my fix of Palace action from our home games. I attend one or two away matches a season. The enjoyment I get from watching the club is almost entirely from matches at Selhurst Park.
There has been little enjoyment at Selhurst this season. Four wins, few of which were convincing, haven't really given us a fair return on our investment. Palace's home form, since promotion, has been consistently disappointing. Palace just don't get wins at home and Roy Hodgson hasn't changed that.
It's perhaps unfair to take the Everton performance as the final straw for the way Palace have played at home; the Toffees are a good side playing well and their physicality is difficult to match.
In comparison to the Everton draw, the defeats to Southampton, Brighton, Watford and Wolves were far worse, as were the tepid draws with Cardiff City and Newcastle Utd. But the Everton game was a fine example of the problem with how Hodgson sets his side up.
The rigidity that makes Palace so difficult to beat away is the thing that makes the Eagles so difficult to watch at home. You expect your side to give it a go at home. To just try and throw things forward a little. You expect substitutes to be used to change shapes, to try to exploit opponents weaknesses you spot during the match.
When the status quo isn't working, you expect changes at a point where they can have an effect on the match. This didn't happen against Everton and hasn't really happened all season, and that is absolutely a Hodgson failure.
There is clearly mitigation. Palace have only had fit strikers to choose from since January. There have been injury issues throughout the season and depth hasn't always been available. It's fair to give the manager some slack for that. However, even since strikers have become available, that home from has barely improved -- and despite the greater depth in the team, changes aren't being made to the team like they were last season. There's a lack of responsiveness to what is actually going on on the pitch.
Against Everton, with Max Meyer struggling to have an impact against their physicality, Hodgson brought on Townsend in the 72nd minute. The change should have come at half time, but even when it did, it would have been an opportune moment to make a change to the formation, to try and exploit Everton's back three to pace.
That change didn't come. Townsend slotted in to the position previous occupied by Meyer, and Palace persisted with the ineffective tactic of playing Wilfried Zaha and Christian Benteke up front. At a point where Benteke clearly needed players around him to feed off scraps, his isolation was just further exposed.
This isn't a call for Palace to go hung-ho; there's a sweet spot to be found where defensive solidity is matched up by displaying a little more attacking intent. However, from all the home games we've seen, there's been a distinct unwillingness to venture away from that defensively solid structure. It's exposed all the more by opponents such as Cardiff City — it was like watching two sides playing away cancelling out each other's tactics.
This criticism will inevitably lead to Palace's statistical analysis being brought up, highlighting that players have missed a huge number of opportunities at home this season. They absolutely deserve criticism for this.
It's clear that they can score goals for fun in the training video compilations posted to social media, with smiles and thumbs up, but when it matters they flounder.
Look at other clubs of a similar standard in this division and the majority seem to take shots - this Palace side gets into positions where shots are just begging to be taken, like Cheikh Kouyate had, where instead they look for passes. That's not Hodgon's fault, but it's symptomatic of a side that has lost some of the simple essence of what football is about. Not just defending, but scoring too.
This is supposed to be the best Palace side we've ever had, and certainly on paper it seem that way. Away from home, Palace's form is that of a top six side. At home, it's that of a side sitting just second from bottom.
Hodgson doesn't need to leave and certainly doesn't deserve to be sacked, but Palace fans have the right to be disappointed with how the side has performed at home. It's been dreary and frustrating. With such a talented side, it's time they showed their worth at Selhurst.