Captain Luka has signed a new deal, giving Palace fans a real opportunity to rejoice.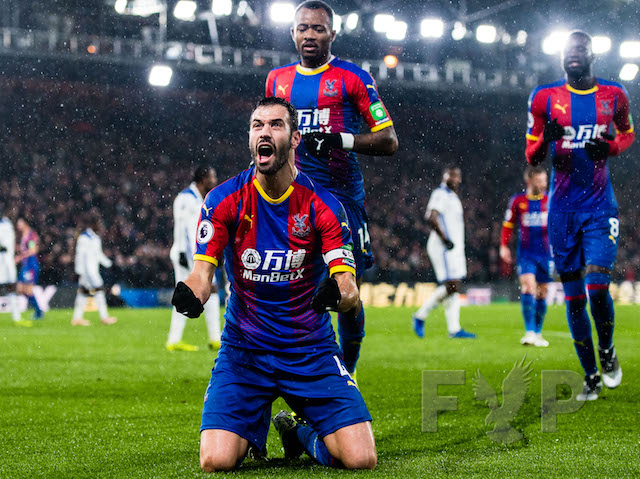 One of the ongoing sagas of the summer, and of last season, came to an end when Crystal Palace's club captain Luka Milivojevic's put pen to paper on a 4-year-contract at the club, ending months of speculation that this could be his last season at Selhurst Park.
Milivojevic's influence shouldn't be underestimated at Palace. The player is a truly critical cog in the machine. His ceaseless energy helps to drive the side forward, while his boundless confidence from the penalty spot is enough to strike fear into even the most accomplished goalkeeper.
With 24 goals in 88 Premier League appearances, 19 of which from the penalty spot, it's clear that the midfielder has an important part to play in the side. It's his defensive work and his role in transitioning the team from defence to attack that really makes a difference however. It's those passes that don't always get the same kind of credit that his goals do.


The fact that the Palace captain hadn't signed a new contract was, for many Palace fans, an indicator of deeper-lying problems. What kind of established Premier League side can't even convince their on-field leader to commit to staying?
There was also a concern that his reluctance to agree to a contract would signal a repeat of the Yohan Cabaye impasse, which resulted in the club thinking he'd agreed to a deal only to then be unveiled as an Al Nasr player on Twitter.
Combined with the transfer window malaise, in which Palace flounder in their pursuit of a striker and a right-back, there was a genuine sense of inertia at a club that, for a long time, had made plenty of progressive strides.
Milivojevic signing a new deal is no indicator of future endeavours, nor does it resolve Palace's recruitment needs. A cynic might suggest that the renewal announcement was held back to soften that blow a little. Whatever the case, there was a sense of relief and delight.
Wilfried Zaha's ongoing attempts to leave the club also prove that signing a five-year deal means little if that player changes his mind — but Milivojevic's contract does protect Palace's original investment in the player. That cliff edge every Palace fan feared is no longer on the horizon.
The hope for all Palace fans now is that Milivojevic's confidence in the 'project' is a sign of a change in attitudes at the club as a whole. Perhaps that's asking for a little too much, too soon.