It was a great goal. His mate Olly collected the ball on half way, played a glorious ball through to my 9-year-old boy who then placed a delightful, left-footed finish into the bottom corner. Wheeling away towards the crowd of parents on the side-line, my son did something he has never done before...


Previously when he celebrates for his Sunday team he either does something daft or replicates what he has seen on MOTD. The Zaha celebration is his favourite, accompanied with a poorly executed Wilf dance. But this time he clenched his fists, crossed his arms before dropping to his knees in apparent ecstasy (very well executed in truth and deserved an Oscar). My boy, out of nowhere, had decided to perform the Ayew celebration. He has a new unlikely hero. Our Ghanaian number 9.


When we signed Ayew on loan last season it was widely regarded as a decent-ish signing in terms of filling numbers.He came with a health warning after relegations with Villa and Swansea but at times circumstances like that just happen in football.


The issue was that in the games he came on or rarely started, Ayew struggled. First and foremost, it wasn't clear what his favourite position was. He gallantly played where told to but that was mostly on the wing where, with the greatest of respect, a player will always find it difficult to outshine an in form Andros Townsend or Wilfried Zaha. He looked lost at times and failed to make any impact.


Even when he played up front in his favourite position he found it difficult. Like many 'smaller' players, in a system which requires a target man to hold the ball up, Ayew often looked lost and increasingly frustrated as long balls from the back gave him no chance to attack against 6ft + centre-halves. Rather than adapt a system for Ayew, we simply hoped Benteke, Sorloth or Wickham would get back firing, resigned to believing Ayew couldn't cut it as an isolated lone striker.


A goal away at Wolves was well taken but apart from that it's fair to say the vast majority of Palace fans were hardly demanding we get the Ghanaian back permanently. In the modern-day market however, a £2.5m purchase wasn't unreasonable though we were all expecting better follow-up signings in forward positions to arrive in the days after he signed. That they didn't materialise demonstrated a lack of ambition; a sense we were being tight and landing pound shop players when we should have been more ambitious. By default Ayew came to represent this point of view.
Well, what a difference three games makes. The first against Everton could have been extremely problematic for the club. As mentioned above, a disastrous transfer window, combined with the fact our talisman Wilfried Zaha had asked for a transfer, meant there was the potential for a nasty atmosphere to emerge from the stands. Fans had been crying out for a striker all summer and hadn't got one. Many of us went to Selhurst fearing the worst.


Instead, we witnessed a terrific, hardworking performance from Jordan Ayew who started the game up top. He held the ball up brilliantly, brought others into play, gave defenders zero time on the ball and was a constant menace. Yes, he didn't take a decent chance to win us the game but it was a promising start from Ayew, now sporting the number 9 shirt vacated by Sortloth leaving for turkey.


The next week Ayew was unlucky to be dropped against Sheffield United. A truly dreadful showing at Bramall Lane gave him the chance to shine again at Old Trafford and boy did Ayew take that chance. A goal, a dominant performance up top on his own and an overall heart-on-sleeve performance endeared Ayew further to the red and blue faithful. A similar display the following week at home to Villa warmed the hearts further. As one person said to me, 'he's starting to look a proper palace player' and I was inclined to agree.


But what is a 'proper palace player'?


Well in the past we've had prolific strikers but not often ones that fire shedloads of goals in the top flight. Benteke's 17 goal haul (it did happen once, honest) was the best we've had in our recent Premier League tenure. Andy Johnson and Chris Armstrong had terrific seasons in the top tier too. Before then it was Wright and Bright. Other than that, we've not had a consistent goal scorer in the world's most lucrative league since I supported the Eagles in the early 1990s. So being 'prolific' in front of goal doesn't necessarily make you a 'proper palace player'.


Maybe flair does. We've had Zaha and Bolasie in recent times and Lombardo and Salako in days gone by. These players are 'proper palace' but does Ayew honestly possess 'flair'? Probably not. And, to suggest being a 'proper palace player' is about exciting a crowd is unfair on the likes of Shaun Derry, Mile Jedinak and Damien Delaney who had zero flair but fall into the 'proper palace' territory with ease. And with that confirms what 'proper palace' means; it simply refers to heart and Ayew clearly has a huge one that is starting to beat red and blue.


We've seen it before of course. We've seen the zero to hero rise at Selhurst with such players often hailed for their resilience in wanting to do their best for the club, refusing to quit when it would have been easy to have done so.


Speroni springs to mind after a calamitous Premier League debut years back. Before then we saw Dean Austin somehow gain the affection of fans in a stupendous turnaround. It's fair to say he wasn't universally rated by us supporters but now his "applause above the head" clap has become legendary and he even has a mini-documentary made about him by our terrific CPFC media team.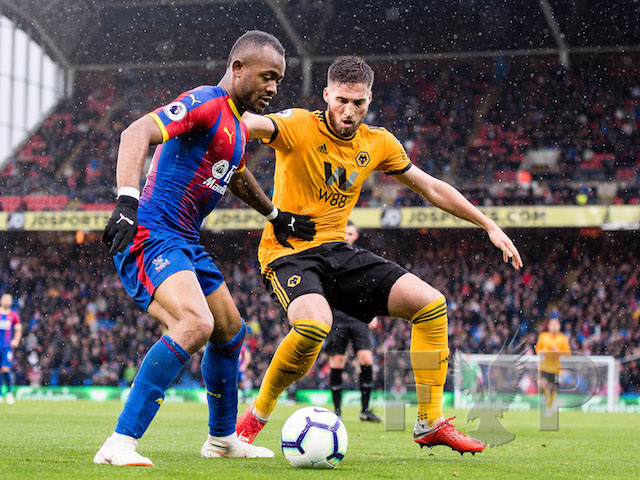 Don't get me wrong, Ayew has got a long way to go before he reaches such status but the start to the season has helped. Whatever happens now, his goal at Old Trafford will be discussed for generations. And so it should be. To follow that with a goal against Villa will only enhance his confidence further. Fans are starting to warm to him because we see what it means to the player himself. Each time he has started this season he has ran himself into the ground. Each time he's scored he is on the brink of tears. Each time he demonstrates such passion, we in the stands, empathise. We share it. We feel it. We have a player who, on the face of it, appears to 'get us' and we are now understanding him.


Jordan Ayew will have had pressure to perform all his life. He comes from outstanding football stock. His brother André was once a 20m acquisition for West Ham, whilst his own father, Abedi Pelé, is an African legend (and I say this without a hint of hyperbole). Therefore, his entire life Jordan has been expected to accomplish great accolades in the game. One can only imagine the extra pressure that can bring. But, he's at a club now that has 100% faith in his ability, resulting in outstanding performances.


All I ask now is the singing section at Selhurst launch a decent chant for our Ghanaian prince.


I was always a big fan of the Dwight Gayle chant. And, to be fair, the two syllables in the name Ayew makes it fit perfectly.

"Boom boom boom let me hear you say Ayew; AYEW!" Just saying and all that. Fanatics it's over to you. Whatever we chant in homage to our new fan favourite, one thing is for sure, Jordan Ayew deserves a chant and we as loyal, passionate supporters deserve a player like Jordan Ayew.
---