On the latest episode of Pardew's Hot Pants we debated the best and worst Palace daylight robberies. The response from our listeners has been overwhelming, with their own suggestions of classic robberies, so we have compiled them all here.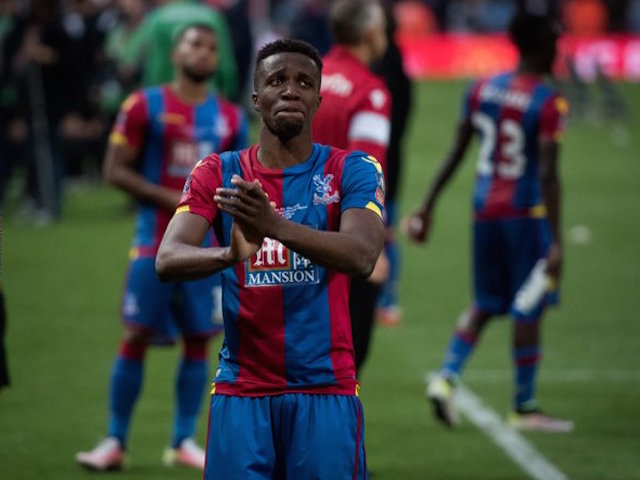 Firstly, we have five examples or referees robbing Palace of legitimate goals from Ed...
Terry Wharton, home to Nottingham Forest, 28 August 1971
Wharton's powerful shot is deflected into the side-netting by a defender, but the referee points to the centre spot. Under protest from Forest defenders he then seeks a second opinion from Palace captain Steve Kember, who admits it wasn't in. Kember's sportsmanship is rewarded with a second refereeing error: a goal-kick to Forest instead of a Palace corner.
'There is plenty of room for honesty in the game,' writes manager Bert Head in his next programme notes. 'I'm sure his action will not be forgotten.' It is not forgotten: Kember is transferred the following week.
Jeff Bourne, away to Shrewsbury, 16 April 1977
A stubborn Shrews side is doing its best to upset Palace's promotion bandwagon, but halfway through the second half the ball is misdirected across the goal by a defender and Bourne hammers it into the roof of the net. The ref awards a goal, but reverses his decision when Shrewsbury players draw his attention to a hole in the side netting. Justice is ultimately served when Bourne secures promotion with a goal in the final minute of the final game of the season.
Clive Allen away to Coventry, 6 September 1980
A free-kick outside the area is tapped to Allen, who fires into the top corner. The ball rebounds off the stanchion and back into play. Referee Derek Webb (and commentator John Motson) both adjudge it to have came off the post; Palace players beg to differ. 'I'm disgusted,' says manager Terry Venables of Webb. 'Now, if he's saying we've got to hit some particular part of the net – well, that's different.'
And then Baddiel and Skinner parodied it in the excellent Phoenix From The Flames Series...
Tommy Black, home to Leeds United, 16 February 2003
No Palace fan would have complained if Leeds United's Michael Duberry had escaped without a red card and a penalty awarded against him. That is to say, no one would have objected if referee Dermot Gallagher had noticed that the ball was already a yard over the goal line when Duberry comically shovelled the ball back into play using his hands. Amazingly, the referee managed to miss both the goal AND the subsequent handball. Palace were denied a 2-1 lead and Dirty Leeds went on to win this live televised FA Cup quarter-final by that score.
Freddie Sears away to Bristol City, 15 August 2009
'You would like to think the match officials, the three of them, would have spotted the ball had crossed the line,' says referees' chief Keith Hackett following this diabolical cock-up. Tommy Black smashes the ball in from point-blank range, whereupon it rebounds off the base of the stanchion and back into play. Neil Warnock is typically philosophical after losing 1-0 with a cobbled-together side as the club teeters on the edge of extinction. The match is NOT replayed.
Next up, Will Thomas remembers this robbery back in 2005...
I'd like to take you back to December 2004, and Man City hosting Bryan Robson's West Brom. He was under pressure having seen a poor points return since taking charge a month or so earlier. The final score of this match was 1 - 1, with West Brom scoring thanks to a ridiculous Richard Dunne own goal that some people might remember for Robert Earnshaw's desperate attempt to claim for himself by sprinting after the ball that was clearly already going in (it crossed the line before he could touch it). West Brom were completely outplayed in that game yet somehow managed a score draw despite not registering a single shot (note - not a shot on target, a SHOT) in the entire match.
Fast-forward to the final day of the season, and West Brom secured their Premier League survival at our expense by, you've guessed it, ONE POINT!
I still to this day remember the deep sense of injustice that I felt when we were relegated thanks to that single point that West Brom managed to secure at Manchester City, and think it definitely qualifies as a heinous example of daylight robbery at Palace's expense.
I think Kevin Day in particular, who seems to think everything works against Palace, will appreciate the mental gymnastics involved in turning this mid season match between two random teams into a Palace related robbery.
Now, over to One More Point editor Cris Lehman who still hasn't let this robbery from September 1992 go...
Palace 1 Southampton 2
Dowie with both goals after Tim Flowers kept it from being 7-0! The game that changed everything. Salako should have had a ha trick. He was rampant. Even hit the post with a penalty.
We'd started off playing 'pretty football' but it was a slow start. Things looking up as Armstrong looked good soon after joining. But this result meant the 'project' was binned and we returned to the more direct style under Coppell. Very similar in a way to the FDB period ended with that loss at Burnley.
I was expecting Dowie to apologise, it was that much of a robbery!
Then we go to Twitter where listeners were quick to add their selections...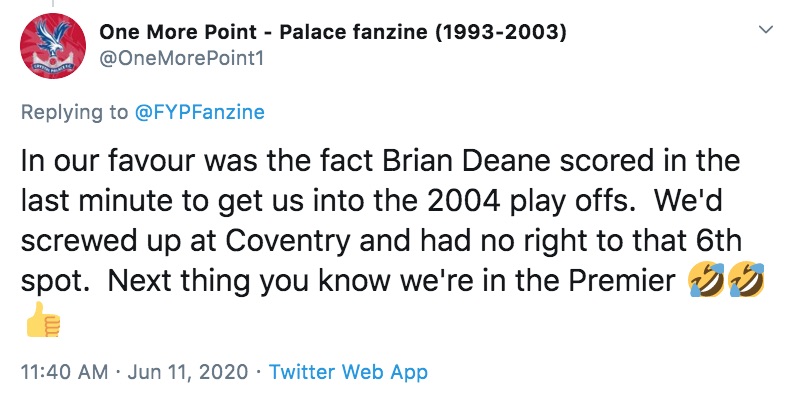 Any we've missed? Tweet us @FYPFanzine or email us This email address is being protected from spambots. You need JavaScript enabled to view it.
---