I'm going to say it. I miss Brendan Rodgers.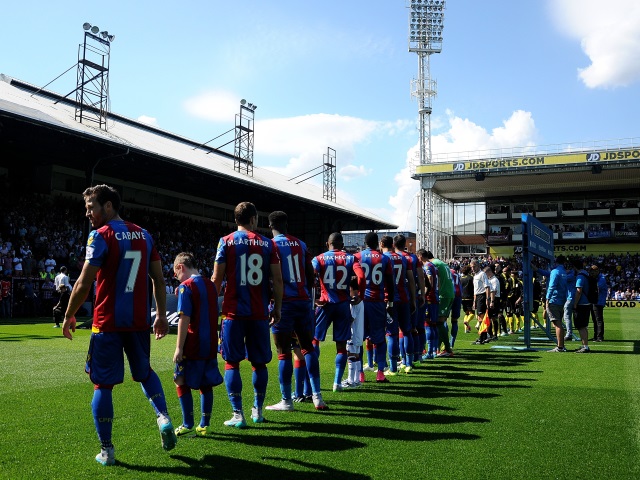 With him in charge, I have no doubt that Palace would've taken six points off Liverpool this season. Now, Super Al needs to tactically out manoeuvre a man lauded as the second coming, ex-Borussia Dortmund coach and hipster choice, Jurgen Klopp.
Entertaining cliche ridden defences of his under performing side were in abundance before Rodgers finally got the heave-ho from the club's American owners. According to press reports, not even a win in his last game would've saved his job although I'm not sure how they could've gone through with dismissing Rodgers if he'd masterminded a 5-0 win at Goodison against Liverpool's bitterest rivals.
The timing of the sacking suited Liverpool. An international break offers both the time to find a new manager and the time for them to work with at least some of the players before their first game. Klopp was the first name mentioned and it became clear quickly that his signature was the only one Liverpool were pursuing.
Having left Dortmund at the end of last season, Klopp's name has been attached to many managerial vacancies across Europe. If you consider that, during Klopp's sabbatical', a vacancy had come up at Barcelona, Juventus or Bayern Munich, the German would almost certainly have been interviewed; Liverpool have done very well to entice the German to Anfield when current form indicates great success isn't coming in the foreseeable future.
Perhaps the notion of a project lasting several years is what appealed to Klopp. When he left Mainz to take the job at Dortmund, his new club weren't in the best shape and it needed a lot of work before they could considered serious title contenders and a lot of hard work is exactly what Klopp and his trusted team of coaches put in. Two Bundesliga titles and a run to a Champions League final evidence the fruits of their labour and if in five years, he can showcase a similar return for Liverpool, he'll become one the great managers of the English game.
Liverpool are a club desperate to return to the top table of English football. Over a quarter of a century since their last league title, Rodgers' reign did include their most substantial title challenge in that 25 years but upon his leaving, the club appear as far as away from winning a Premier League title as they did before he joined in 2012. Be it Rodgers' tactical ineptitude, god awful recruitment or players not performing to the desired level, Liverpool ended last season and began this one looking half cooked and little or no threat to the teams above them. The pressure on Klopp to improve things both on and off the pitch will be there but such has been goodwill shown towards the charismatic German, he might have a little longer to correct things than other managers might have been given.
For at least the next two months and most likely the rest of this season, as January is a difficult time to add any substantial quality to a squad, the new man can only call upon players left at his disposal. Having adopted a pressing style at both Mainz and Dortmund, Klopp has already imprinted his style on this Liverpool squad and the playing style, especially when without the ball, is completely different to that under Rodgers. Whether or not the current batch of players will suit the style remains to be seen but early signs are encouraging. Last weekend's win at Stamford Bridge has almost been ignored because of the Mourinho circus but Liverpool's approach and performance was bang on; Klopp out thought Mourinho and while Chelsea were pretty awful yet again, Liverpool's performance was their best yet under their new manager.
Other than the win, the individual performances of two key attacking players will have pleased Klopp the most. Phillipe Coutinho, Liverpool's best player of last season, returned to form with two goals, the first of which was a thing of beauty, and Christian Benteke notched another goal having entered the game as a substitute. Get the big Belgian up to speed and Klopp will have the figurehead his desired style requires. Having enquired about Benteke when looking to replace Bayern Munich-bound Robert Lewandowski at Dortmund, Klopp will be relishing working with the summer £30m summer signing. After proving his quality during his time at Villa, there are big hopes for the striker this season.
Another reason that Liverpool fans will hope Benteke will perform well this season is the seemingly never ending absence of Daniel Sturridge. Less than two years ago, Sturridge was forming a partnership with Luis Suarez that would rival any other strike force in European football. Fast forward to now and Liverpool fans would be happy enough to see him player ten games in a row. Sturridge won't feature on Sunday afternoon and his next return to fitness will need to be managed a little better than his last return was as the striker's fitness is clearly going to provide hurdles throughout his career. Klopp must dream of having a consistently fit Benteke and Sturridge available to him but that might be a while off.
After last season's miserable efforts in the Champions League, this season has seen Liverpool return to the Europa League – the reason for our trip to Anfield being moved to a Sunday afternoon. As fortune has it, Palace face Liverpool after perhaps the most arduous trip an English side could make as they travel to face Rubin Kazan 800 kilometres east of Moscow. Klopp has taken a strong squad with him and ignored the chance to 'rest' some players, a notion that probably doesn't sit too well with Liverpool's new boss.
Last season's trip to Anfield was one to remember.
The Stevie G farewell party hadn't reckoned upon Palace offering up one of their best away performances of the last two seasons and silencing an expectant crowd. Having conceded early on through an Adam Lallana goal, Palace took control of the game, played some wonderful football and ran out fairly easy 3-1 winners.
While the Gerrard circus won't be in town this weekend, Yannick Bolasie will have the chance to come up against Dejan Lovren again and we all know what that means…
If the Croatian has any sense, he might be best off if he 'loses' his passport in Kazan in order to avoid the horrors he normally endures when up against Palace's number 10.
---