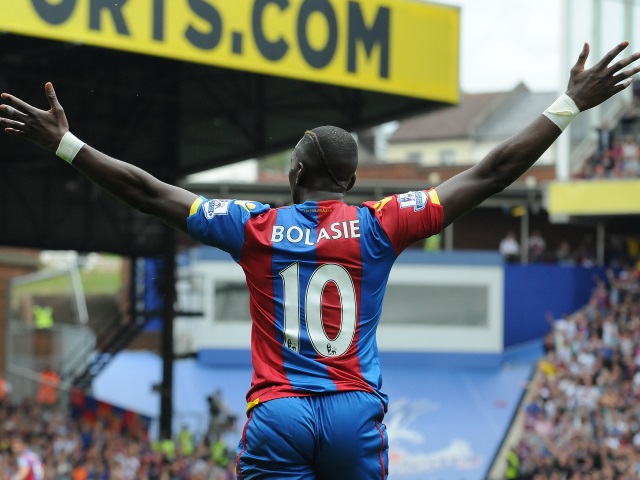 One of the perils of performing well in the Premier League is that you're likely to come to the attention of those lovely folk at Sky Towers.
Palace, a club based in South London, have been scheduled to play Everton in Liverpool (a 460 mile round trip ground to ground) on a Monday night.
On paper, selecting the fixture makes sense. Two teams who look set to battle it out for a place in the top eight and both in good form when these fixtures were announced in early October should make for an entertaining match. However, the impact upon away fans doesn't seem to have been taken into account. Yet again.
There'll be a fair few who make the trip to Goodison on Monday night but at the time of writing, our away allocation is yet to sell out; a rarity for the Palace away brigade. For last season's 3-2, the away end was packed creating a superb atmosphere and the noise really added to what was a pretty good game, even for a neutral.
If the Premier League wants to maintain any sense of atmosphere then they and the TV companies must begin to hold football fans in higher regard. Asking Sunderland fans to visit us, Man City fans to head to The Emirates or our lot to head to Goodison on Monday nights is a pure insult to those who spend their money and time following their side and adding character and colour to what, at points, can actually be quite a bland spectacle without the energy of away fans.
Perhaps the fact I had already arranged travel and accommodation for the weekend flares my annoyance at Sky's nonsensical scheduling but the principle remains. I was annoyed QPR were asked to travel to Goodison on a Monday night in December last season and I'm annoyed we've been asked to do it this season.
Without a trip to Goodison, it's good ale and a visit to The Marine Travel Arena for Marine vs Blyth Spartans for me on Saturday.
Anyway, to Monday night's football.
Simply put, Everton are currently more Everton 2013/14 than Everton 2014/15. Whether that's because they're without the distraction and commitment of European football or certain players, Ross Barkley and Romelu Lukaku among them, have found a greater consistency isn't really clear but both aspects must surely be of benefit to The Toffees.
Lukaku has been in superb form in recent weeks and is starting to fulfil the potential that he clearly has. Consistency is the key for any striker and his performances of the last month or so indicate he may well be finding that; a facet that will add a constant threat to Everton's opponents. During his first two seasons in an Everton shirt, Lukaku scored goals and offered glimpses of the player many hoped he'll become but he was often accused by Everton fans of going missing when it mattered. This season, something has clicked and he looks a far more complete player. Perhaps that reason is the relationship he is forming with Gerard Deulofeu who has returned to Goodison from Barcelona after his impressive loan spell there the season before last.
Some of the link up play between the Belgian frontman and the Spanish winger has been fantastic to watch. Deulofeu's vision and execution of pass for Lukaku's goals against Sunderland, West Ham and Bournemouth in the last month demonstrate the quality of player Everton have in their midst and has got Evertonians very excited. He offered snippets of class during his loan move but having now been brought to Goodison on a permanent basis, if the winger can perform as consistently as he has in the last six games or so over a longer period, Roberto Martinez will have one of the most talented playmakers in the league in his ranks.
Martinez found himself under pressure during parts of last season as his side, who had looked so good the season before, struggled to reach such levels of performance and ended the season in 11th, their lowest league position since the 2005/06 season. With Everton now seeming to return to their fluid, attacking best with the likes of Barkley, Lukaku and Deulofeu flourishing, Martinez has a spring back in his step and will hope his side's progression through the League Cup will culminate in the club's first trophy for 21 years.
Following Tuesday's victory over Middlesbrough, The Toffees have been drawn against Manchester City for the two legged semi finals. Not the easiest draw but Martinez will back his side and Goodison faithful will certainly get behind their side in the hope of a trip to Wembley. It was anticipated that Everton would be made to work a lot harder for the win on Tuesday night but early goals from Lukaku and Deulofeu did the job and Everton comfortably made their way into the semi finals.
If Martinez could lead Everton to The Capital One/Milk/Littlewoods/Coca Cola Cup, he'd be the toast of the blue half of Merseyside. Not since Paul Rideout's headed winner against Manchester United to win the FA Cup in 1995 have The Toffees toasted a piece of silverware and the fans would love to see Phil Jagielka lifting a trophy above his head at Wembley on February 28th.
Jagielka is currently out after picking up an injury in October's defeat against Arsenal and will still be out when Palace visit Goodison on Monday. His absence has seen the much heralded John Stones take command of the defence. Stones is undoubtedly a class act and if lucky with injuries, there's no reason why the former Barnsley defender won't reach 100 caps and even captain his country. There probably hasn't been a more highly rated English defender since Rio Ferdinand emerged. Everton, having already resisted the advances of Chelsea, know what a prized asset they possess and while some of the biggest clubs across Europe start to form an orderly queue for Stones' signature, it would take a mammoth bid for Everton to be persuaded in letting the central defender leave the club.
Deals such as the one that saw Raheem Sterling leave Liverpool for Manchester City for around £50m would suggest Stones' value is closer to that sum, if not more because of the lack of quality central defenders on the market, instead of the paltry £20m that Chelsea' opening bid in the summer was rumoured to be.
If Everton do keep hold of Stones, as well as Barkley, Deulofeu and Lukaku, Everton have a bright future; there's no doubt it. That quartet's form for the rest of this season will be vital to the club and there are sparkles of form that if maintained between now and May will see Everton challenge for a top six place and possibly even lift a cup.
Pity for them that we're going to win 3-2 again, isn't it?