Crystal Palace face an Everton side with a crisis of identity - with some fans bemoaning their manager and calling for his sacking. Jack Pierce takes a look.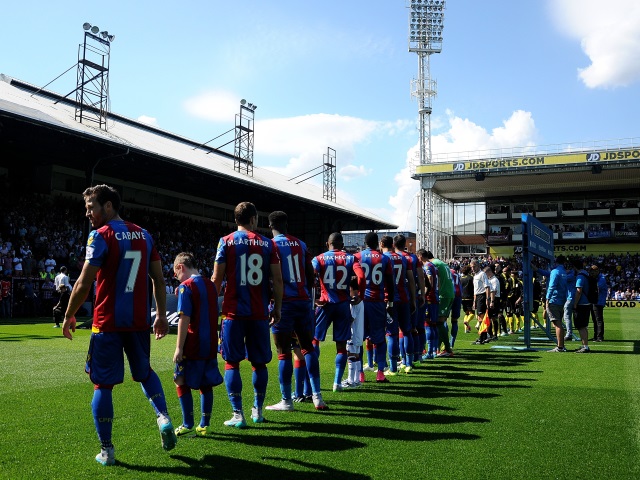 Roberto Martinez likes to talk.
Whether he's suggesting Ross Barkley is going to become an England great, Gareth Barry is an England great or Tony Hibbert should be the next Bond, Martinez loves a bit of hyperbole.
Unfortunately for him, the stagnation of a side containing what is surely one of the brightest sets of youngsters in European football that he has overseen is not something to shout about. Toffees have had enough of talk and want performances and results; Martinez might just have between now and the end of the season to save his job such is the frustration fans have with the Spaniard.
A draw at out of form Watford on Saturday won't have done anything to appease angry Blues, especially having heard Martinez hang Leighton Baines out for comments he made about team chemistry. Perhaps worthy of a behind closed doors clip round the ear at most, Everton fans have gone mental at hearing a manager they have little time for at the moment go for a player with the fan adoration, even if he's not had the best season himself, that Baines has. It was not a smart move by a manager clearly starting to feel the pressure.
The match typified Everton's season. Go one up on the stroke of half time and yet find a way of going into the break level. They're flimsy. Game management, a feature that has ever growing importance in the top flight, appears to be skill that Martinez and his side are without. There's no doubting the individual abilities of some of Everton's players but they clearly lack common sense at important times. The corner leading to Watford's equaliser was completely avoidable but John Stones, instead of putting the ball out for a throw 30 yards from his goal plays a very 'interesting' back pass to the less than mobile Joel and the keeper's miscontrol leads to a set piece unnecessarily.
While home advantage is deemed an inherent advantage for football teams, nobody has told Martinez and his team this season. Just four league wins at home have left the Goodison faithful short changed. Three of those wins have come against the clubs who currently occupy the bottom three places in the league table; a testament to the dreadful form displayed by The Toffees in the comfort of their own place.
Like us, Everton have Wembley on the horizon although they remain in the odd position of not knowing their opponents as Manchester United and West Ham only play their Emirates FA Cup sponsored by Greggs and Aldi Sixth Round Replay on the same evening that we welcome Everton to Selhurst.
Also like us, the Premier League has rearranged Everton a fixture for just few days before the pivotal trips to Wembley. While we head to Old Trafford, Everton make the short trip across Stanley Park to Anfield and face Liverpool. Martinez finds himself in the precarious position of having to prepare for a derby, one of the biggest games in the minds of fans, with the semi final three days later. He'll need to use his squad smartly otherwise he'll no doubt face further grief from the Everton faithful.
Another issue between now and the end of the season that the Everton boss has to deal with the fact there's a new influence in the board room and he'll be wanting more than Everton's current league position for his investment. The rest of this season may well be an audition for the Everton boss. Is Martinez the right man to handle greater expectations and what is likely to be a bigger budget?
Farhad Moshiri, a former investor in Arsenal has bought a 49.9% share in The Toffees and ended the wait for the foreign investment that much of the Premier League has already received. There was talk of American investment but it seems that was a smokescreen for Moshiri's bid.
A new stadium, improved facilities and greater investment in playing staff are all issues on the agenda come pre season although the stadium question is one that's difficult to answer. While Goodison Park is one of the greatest and most iconic grounds remaining in English football, there are limitations with what can be done with it regarding capacity and the very 21st century problem of limited 'corporate' facilities. With Liverpool embarking upon impressive improvements of Anfield, it seems unlikely they'll be a ground share any time soon and the various sites that have been discussed in the past, Kings Dock the most famed, always provide issues, be it financially or politically. Evertonians will be hoping that Moshiri's money will provide answers to the stadium question but whether that involves relocating remains to be seen.
A lot has been said about the possible departures of Everton's young stars, in particular Romelu Lukaku. The Belgian striker has scored 18 league goals this season and has been at the forefront of a lot of the good Everton have done this season. His form has bought attention from across Europe and there are almost certainly going to be bids for the striker. In light of the new investment and huge wealth that the overseas television deal will bring with it, Everton won't have to sell unless the money suits them and they believe they can get an adequate replacement in.
Having spent most of last summer handling the John Stones/Chelsea issue, Everton will be hoping that they don't spend this summer doing the same and if Lukaku is to move on, they will want it done on their terms and in good time.
If Palace make it two wins out of two, we will hit the 40 point mark and go above Everton. If you think our second half of the season has been dodgy, imagine being an Evertonian and being a defeat away from being 15th with just six games to go.
This season offered so much but is in great fear of frittering away, much like this very promising squad.