Crystal Palace face a Stoke side suffering a crisis of confidence. Jack Pierce takes a look.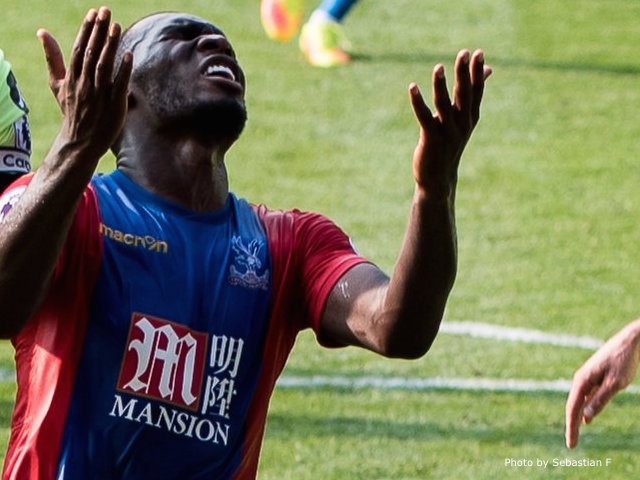 Just imagine it's 4.04pm on Sunday and Mark Hughes has got the right hump because his side are walking off the Selhurst having been beaten by our lot.
Go on. Wouldn't that be bloody lovely?
Currently bottom of the league after a rotten start to the season, Hughes' side were thrashed 4-0 by a Spurs team who dominated the match from first to last whistle last time out. There's a thought that things will eventually click for Stoke this season and this early-season blip will be quickly forgotten.
Perhaps but this start is alarming because not only do the results indicate an issue within the place but the stats also suggest there are inherent problems that need serious work to overcome. There are issues at both ends of the pitch and despite recent additions in the likes of Bruno Martins-Indi and Wilfried Bony, Stoke fans must be concerned that this campaign may be underwhelming at best, relegation battling at worst.

The pressure on Hughes, despite leading Stoke to another 9th place finish last season, was clear for all to see when he was asked to leave the touch line after an argument with officials following what seemed a rather innocuous and obvious booking for Marko Arnautovic. It's no secret he has a temper on him but to see a manager react like he did as early in the season indicates there is an expectation that Stoke will be aiming even higher than the consistent mid table finishes of the Hughes era. Unfortunately for him and them, a 4-0 thumping at home won't breed confidence within the ranks. For the second time in a row, The Britanni... The Bet365 faithful watched on as their side conceded four.

Summer signings effectively centred upon the two deadline day arrivals, Bony and Martins Indi, who arrived from Manchester City and Porto respectively. Both will add quality to the core of Hughes' side but may take time to adapt to a new club; particularly Bony who it's fair to say hasn't been exactly overworked during his time at The Etihad. That said, if he can find form early on, then Stoke will have one of the most prolific strikers in the Premier League. Martins Indi, who was on the list of a lot of clubs after the 2014 World Cup if reports are to be believed will partner Ryan Shawcross at the heart of the Stoke defence and in light of the flood of goals being conceded by a once tight Stoke defence, Martins Indi may find himself quite busy, initially at least.

Those signings are, on paper, quite impressive but one player that Stoke fans desperately cannot wait to have back is Jack Butland. Without him at the back, Stoke's defence look a different set of players in comparison to when he is about. Without meaning to cause offence to Shay Given, a very good goalkeeper in his pomp, as soon as Butland, currently out with ankle injury, returns, there is no doubt he will return to the side. This is a goalkeeper that if fit, may well have been chosen ahead of Joe Hart to play for England in Sam Allardyce's first England side earlier this month. Even if he doesn't replace Hart immediately, he will go on to pick up numerous England caps in years to come and almost certainly going to become the target of other clubs as they seek a long-term custodian of their own. If he can return to anywhere near the form he displayed before his injury last season, Butland will again become a massive asset for Stoke and is likely to instil a confidence to a Stoke backline clearly lacking it.
*Cue Given having a blinder on Sunday.

In all fairness, Palace are only not in the same position as Stoke because of last week's important win at Middlesbrough but at this time of the season, three points can make a huge difference between league position and mentality and on Sunday, it's Stoke and not us more desperate for the three points. Defeat for them in front of the cameras will add further pressure to Hughes and his side.
Palace have won the last three league games against Stoke 2-1 and not a single person reading this would object to another; one that would add to the feel good factor buoyed by last weekend's victory in the North East.