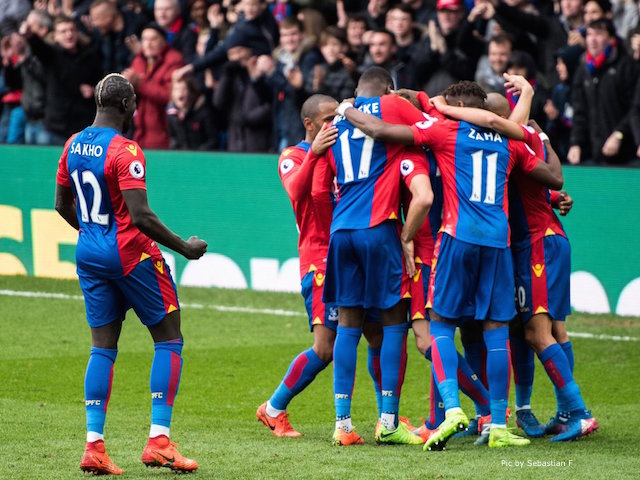 On the cusp of April and there aren't many arguing that the title isn't wrapped up already.
Ten points ahead of Spurs, their nearest challengers, and Chelsea's march towards the title looks imperious. They're winning games you wouldn't expect them not to and that is ultimately what will win them the league. While the likes of City, United and Arsenal have floundered at times throughout this season, Chelsea have not looked back since the defeat at Arsenal in September. A loss at White Hart Lane in January could have derailed them but Antonio Conte's side took no time in getting their heads together and have dropped just four points since then.
The likes of Eden Hazard, Diego Costa and N'Golo Kante have been exceptional this season and deserve all of the praise that's been chucked their individual ways but it's been the consistent form of all 11 players regularly chosen by Conte that has been key to this superb run of form. You can point at someone like our own Wilfried Zaha, who's been having the season of his life yet finds himself in a team still battling relegation. Hazard and Costa look good week in, week out but it's their role as part of a coherent, structured unit that means they're about to add a second title winners' medal to his collection.
Chelsea's impending title win is perhaps an indictment of how poorly some of their rivals have performed this season but the amount of credit put their way should not be decreased because of the frailties of others. Antonio Conte, a man who impressed so many during Euro 2016, is the de facto Manager of the Season and in a season in which the arrival of Pep Guardiola and the rebirth of Jose Mourinho were meant to steal the show, Chelsea's charming, workaholic and unashamed pitch side firecracker is certainly this season's star.
Some would argue Conte's been fortunate to inherit a squad of players not in European competition but to counter that, it's fair to highlight how he's enthused a squad of players who looked so short of belief this time last season. Yes, there's the issue of Mourinho's loss of the Chelsea dressing room and his casting aside of such important figures like Hazard and Costa but then you can look at someone like Pedro. The Spaniard looked a shadow of himself under Mourinho, as well as Guus Hiddink, but Conte has lit the spark that has seen Pedro return to the form he often showed for Barcelona and made him one of the most important players in this Chelsea side. Conte's got his squad playing for him and perhaps more importantly themselves. Under Mourinho, this group of players just seemed to lose the will to care.
Lots has been made of N'Gole Kante's form in recent weeks, especially after he dominated Paul Pogba in the FA Quarter Final a few weeks ago and it's even been suggested he should clean sweep the end of season awards. Given how impressive has been since arriving in England and on schedule to win his second consecutive Premier League title, it's a fair call but given just how good Eden Hazard has been this season, can you really look beyond him? Not for me.
Kante has been exceptional but its Hazard's drive and skill that has been the catalyst for so many of Chelsea's wins this season. Obviously, others, Kante included, provide the platform for the more mercurial talents to shine but Hazard is close to exceeding his own form of two seasons ago and he was lauded above anyone else that season so it fits for him to lauded this time around too.
So much has been said about the adoption of the five man defence and the superb form of both wing backs, Marcos Alonso and, your friend and mine, Victor Moses. It's a system that's worked wonderfully since Conte implemented it at half time at The Emirates and will have other Premier League managers wondering whether it's a formation that could work for them. It's a system Conte trusted with his life at Juventus and with Italy and while Gary Cahill isn't Giorgio Chiellini, the ex-Bolton defender has looked a different player to the one who struggled alongside John Terry at times last season. The success of Conte's preferred system has also signalled the end of 'Captain, Leader, Knobhead' and Conte hasn't seen it fit to find a place for Terry in his back three. The former England captain is almost certain to move on in the summer with a host of American and Chinese clubs rumoured to be willing to offer him a lucrative deal to show up, wave and play the odd match.
It's been a good international break against Russia for these two????????????????#cpfc pic.twitter.com/5Egn2eGyuH

— Five Year Plan???? (@FYPFanzine) March 28, 2017
Next season will bring about its own challenges for Chelsea. For one, Conte will have to rotate his squad far more than he has to do so this season given their involvement in next season's Champions League. Transfer rumours will be all over the place once the season finishes with the likes of Alvaro Morata and Romelu Lukaku already being linked with moves to Stamford Bridge. As ever, there will be Roman Abramovich's money to spend but there's a sense with Conte that money won't be spent for the sake of it. He has a system he trusts and any new arrivals will have to be of the type to fit into that system.
If we do find ourselves planning trips to Burton Albion or Wolves next season, it's fair to say it won't be the result on Saturday that's the reason. A surprise point or three on Saturday would obviously help but it's still, despite the end of the season drawing in, a free hit of sorts for Palace.
Given the title race isn't exactly close, Stamford Bridge is unlikely to become nervy should Palace be involved in the game and offer a serious threat but the natives could become a little restless and then maybe, just maybe, a repeat of our last trip to the Fulham Road could be on the cards.
---