Palace face a Chelsea side suffering its own identity crisis. Here's Jack with a look at what Palace can expect.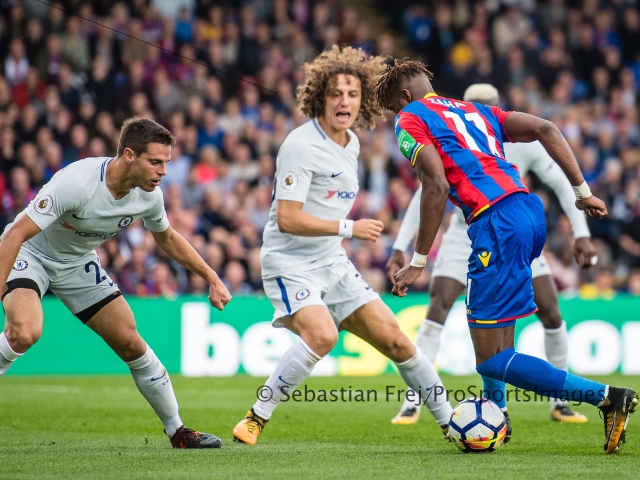 Last Sunday's performance at Manchester City was one of the oddest I've seen any Premier League team offer; let alone one possessing the calibre of Chelsea's players. It would be wrong to suggest those wearing blue just gave up but it'd be hard to claim they were trying their hardest.
Antonio Conte has struck a rather unhappy soul since the start of this season. Despite winning the title last season, a split between the Italian manager the club's board appeared almost instantly and a difficult summer transfer window didn't help. They've not really put up much of a fight to regain their title and now face a fight to finish in the top four and qualify for next season's Champions League. It's a far cry from the end of last season when Conte was the toast of West London having brought the club the league championship in his first season and it looks more and more like his second will be his last.
His family are yet to move to London and remain in Italy, he's been linked with almost each of the biggest jobs going to Italian football and it's not as though he speaks that passionately about wanting to remain in England. A romance that started so passionately now looks like it'll be over before it really began.
After Palace visit Stamford Bridge, Chelsea are off to Barcelona for the second leg of their Last 16 tie. The first leg saw a very encouraging performance from Conte's side but the soft goal conceded towards the end of that will likely see Chelsea now bow out after Wednesday. That said, it's not too long ago since Chelsea earned a famous result in the Camp Nou and there remains a hope of progression. In view of the trip to Catalonia, it's not beyond the realms of possibility of seeing a few of Chelsea's bigger names rested, which would certainly be a good thing for our lot, but with the league table indicating there's still a bit of work to be done to finish in top four, there's a chance Chelsea's team will be full strength.
Whatever the formation of the Chelsea team, we can look back at this fixture last season with fondness. Palace were absolutely superb that day and earned their win. A similar result or even just a point, particularly in view of Monday night's last minute heartbreak, would be brilliant and a real confidence boost before we head into the vitally important contest at Huddersfield in a week's time.
Key players
Cezar Azpilicueta
Involved in the mix up that led to City's winner last weekend, the Spaniard looked aghast at what had happened and no shock, given how rarely he's at fault. One of a handful of Chelsea players to come out of that fixture with an ounce of credit, you can be assured the defender hasn't forgotten about that error all week.
Signed for his versatility as either full back and with little pressure on his head, Azpilicueta has become a fundamental part of this Chelsea side and is without question a fan's favourite.
Cesc Fabregas
It's no certainty that the midfielder will be involved on Saturday. His performance against City epitomised the energy-less, tepid display at The Etihad and this from a man who should have been chomping at the bit to make the most of a rare league start.
Now 30, Fabregas' time as new kid on the block is gone and his game will have to adapt in the years to come. Never renowned for his pace, the former Arsenal and Barcelona man will now know his ability to influence of deeper positions will be more important than ever.
Willian
If you don't rate this guy, stop watching football. Energetic, skilful, creative and to cap it off, the owner of a traction engine of a right foot. Willian is somehow still not a first team ever present at Chelsea and fans of other clubs look on and wonder how.
As AWOL as anyone last Sunday, Palace will be hoping he's as absent again this time around but if he does want to know, it'll be difficult to keep him quiet.