'Be careful what you wish for' – the phrase banded about by many when the momentum for moving on from Roy Hodgson gathered. The reservations over the merits and managerial pedigree of his successor, mixed with the number of out of contract players only served to fuel those who hesitated over accepting change.
Some (Crystal Palace fans and others) wrote the team off before a ball was kicked. For the most part, though, Palace fan were eager to see how the project with a new manager and group of new, albeit inexperienced at Premier League level, players would do.
The success of Patrick Vieira's first season cannot and should not be judged on points or league position. At least not in the context of what came before. That Hodgson did the job asked of him, very well at times, is not in question. The question was whether that was the only way to do the job going forward. That was the metric for this season.
With a big summer turnover of players, mixed with a whole new coaching staff, Vieira's first challenge was one of integration. He seemed to immediately immerse himself in the club, what it means and link to the fans. This took the players on the journey with him from the get-go. It was clear each new player also got it.
The manner of the integration of the new players so quickly was striking – Joachim Andersen and Marc Guehi struck a ball-playing partnership as well as an understanding with their full-backs. Conor Gallagher seemed to be on James McArthur's wavelength from the first kick of the season. Will Hughes has come in at times and looked part of the midfield unit in a variety of roles and Michael Olise has been used with the big picture in mind.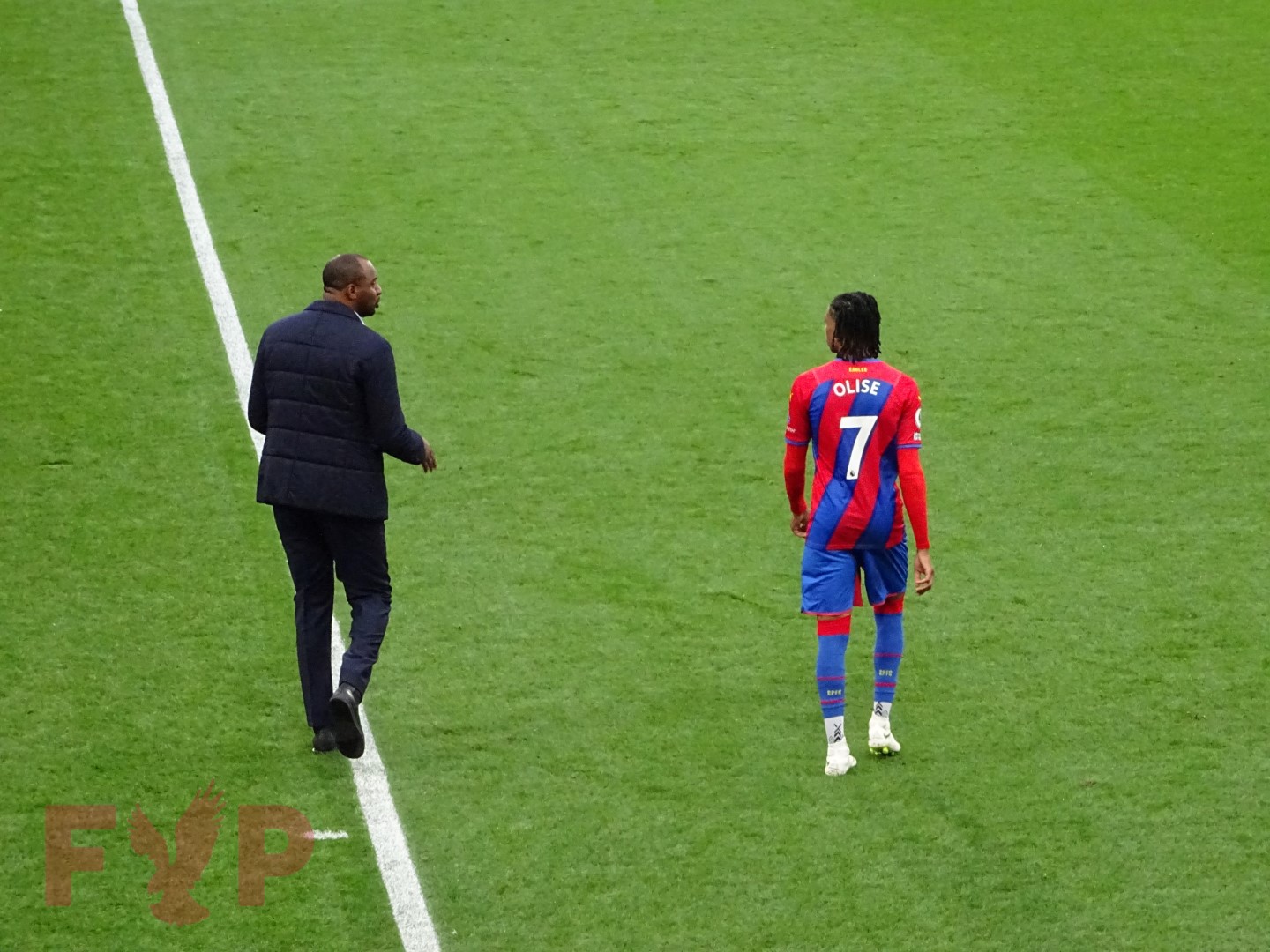 Improvement is another measure of this season's success – both in the existing players but also the unit as the season has gone on. In terms of the former, we have seen a new side to a number of the players Vieira inherited. Joel Ward and Tyrick Mitchell have both shown a diversity to their game, with Mitchell's game-by-game improvement being one of the highlights of this season.
Cheikhou Kouyaté's transformation into a key pivot of the midfield has been an essential ingredient into Gallagher's and McArthur's performances. Jordan Ayew's work both off the ball and starting transitions has been very apparent and so his contribution should be evaluated by more than attacking output. Nathanial Clyne has had a resurgence since he has had a run in the team, playing like the player he was when he left for Southampton.
Jean-Phillipe Mateta has gone from disposable to a permanent transfer and then of course there is Wilfried Zaha, freed from being the sole attacking outlet of the team, resulting in him having his best goal return. As he himself said "I feel like it's not just counter-attacks and hoofing the ball around".
Beyond players, lessons have been learned throughout. That is all part of why this season should be seen as a process and transition.
Improvements in set piece defending, in holding out at key times of the game and how the ball is transitioned from the back through midfield have been occurring as the team has gelled. Both Andersen and Guehi have added variety to how to start playing from the back. The wide players now stay wider when the ball is with the centre-backs. Tweaks with time have shown that this season has been about more than points – it has been about a blueprint. An excellent season doesn't mean there is not room for improvement.
As we move forward, there are still many questions to answer. The true success of this season will be how it is built upon; it cannot be viewed in isolation. The improvements made need to continue. The questions asked need answers – how can Kouyate and McArthur be supplemented? Identify the correct right-back to take us forward. As ever, a question mark over the strikers – can Mateta be entrusted with leading the line for a whole season? What is Odsonne Édouard's role in this team? How can a midfield be shaped to allow both Eberechi Eze and Olise to flourish? However, we are looking to answer these questions not with how to fix problems, but how to enhance what we have. That is a sign of the progress made by Vieira.
To think of the season just in terms of the table would have missed the point of why a change was needed and what a process of change is. That Vieira and his coaching team have had Palace a safe distance from the bottom three all season as well as reaching the FA Cup semi-final are a bonus for this season of transition. The season has been a success – probably our most successful in this Premier League run. He may not have been top of the wish-list for most, but we've got a manager who knows exactly what he needs.
---