Despite (by his own admission) it being a bit too early to really tell what's happening, Mike Wicks takes a look at the data from Palace's four Premier League games this season to understand the changes we've seen so far under new manager Patrick Vieira.

Okay, so it's far too early to be doing this (for a number of reasons, not least sample size) but I'm surfing a wave of post Spurs win euphoria and I decided to dig into the data to look for some early indicators of what Palace are doing differently in the Patrick Vieira era. The headlines are hardly surprising: we're younger, more prolific and accurate passers and we're better at getting the ball in the box. Dig a little deeper, though, and there are some interesting trends emerging.


Attacking

After four Premier League games under Vieira, Palace have significantly improved across key attacking metrics compared to last season. Our expected goals (xG) per 90 minutes has improved from 0.85 to 0.97, a 14% increase. That still puts us significantly below last season's league average of 1.31, but the good news is that our xG number has improved in every game so far, a sign that Vieira and the coaching staff are gradually getting their methods across. It was interesting to hear Wilfried Zaha - across various post-match interviews - make reference to how confident he was that the new approach would eventually lead to results.
Indeed, our actual goals per 90 minutes (apparently some people still prefer this statistic) has improved even more than our xG, a 21% increase to 1.3 which is bang on last season's league average. This is especially impressive given the calibre of opponents we've faced so far, facing the then league leaders in each of our last two fixtures.

Curiously, though, our shot numbers have barely improved, indeed our shots on target per 90 minutes is 41% lower than last season. Again I'll stress that it's a very small sample size and I'd be very surprised if we don't see improvement here in due course (and bear in mind that despite the scintillating performance we only registered three shots on target against Spurs). The combination of xG improving while total shots remaining stable does imply that we are taking better shots, which is encouraging.



Looking at our ability to create shots and chances, our numbers are up here too, although perhaps not to the extent we'd have imagined. Most metrics are only up by single-digit percentages and we are still below last season's league average across the board.




Defending

If it's little surprise that our attacking numbers have benefited from the shackles being removed, not many people would have predicted that our defence would be even more improved. Despite our tough start - including free-scoring Chelsea and West Ham - our expected goals conceded (xGA) per 90 is half what it was last season, dropping from 1.51 to 0.75. The Tottenham game was our best single-game xGA (0.08) since promotion which helps to bring the average down. Again, this is reflected in our (actual) goals conceded, down from 1.7 to 1.3.



In the context of our strong defensive metrics, perhaps the most surprising takeaway from the analysis is that almost across the board our 'defensive actions' numbers are down. Tackles, blocks and interceptions are all down which may simply be down to our higher possession percentage: you don't perform defensive actions when you have the ball, of course. Even with that in mind, it's surprising to see our pressure numbers so low compared to last season. The eye test might suggest we were more passive under Roy, when in fact we pressed more frequently than the league average.





Passing


The least surprising thing you'll learn from this article is that we have been better at passing the ball under Vieira. However, the difference in the sheer number of passes is still eye-catching, with nearly 100 more passes per game. We're completing those passes at a greater rate too, with our pass completion percentage now higher than the league average which would have been unthinkable in recent seasons.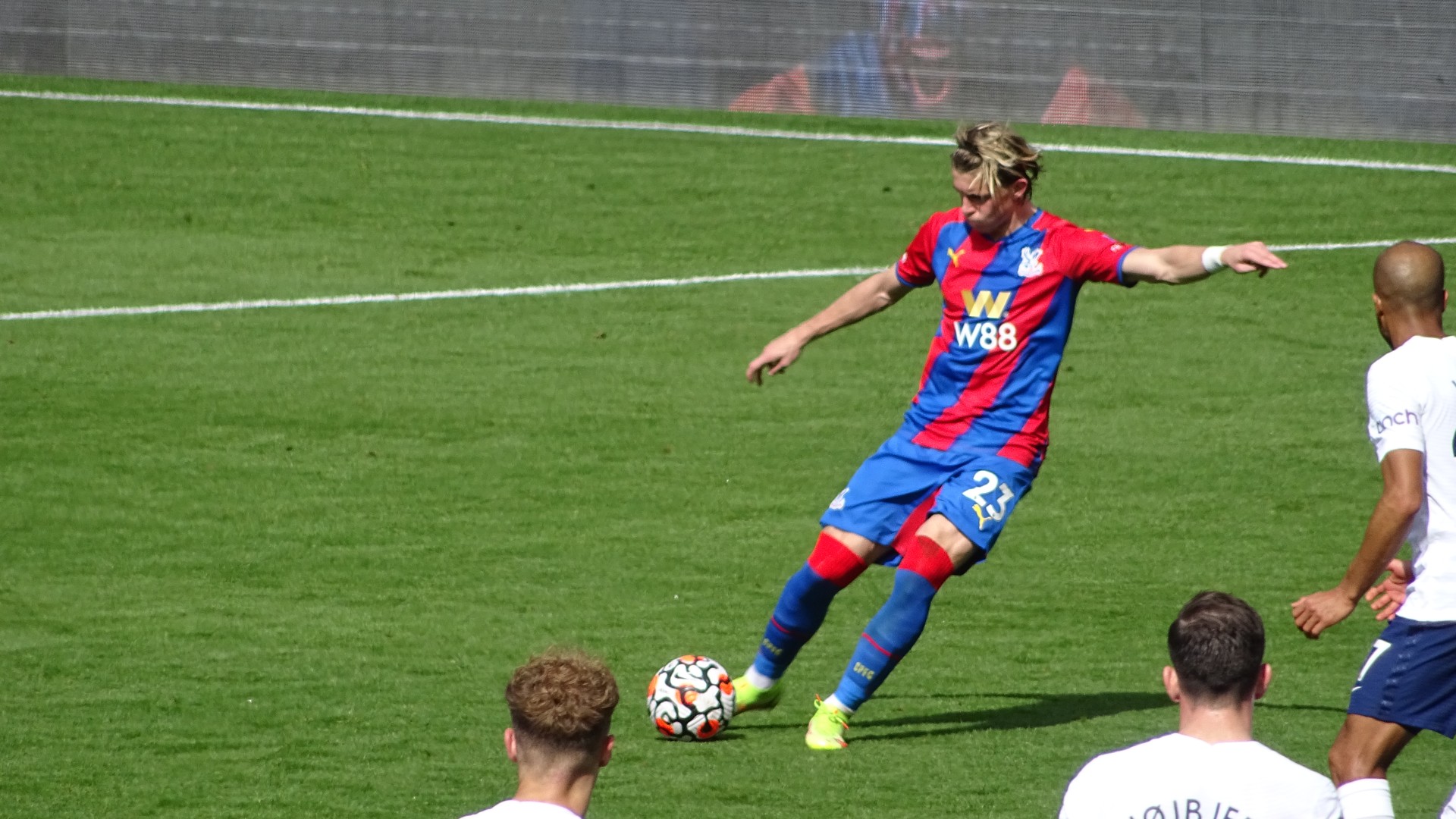 One statistic which stands out as one of the biggest stylistic changes is the number of cross-field passes per 90 minutes (passes that travel more than 40 yards of the width of the pitch), more than double last season's tally. The two main protagonists here are our new centre back partnership of Joachim Andersen (3.82 cross-field passes per 90) and Marc Guéhi (3.00). Last season our centre backs were way down this list (James Tomkins was the highest at 0.66 per 90) so this is a clear change in the way we play. As the season develops and Vieira gets better at implementing his new style, this will be a key tactical weapon in our attack, allowing us to get the ball to our full-backs and wingers in dangerous positions.




Ball progression


Regular listeners to the podcast will know how much Adam Sells cares about 'ball progression' or the ability to successfully move the ball up the pitch. The more frequently you are able to do this, the better your attack is likely to be. There are broadly two ways to achieve ball progression, either carrying the ball without being dispossessed or passing the ball forwards, accurately. Across nearly all categories we're seeing improvements and the headline statistic is that our total progressive distance - the total number of successful forward metres per game - is up by 13%. Slightly surprisingly that improvement is down to carries more than it is from passes, but nonetheless, this has certainly helped our attacking output.





Summary

I'll repeat my disclaimer from earlier: it is far too early to be drawing definitive conclusions. This analysis is only worth taking seriously after 10 games or so. Nonetheless, the early signs are promising because against a series of tough opponents we have been better going forward and better defensively. The transition to a more 'progressive' style of football seems to be happening sooner than expected without a negative impact on results. It's been an encouraging start and hopefully, there's more to come.
---