A bumper edition of Route to Goal features both of Odsonne Édouard's debut goals. He made only five touches in his cameo appearance, so whilst there is still more to learn about him, what can we learn from his first two goals? Here is Route to Goal #4 & #5.
Goal #1

Individual Brilliance from Zaha

Wilfried Zaha put in his best display against Tottenham, terrorising Emerson on his debut. Morphing back into the winger from two seasons ago, after time at centre forward in the last, he pounces on the second ball from Rodon's header.
Showing his natural dribbling ability, he drifts away from the initial challenges. Édouard, cleverly holding his run, shields Zaha from Rodon, allowing him to break free. Édouard, the fresh player, makes his move towards the penalty area.


Poacher's Instinct

With Christian Benteke having worn down and tussled with the Tottenham central defenders for the opening 83 minutes, Édouard gets a chance to get free only seconds into his debut appearance.
Free of the defenders, Zaha accelerates towards the box, drawing the focus of every Tottenham player tracking back. Meanwhile, Édouard, not overrunning, finds a pocket of space away from Davies, giving Zaha the angle to drill in a low cross.


The composure and his ability to strike with both feet were attributes that excited us when he signed on transfer deadline day, and they were on show. From beyond the penalty spot, with only a cursory glance towards the goal, Édouard controls and maintains his balance before putting the ball through the defender's legs. Not as easy a chance as he made it look, an outstretched Hugo Lloris couldn't deny him.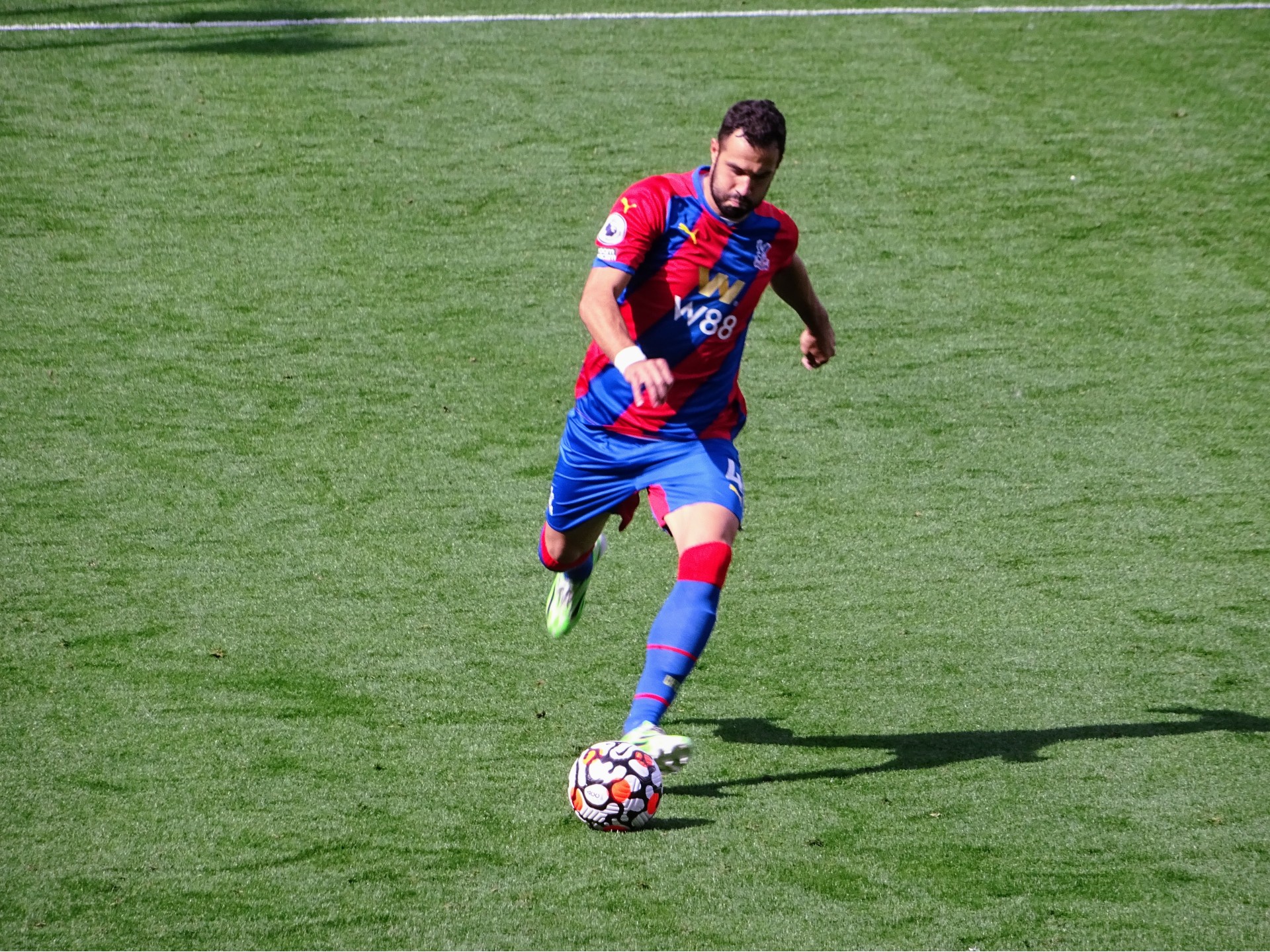 Goal #2

Luka Switches Play

Last season, in a pre-Joachim Andersen world, Luka Milivojević was Palace's most effective long-passing option. Having completed more 30+ yard passes than any other outfield player in his four full seasons at Selhurst Park, the logical switch for Kouyaté in the second half gave Patrick Vieira a better playmaking option with their one player advantage following the red card.
When Mike Wicks looked at the initial statistical changes from last season, the number of cross-field/switched passes per game has had a considerable increase under Patrick Vieira so far.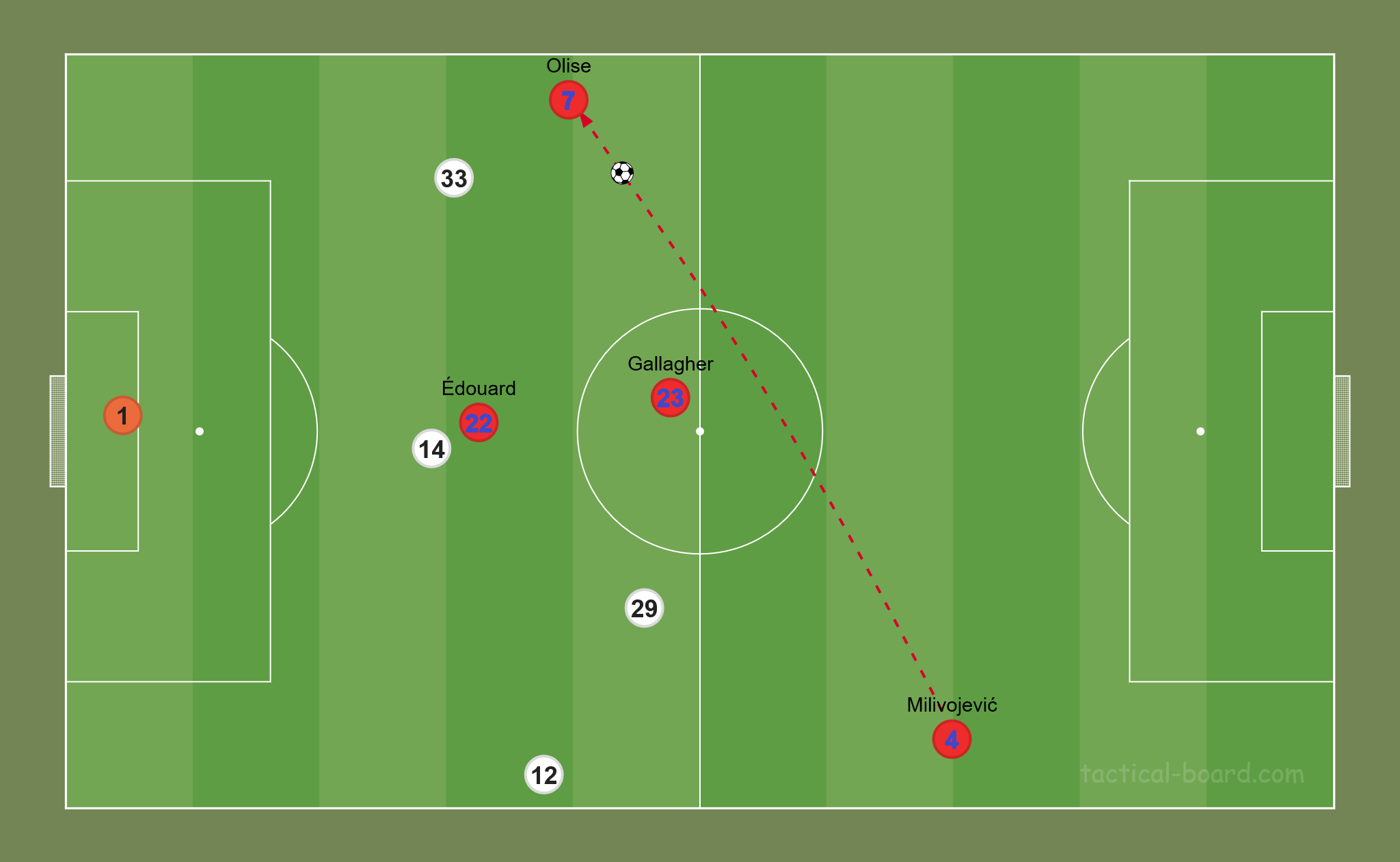 With the defence thwarting one of Tottenham's final attacks, Luka receives the ball from Mitchell deep in Palace's half. Adding to the switches tally, with an exquisite long pass, Milivojević springs a Palace counter as he finds Olise out wide.



Édouard Doubles Up


Crystal Palace may not have invested an enormous fee in acquiring Michael Olise, but they have invested a lot of faith in him to become a potential teenager starter. In his first real contribution, Olise shows no fear as he immediately has Ben Davies backpedalling.
Gallagher is an easy pass for Olise to offload the ball, yet again getting forward in support. As the Spurs players try to recover their position, Gallagher doesn't have to move before spotting the free man in the box, sliding in the through-ball.



Having drifted away from Joe Rodon and with Emerson out of position once more, Édouard gets in two touches before firing on target with his left foot. The hand of Hugo Lloris is not strong enough to deny him.
Édouard will leave his debut wondering if there's even much of a "step-up" to the Premier League from the Scottish Premiership. As the commentators said on the final whistle, "I think Palace may have found themselves a goalscorer."
---