Jean-Philippe Mateta has permanently joined Crystal Palace for a reported €11 million from FSV Mainz 05, signing a 4.5-year deal to keep him at the club until the end of the 2025-26 season. Find out the reasons for his signing: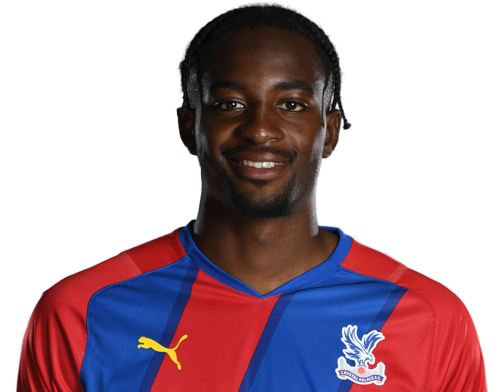 After a solid performance against Norwich, capped with a first-time finish, it seemed likely that Mateta could still be heading back to Mainz at the start of the transfer window.
With Eddie Nketiah rumours swirling at the start of the month, the narrative has flipped, entirely down to Mateta's performances, reminiscent of the striker that left Mainz 05 on loan a year ago rather than the forward restricted to a League Cup appearance.
There are clear advantages to adding Mateta permanently to the forward mix at Selhurst Park. Six and a half years younger than Benteke, for comparison sake, Mateta is still a couple of years away from his peak age and still has room to develop as a striker.
Limited in his exposure to Premier League football under Roy Hodgson, one of only four shots he took last season opened the scoring against Brighton and was a goal of the season contender.Yet, despite that impact against Brighton, there were plenty of question marks over what type of player Mateta was.
Height often pigeon-holes a striker into a particular playing stereotype. Listed at 192cm (6'4") in height, Mateta visually falls into the "target-man" category in stature, but not in his playing style.

This month, his recall into the team has given us a fairer assessment of his capabilities, with Patrick Vieira showing greater faith in him to lead the forward-three during Benteke's reduction in playing time.

Tactical Flexibility
The Christian Benteke era of Crystal Palace, Michy Batshuayi loans aside, had the team putting their financial resources and faith into a single player, a big deviation from the rotational approach that came before it.
The downside to having an annual outlay of £5-6 million in wages in one "star" player is if that player gets injured (see, Sakho), and the lack of diversity/available funds for the players in reserve.
The introduction of Édouard and his apparent versatility to play wide is getting a greater return on the investment this summer, as he has been able to play a greater number of minutes than if he was purely a Benteke-understudy.
Similarly, Mateta offers a different option in the attacking lineup to complement those around him. Those fans impressed with the French-Trio of Édouard, Mateta, and Olise can point to the interchanging passing and movement they offer, compared to the more static but aerial dominance of a Benteke-led line. This allows Patrick Vieira to change his approach based on an opponent's strengths and weaknesses.
As a link-up player, happy to drop into the "false nine" role when the side is in possession, but with the range to turn back upfield into the area, it creates spaces for other attack-minded players to exploit. Palace's tactical plan has almost entirely revolved around this concept. For example, Jordan Ayew holding wide to create a channel for Conor Gallagher to attack in the half-space.
That range was on display twice in the build-up of Palace's Greatest Team Goal™. Having to drop deep into Palace's half to retain possession and laying off to Marc Guéhi, Mateta quickly returned to the front to play a 1-2 with Joel Ward, holding off a Brighton defender in the lead-up to the goal.
Mateta, this time playing off the shoulder of the defender, was able to show off his deceptive pace against Liverpool. An excellently weighted pass from Schlupp set Mateta free from the back-line. Quick feet and decision-making saw him gift a chance to Édouard to draw the team back into the match.
It isn't a harsh criticism to say Benteke has lost the movement he displayed at Aston Villa, as time eventually catches up with all athletes. But for the two forwards Palace has chosen to invest in, both in their early-to-mid twenties, they have displayed enough pace to get in behind Premier League defensives, with signs of a good understanding as a partnership.
The Analytics

SmarterScout is a valuable tool to compare and contrast players. Not only do they "grade" players consistently across all leagues they cover, but they also benchmark these to the standard of the league you want. In Mateta's case, taking his final season at Mainz and adjusting it to the Premier League's strength.
Mateta's form in his final six months in the Bundesliga saw him score seven goals in twelve starts in the league but also sets a level of attacking quality he will want to get back to.
In terms of style, SmarterScout sees Mateta as falling into a link-up style, with decent, if not spectacular, ball retention. His attacking output this season, 60/99, is some way off his 83/99 at Mainz. Given the small sample size of minutes this year, it will take further games to get a clearer picture for Mateta, but the initial signs are still positive and above average.
Thanks to some Mihai Patrascu magic, you can see the comparison between these samples.

The largest differences between these two seasons show how Mateta has been used in a different role at Palace.
Despite shooting at much the same rate, Mateta spearheaded the Mainz attack with dribbling, carrying the ball forward for his team. That aspect of his game hasn't been on show under Patrick Vieira, but instead, much like Benteke, he has been a frequent target for his team in the opponent's area.
Team Outlook

This deal bodes well for Crystal Palace's ongoing rebuild. The club has managed to negotiate down from the figure originally in Mateta's loan deal to get good value for money, especially given how inflated striker prices tend to be.
The defacto third striker on what is likely reasonable but not excessive wages removes one squad need from Dougie Freedman's summer target list.
Big-name players steal the headlines and the minds of fans, but gradual improvements, investing intelligently in young players is key to long-term team-building. In this sense, Mateta fits this plan.