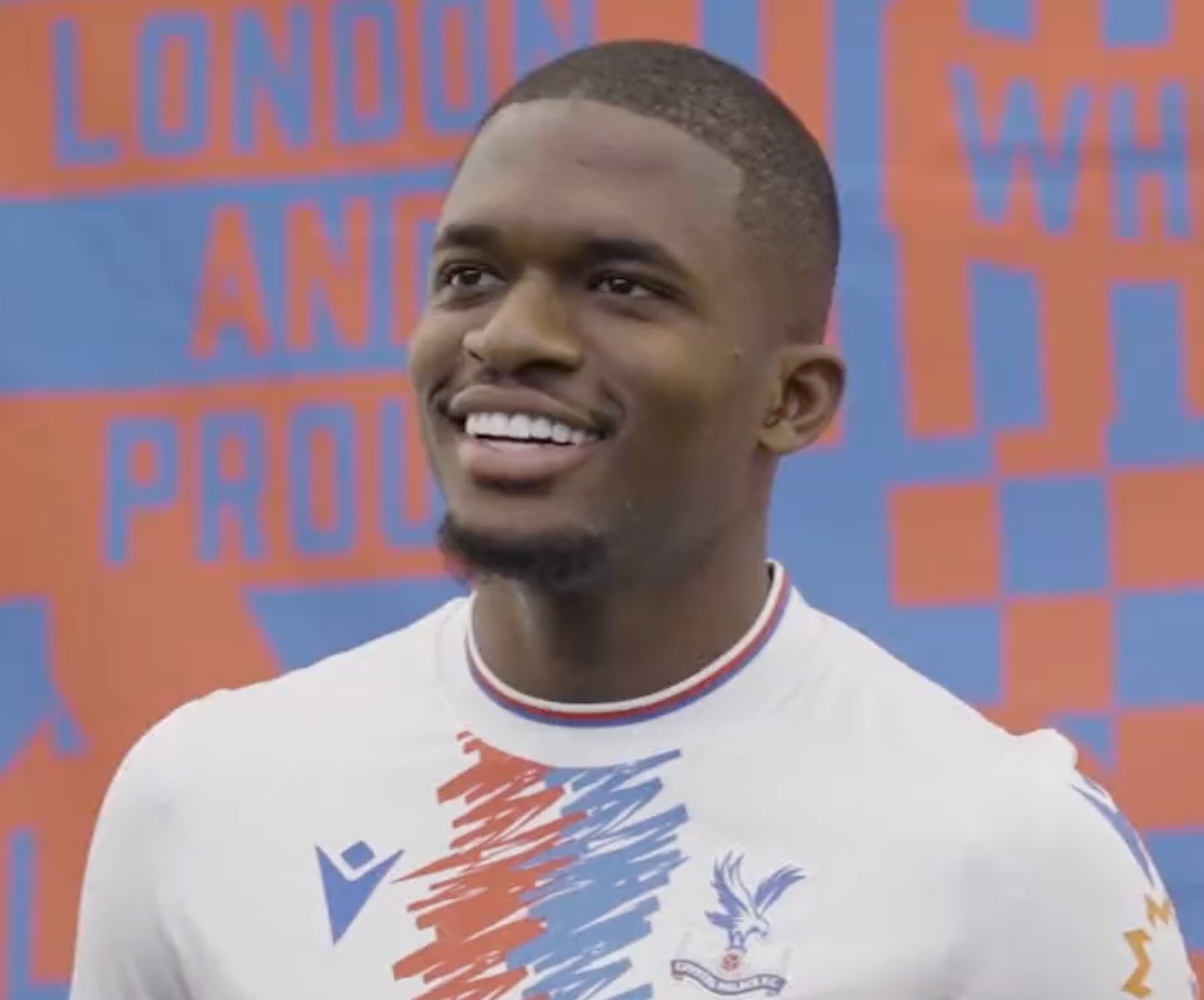 The transfer business this summer isn't expected to be on the scale of the last, as the club is in a squad refining stage rather than a rebuild, but the sizeable outlay on a 22-year-old midfielder shows his projected importance.
Palace is prioritising much younger talent now they have a manager playing them immediately and for the potential financial return, either in a re-sale or an extended stay at the club. Doucouré fits that blueprint and comes with excellent top-flight experience for his age.
If there is one genuine concern in the squad, it is the central midfield. From looking at Conor Gallagher at West Brom, it was clear that he was a ready-made engine room for the club, but he exceeded the most optimistic expectations as an attacking force.
It is simplistic to suggest Doucouré is a like-for-like replacement, and Palace may need two signings to restructure the midfield in a post-Gallagher world, but his skill set appears to be an excellent match for what is required.
The three former cornerstones of the midfield, James McArthur, Luka Milivojević and Cheikou Kouyaté, are either moving on or in reduced roles from now on, giving the club a blank slate to decide what type of talents they desire in that area.
Since promotion and preceding that, the team has always had designated defensive midfielders, such as Mile Jedinak or Kouyaté. That position or role will still need to be used in certain games, but the players able to fill it will need to offer greater versatility.
Doucouré has been that defensive midfielder for Lens, but the plaudits he has received from those covering Ligue 1 or those studying him ahead of this move is because he could be much more.
Cheick Doucouré, another great young talent signed by Crystal Palace. One of the best defensive midfielders in Ligue 1 last season! 👏👏

— Julien Laurens (@LaurensJulien) June 28, 2022
In Possession
Doucouré can be best described as a pass-first midfielder, when in possession, and positive in style. When looking at both facets of passing, it is a player operating in space or under pressure. Doucouré appears to be capable of working with both.
Rather than being a player that passes sideways, he plays with a positive mindset - Mainly looking for through balls in behind the defence, showing anticipation for the movement of his forwards.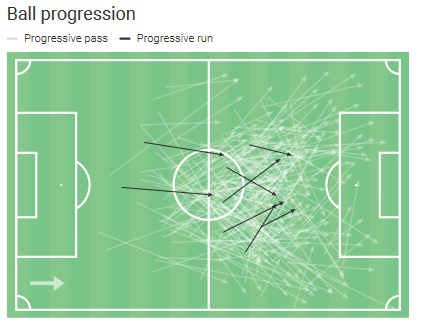 Consequently, Doucouré ranked 5th in Ligue 1 for progressive passes last season with 205, which Statsbomb registers when a pass moves the ball at least 10 yards closer to the opposition's goal.
In one of his many through-ball highlights, this time against OGC Nice, when given time and space, Doucouré was able to draw in opposition players whilst playing a weighted pass through to the striker.
Palace is fortunate to possess several good passing options already as a team, with both central defenders playing on the halfway line when the team is in possession. Joachim Andersen, in particular, has established himself as a premier passing centre back in the entire league. Adding another element to this forces teams to plan for another threat.
It is one thing to perform when given the freedom to attack the opposition, but can he function when contending with tight defending?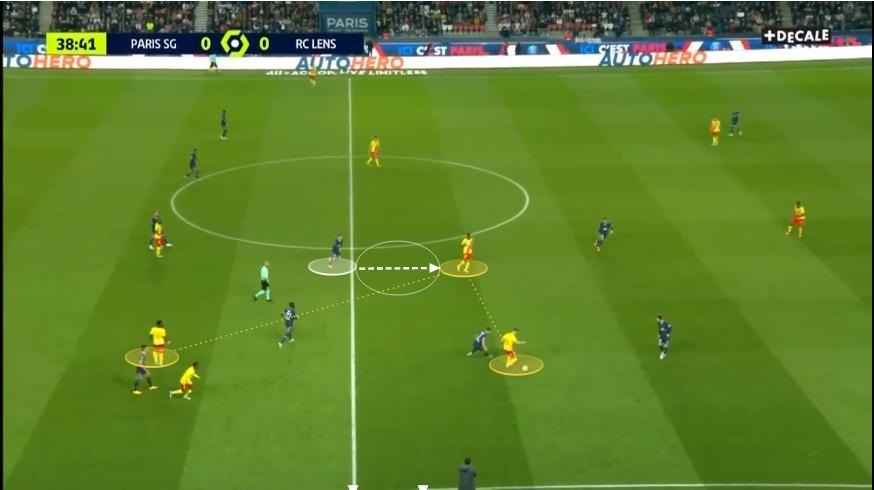 This example against the best team in France, PSG, shows some potential to do this. Under pressure from Marco Verrati, rather than simply turning away to retain the ball, Doucouré's vision was able to unlock the defence with an intelligent pass with the outside of his foot.
Given the strength of Palace's opening fixtures, assessed as being the toughest start of any side, Doucouré will immediately face some of Europe's finest midfielders. The expectation shouldn't be for him to be a top-level passing midfielder immediately, but the raw traits are certainly there.
Out of Possession
In either the potential 3-4-3/3-5-2 formations or the 4-3-3 Palace used last season, the midfield needs to be able to intercept and hold shape near the Palace penalty area but have the range to press or aggressively counter-press higher in the final third.
That second skill set would appear harder to find. No one in the Premier League had as many pressures as Conor Gallagher, total or successful, where the team recovered the ball within five seconds. Such was his stamina that he racked up 90 more than the next midfielder and in the equivalent of two fewer matches.
Tactics can impact the overall total pressure in a season, as seen in the low-block of Palace's previous managers. Doucouré, in a deeper role, hasn't had to cope with the workload expected under Vieira, but his success rate when called into action was at 36.2%, which is in the 95th percentile across the top leagues in Europe.
His track record of interceptions and tackles ranks high in Ligue 1 last season, and he displays good positioning ability. Much like he demonstrates good vision in possession, that translates well to reading the game defensively.
This part of his play is easier to project to the Premier League as he has a long track record of good performance, even at a young age. His aerial ability isn't that of a towering Kouyaté, which is part of the give and take of needing a mobile, young central workhorse.
In Summary
Cheick Doucouré has the tools to suit the Premier League's physicality and passing ability. Given that he doesn't turn 23 until January next year, he is still in the early stages of his development yet already has good first-team experience in a strong league.
Compared to suggested alternatives such as Harry Winks from Tottenham, he is a more economical option and, in a best-case scenario, one that could turn a profit or at least be a long-term asset for the club.
A single player won't be able to reinforce this midfield on their own, making it likely that Palace will need to invest further this summer or in the winter window. The attacking side of the game hinges on Eberechi Eze and his ongoing return from injury, but a natural pressing midfield would still be more than worthwhile.
The Palace fanbase is fortunate to have a range of content produced weekly. All opinions aren't exact, even if they overlap. We would recommend taking a look at Down to Ten's breakout on Doucouré or simply enjoy the highlights: