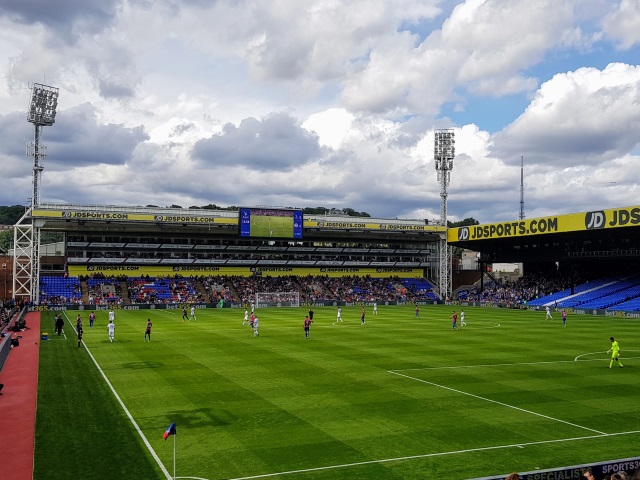 Crystal Palace's fixtures for the 2020/21 Premier League season have been released and they start against Manchester City. Thanks, fixture computer!
The new top flight season kicks off on Saturday September 12th having been delayed due to the Covid-19 pandemic that means the previous season was postponed for three months. Crazy times we live in.
The new season was supposed to already be underway - with a planned start date of August 8th - but we are still three weeks away from competitive football. The 20/21 season will end on Sunday May 23rd meaning there is less time to cram in the usual amount of fixtures.
And 19 days after that...Euro2020 will kick off, a whole year late.
Currently fans are still not allowed back to attend games meaning the 20/21 season kicks off in empty stadiums as the 19/20 season did when it resumed in July. The are reports fans will be allowed back in to watch games in October in seriously reduced capacity. What that means for Palace fans is still unknown.
Some rule changes for the 20/21 season: matches will go back to three substitues and seven on the bench allowed after the Premier League upped it to five subs and nine on the bench during Project Restart. Clubs voted against keeping that rule going into the new season meaning we're going back to the way it wa which is a blessing as the five sub rule really did favour the bigger teams with bigger squads.
Also referees will use the VAR screens more this coming season, going over to them for subjective decisions like goals, red cards and penalties. Another sensible decision shocker.
Full run down of Palace's 20/21 fixtures below...
September
Saturday, 12th: Southampton (H)
Saturday, 19th: Manchester United (A)
Saturday, 26th: Everton (H)
October
Saturday, 3rd: Chelsea (A)
Saturday, 17th: Brighton & Hove Albion (H)
Saturday, 24th: Fulham (A)
Saturday, 31st: Wolverhampton Wanderers (A)
November
Saturday, 7th: Leeds United (H)
Saturday, 21st: Burnley (A)
Saturday, 28th: Newcastle United (H)
December
Saturday, 5th: West Bromwich Albion (A)
Saturday, 12th: Tottenham Hotspur (H)
Tuesday, 15th: West Ham United (A)
Saturday, 19th: Liverpool (H)
Saturday, 26th: Aston Villa (A)
Monday, 28th: Leicester City (H)
January
Saturday, 2nd: Sheffield United (H)
Tuesday, 12th: Arsenal (A)
Saturday, 16th: Manchester City (A)
8pm, Wednesday, 27th: West Ham United (H)
Saturday, 30th: Wolverhampton Wanderers (H)
February
Wednesday, 3rd: Newcastle United (A)
Saturday, 6th: Leeds United (A)
Saturday, 13th: Burnley (H)
Saturday, 20th: Brighton & Hove Albion (A)
Saturday, 27th: Fulham (H)
March
Saturday, 6th: Tottenham Hotspur (A)
Saturday, 13th: West Bromwich Albion (H)
Saturday, 20th: Manchester United (H)
April
Saturday, 3rd: Everton (A)
Saturday, 10th: Chelsea (H)
Saturday, 17th: Southampton (A)
Saturday, 24th: Leicester City (A)
May
Saturday, 1st: Manchester City (H)
Saturday, 8th: Sheffield United (A)
8pm, Wednesday, 12th: Aston Villa (H)
Saturday, 15th: Arsenal (H)
Sunday, 23rd: Liverpool (A)
---