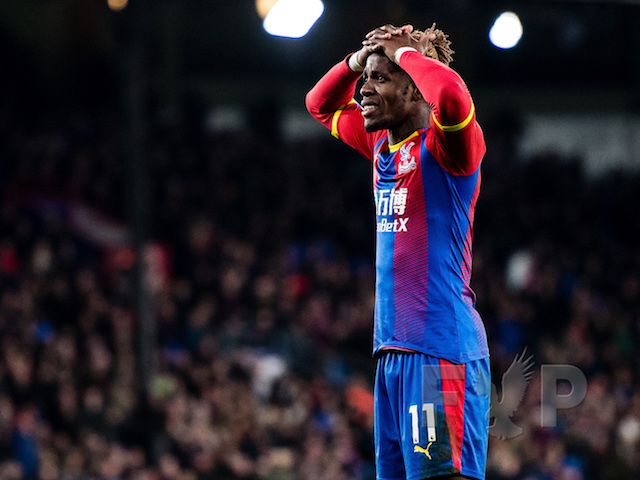 We all know how much abuse Wilf Zaha gets from opposition fans and players, it's almost got to pantomime villain levels where he seems to get it at pretty much every game even if he has zero history with that particular club or set of supporters.
They all now seem to know that booing him or booting him can wind him up to the point of fistraction or even land him in the referee's book, or worse, in the dressing room early.
But according to England legend Gary Lineker, players like Wilf should actually revel in some of the attention they get from fans and opposition players because it points to something very important.
Whereas Wilf seems to take every kick and boo as a personal afront, former Leicester, Everton Barcelona and Tottenham goalcorer Lineker, who retired more than two decades ago and now fronts Match Of The Day, saw it differently.
Wilf regularly tops the list of most fouled players in the Premier League but whereas he often reacts to having lumps kicked out of him, Lineker almost took the bruises as a badge of honour.
"If I was getting kicked and winning free-kicks, for me that was part of my job. If I'm getting fouled and kicked that's what I'm here for," he said while speaking of the challenges he faced as a player on the BLANK Podcast, convenitnely hosted FYP legend Jim Daly and author and Palace fan Giles Paley-Phillips.
"Free-kick? Ok, get in the box, might score."
COME SEE OUR LIVE POD: Tickets now on general sale for FYP's first ever LIVE podcast
Lineker didn't single out Wilf specifically but the advice really does ring true for Palace's no.11 as Lineker detailed how he coped with the more brutal elements of the game, and this was three decades ago when fouls really were fouls.
He added: "The times when it really hurt and you might be a bit irked where you roll around...well, not rolling...screaming on the floor for a bit and by the time the pain goes away your temper goes away as well."
That lack of a temper was seen as a quality for the striker, but he still took opportunities to complain at officials, something Wilf also has a decent ability for.
"I could moan at referees like anyone but I didn't abuse them. I wouldn't call them names I just moaned. I could moan. I was a moaner.
"Lots of refs would say 'you never stop moaning at us' I was like 'you never stop getting decisions wrong!'"
Lineker would tiptoe the line of decency towards officials and famously was never booked in a 16-year career, and would often manage to avoid getting booked for voicing his opinion....unlike Zaha.
Wilfried Zaha has been fouled hundreds of times. But never quite like this...@FootballCliches on Guendouzi's perfect, semi-apologetic, cynical foul.

— The Athletic UK (@TheAthleticUK) October 29, 2019
Most recently, Wilf's complaints to referee Mike Dean against Chelsea prompted a request for captain Luka Milivojevic to intervene.
"I was a bit of a whinger...but not quite enough to get a booking. I certainly don't claim to be a saint but there are worse images to have," he said.
Zaha is often singled out by opposing fans for abuse and derision, often in response to fouls, but Lineker says that abuse is typically a sign you're a player they're worried about.
"If they're singing and chanting about you it means they're worried about you. That was the way I used to look at it...or listen to it.
"So it was a good sign. If you're the player they're singing about on the opposition then you must be doing something right," he said.
We've seen Wilf get ridiculous and undeserved yellow and red cards for reacting to opposition players and fans widing him up but if he took the abuse with the water-off-a-ducks-back approach that Lineker did he could spend more time on the pitch making those players and fans pay for it the only way he knows how.
Gary Lineker spoke with the award-nominated BLANK podcast about his life, career and personal matters. Click here to learn how to subscribe.
Listen to the latest FYP Podcast here
---