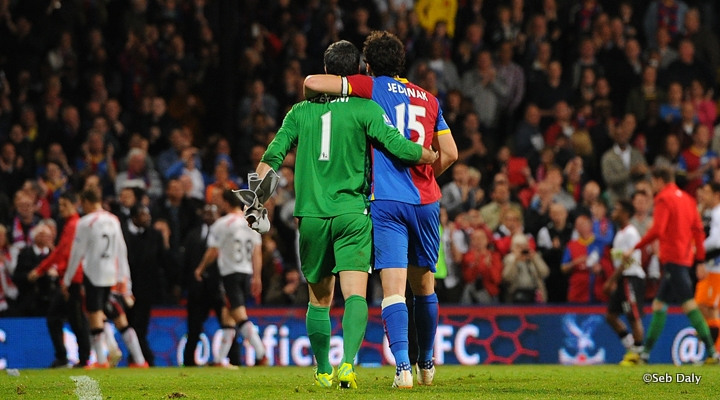 Julian Speroni continues to rewrite his Palace chapter with every remarkable save and every wonderful performance. He's a person of great character, wonderful integrity and true passion – a player that supporters have grown to love and a person that managers have continuously placed their trust in.
As #SperoniWeek draws to a close, Robert Sutherland was given the opportunity to meet with Julian over a coffee to discuss his thoughts on the club, the play-off wins against Brighton and Watford, his relationship with the fans and, most importantly, his ponytail.
So here goes...
FYP: How does it feel to be back in this situation that you found yourself in nine years ago, but this time being the number 1?
JS: It feels great. It's where every player wants to play. When I first signed for Palace I thought I was going to get a run in the Premier League but then Gabor [Kiraly] signed for us and he became No. 1 so I had to wait for my chance. Now, the way we've done it with promotion, it means a lot to me.
Would you say that this team is a better team than the one that you played in last season?
I said that before last season. I thought the team we had last season was one of the best teams we've ever had – even compared to our last Premier League team. The experience and togetherness, it was an amazing squad. Of course, we've lost Wilfried and Glenn to an injury so we need to repair that and bring new players in. But it's looking good. The team spirit is still there; the togetherness, hard work and mentality is still there. I don't see why we can't be one of the best Palace teams at least in the last ten years or more.
What was your abiding memory of the play-off semi-final against Brighton?
Play-offs are always exciting – but doing it against Brighton gave it a really special meaning. It made it double as special; for the players, for the fans, for everybody. It was fantastic, especially after a 0-0 draw at home as everyone thought we would lose – we were the underdogs. They wrote us off. Going there, believing in ourselves and knowing that we could win it – it was amazing.
When did you realise that Brighton were such big rivals?
The first time we played Brighton, the season we went down from the Premier League, I wasn't as aware of how big it was. It was only when they came up again to the Championship a few years ago that I realised how big a game that was.
So the play-off semi must have felt like a really important game?
Well the rivalry builds on you. Every time the fans see you they ask you about it. The circumstances are obviously different in the play-offs but I always try to think about the game. I play the game and not the occasion. That's what I always try to do.
In the play-off final, when you saved that shot from Troy Deeney, was it instinct? Can you actually remember doing it? It was such a blur...
Yeah, of course I remember it, but it was instinct. It's one of those saves where you just react – I was moving to my right and then I had to move to my left and I just managed to push it away. I remember thinking that I was actually trying to catch the ball but then I thought I wasn't going to make it. So I just had to push and stretch my hand out. The one against Brighton was very similar; where Ashley Barnes had a header and I just [gestures] pushed it against the bar. It was one of those things where you don't think – you just react to it.
When you watch it, do you think, 'wow, that was a really good save!'?
It looks a lot better on TV! [laughs] It always looks better on TV. Perhaps I should give myself more credit! [laughs]
Would you say that those two saves were your most significant ones?
For what it meant for the team, probably yes. They weren't perhaps the hardest saves I had to make but what it meant for the club. The other, third one is the one I made against Sheffield Wednesday where we needed to stay up. Again, it wasn't really because of the save but because of what it meant.
You've got a great relationship with Palace fans...
I think I'm a fan. I feel like a fan. Obviously I'm a player but I feel I'm part of the club. I enjoy it so much when we win and I feel sad when we lose.
Do you remember that brilliant banner the HF did?
Yeah. It probably wasn't the best idea to put it up before the game because it made me emotional, they should have done it after the game [laughs] but I can't thank them enough really. The appreciation they show me; every time I meet fans it's always amazing, the way they make me feel. There's only one way I can repay that, by performing on the pitch. They know I can make mistakes and I can play bad, but they'll know that I always play 110% on the pitch. And I really appreciate it.
Do you have any close friends in this Palace team?
No, to be honest we all get on really well with each other. Obviously, with the goalkeepers and trainers I have a very special relationship because we work together all the time. There's a special bond between us. It's a goalkeepers union.
With this team, you found yourself with three different centre-backs, Peter Ramage, Danny Gabbidon and Damien Delaney, all coming in after pre-season or just before the start of the season. Did you find that difficult at all? Was there any adjustment needed?
They adjusted really quickly. You need some time to get to know your teammates. When you've played together a few years it's probably a bit easier, but they're experienced players and they knew what to do. They've been fantastic since the moment they arrived.
You've also got Jose Campana on the team now. Is it nice to have someone Spanish speaking on the team?
Oh, it's great. It means I can practice my Spanish again, as I kind of forgot. [laughs] I'm helping him to settle in England. It's difficult for him because he's in a different country – when he goes outside and hears people talk, to him it's just noise because he doesn't understand. So I'm enjoying that.
You're starting your centenary...
Centenary?! Imagine it, 100 years at Palace. [laughs]
Oops! I meant ten years at the club next season. Did you imagine you'd be at the club for ten years when you signed?
No, no way! That's not common. It's something that players don't think they can achieve. It's almost a whole career. When I came here I signed a four year contract and thought that would be the end of my time at the club. I didn't plan it – things just went this way. And to be honest I'm really glad about it because I've had such a fantastic time.
How much longer do you think you'll be playing?
Well, I feel great. I've just turned 34 but I feel really great. It's a matter of fitness really; if your fitness starts dropping and you mentally lose the fight, it can be difficult. You have to get up every morning and work hard. But goalkeepers now work until they're in their 40s – right now I'm in a great place fitness-wise and mentally, so hopefully I have another five or six years left.
And finally, we've had questions about your hair. What led you to cut the ponytail off?
I think in ten years I've had about ten different styles. There wasn't a reason for it – well, I had a family and needed to grow up [laughs] – no, not really. I just did it for a change. I went back home to Argentina and I said to my wife, 'I'm going over the road, I'll be back soon.' I went across the road, came back and she was shocked. 'What are you doing?!' [laughs]
She liked it long then? Any thoughts of growing it back?
She did, and maybe, although I think I have a few too many grey hairs for that now. [Laughs]
---