To celebrate Australia Day we have dug an interview with Palace legend Tony Popovic out of the archives. This was published in FYP Fanzine Issue 54 back in February 2020.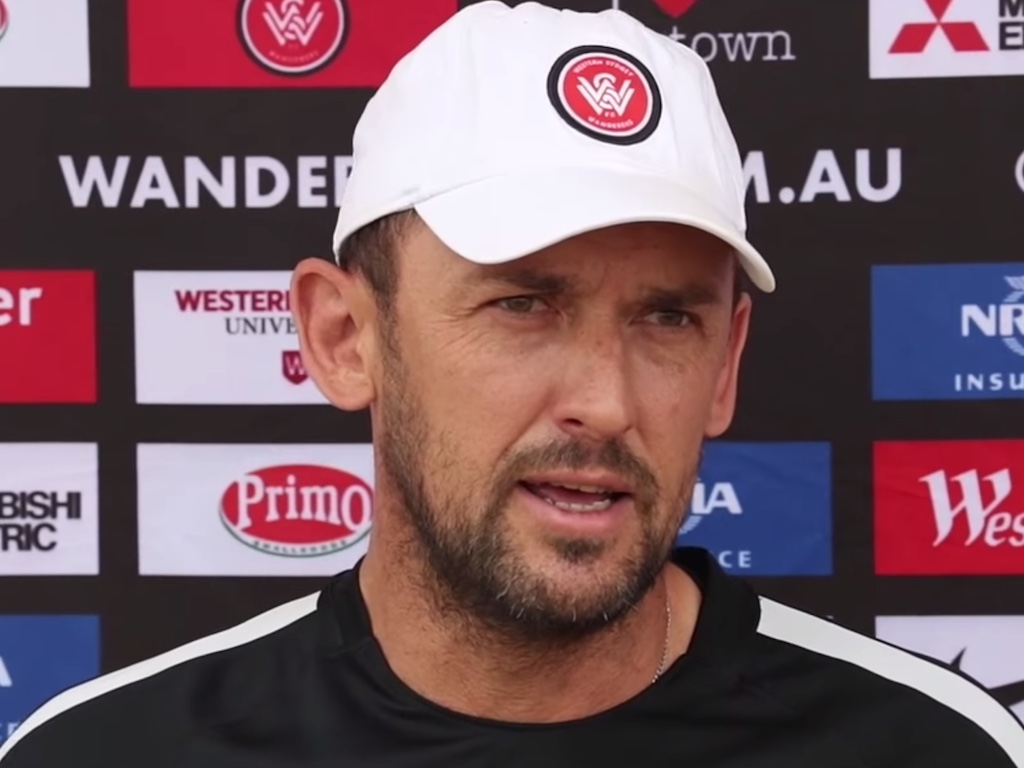 It's 11am on a November Friday morning and I've arranged to meet Tony Popovic. No need for an umbrella or rain mac though as I'm in Perth, Western Australia, and trying to find shade where I can to escape the blazing sun and temperatures pushing 40 degrees.
As I'm greeted by Gareth, Perth Glory's incredibly helpful Communications Manager whose arranged the meeting, at their training ground, I'm told the session ended earlier than anticipated due to the heat so we hop in the car to the club's offices, which also house the club's indoor training facility - useful on a day like this.
I'm asked to wait downstairs and before I know it, "Popa" wanders down the stairs with his hand out introducing himself. He might have stopped playing ten years ago but this is a guy who clearly takes great care of himself and hardly differs in appearance to the centre half Palace fans said goodbye to 13 and a half years earlier. A few quick questions about my trip later and we're on to Palace almost immediately.
Asked how he ended up at Palace, Popovic was quick to state the biggest influence in his decision to join Palace was Steve Bruce's appointment as manager. A name recognised around the world after his achievements with Manchester United, Bruce was given the nod about the Australian centre half by Ian Crook, a former team mate of Bruce's at Norwich City in the 1980s. Crook had played with Popovic at Sanfrecce Hiroshima a few years before, was aware of the defender's wish to challenge himself in Europe and was more than happy to vouch that the Australian could do more than just a job for Palace.
A move to Werder Bremen had been close for Popovic a season or two earlier but an unfortunately timed injury put pay to that opportunity. A move to Palace certainly wasn't considered a consolation prize and Popovic was delighted to have the chance to play in England and for a manager he rated highly as a defender. Although he could have asked for the advice of previous Aussie internationals who'd previously played in red and blue, Carl Veart, Craig Foster and Craig Moore among them, Popovic made the decision without consultation.
Fee and personal terms agreed, Popovic was still a madcap few weeks from being confirmed a Palace player. In order to receive the appropriate work permit to play in England, Australians were required to have played 75% of full internationals within the previous two years. Popovic applied for his work permit knowing he'd featured in 73% of such matches in that time frame and it likely that his initial application would be rejected. He remained confident the appeal would be successful and Palace were happy to wait as long as they got their man eventually. All well and good you might think but not when you throw into the mix a very heavily pregnant wife carrying their first child.
Waiting patiently for his appeal hearing to be heard as well as news of the impending new arrival, when his phone went Popovic couldn't be sure whether he was about to be given life changing news about his career or family life. It was news from the appeal and the good news that the Aussie had hoped for. No time to think too much about the impending move though as a call from his sister-in-law came almost immediately and it was time to dash to the hospital and welcome his first child into the world.
Popovic and family moved to South London a few weeks later and the defender found himself in the starting eleven almost immediately. His first few months at Palace were a whirlwind as he had joined a team heading to the top of the Championship playing some very pleasing football. Messrs Morrison and Freedman took a lot of the plaudits but Popovic was keen to make mention of Jovan Kirovski and the influence had at that time.
While many Palace fans still can't forgive Bruce for leaving in the manner he did, Popovic maintains sympathy for his former boss and intimated because of the team's good start to the season, transfer promises made at the start of the season hadn't been met. The full story or not, Popovic still speaks well of Bruce.
Embed from Getty Images
Such warmth wasn't offered to Trevor Francis. "Tough" was the answer to how the season and a half under Francis were for the players. I got the sense there wasn't much more to say or, at least, would be said so quickly moved on.
Popovic smiled broadly when asked about Steve Kember – "a lovely guy and a true Palace legend" – but the writing was on the wall after the 5-0 thumping at Wigan and the players knew full well he wouldn't be back at the training ground the following Monday after that. Iain Dowie's appointment brought a totally different approach and took players out of a comfort zone that was hindering the team's progression. The malaise built up during the Francis era had not gone but it didn't hang around long after Dowie's arrival.
The change in emphasis was welcomed by Popovic but he recalled that there was no mention whatsoever of a promotion charge and Dowie and the squad already had half an eye on the following season when it was considered a proper challenge could be mounted. Results picked up and wins like the 1-0 win at home against Gillingham, with ten men and after they had missed both a penalty and the ordered re-take, provided a sense that things were changing for the better, but still no mention of a promotion push. That changed one night at Millmoor.
A very hard-fought 2-1 win against a tough Rotherham team on a quagmire of a pitch combined with defeats for those above saw Palace sit just four points off the final play off positions. The likes of Popovic and Michael Hughes felt the time was right to make it clear to the rest of the players know the play offs were within reach and momentum the squad were feeling wasn't all that common.
We all know how that season finished but when talking about the superb run to the play offs, Popovic reminded himself of the final day of the league season. Coventry, who'd been on the beach since March, had appointed Peter Reid in the run up to the game ahead of the following season and a match that it had been felt would be rather simple task became much harder.
"All of a sudden, players were playing for their places in August", Popovic laughs and as the final whistle was blown at Highfield Road, the players thought they'd blown the chance only for the roar from the colourful away end to tell the players Brian Deane had saved the day.
Embed from Getty Images
The semi-final against Sunderland was hard fought and he remembers walking up with Darren Powell for the infamous corner knowing full well that it was the team's last chance. Thankfully it worked out the way it did and before he knew it, Popovic was arranging flights and tickets for family and friends so they could attend what was going to be the biggest day in his club career.
He remembers the game as if it was yesterday. Smiling broadly, Popovic recalls Palace's domination, the relevant comfort throughout the game and the fact he celebrated for a week with loved ones afterwards.
With time short and an afternoon session for Popovic to plan, we glossed over the 2004/05 season and so avoided the moral dilemma of whether I should ask about that goal at Fratton Park. Conversation about his final season at Palace focused on the end of the campaign and his biggest regret he has about his time at Palace.
"I wish we'd taken the 1-0 defeat against Watford… instead we chased… we left ourselves without any chance in second leg".
Within the club, it was known that the play off semi-final first leg was likely to be Popovic's last appearance at Selhurst but given the result, it was hardly appropriate for him to be adorned and spend time waving to fans he still has so much time for. Asked if he regretted that ending to his Palace playing career, Popovic shook his head – "That's football".
After hanging up his boots after spells in the Middle East and back in Australia, Popovic entered into coaching at Sydney FC. It wasn't too long before he'd find himself back in SE25 – this time as Dougie Freedman's Assistant Coach. He speaks very fondly of Dougie with the sort of joy that would indicate the two have a good friendship as well as a close professional partnership. Popovic's happiness when recalling his time coaching at Palace was clear, particularly when asked about one player.
"Wilf was terrifically gifted… so skilful… fantastic feet", boasted Popovic who then went on to say how much he loves to see one of his former pupils doing so well.
The spell as Assistant Coach came to an end when he was approached by A-League expansion club, Western Sydney Wanderers, to take over as Head Coach. It was an opportunity to good to turn down but remains grateful Palace provided no resistance after the approach had been received. He took to the new duties brilliantly.
In Wanderers' first ever season, they finished top of A-League, and the following season went on to orchestrate the greatest achievement by any Australian club side to date - winning the Asian Champions League. A competition dominated by powerhouses of South Korea and the Middle East – with significantly greater budgets than Australian clubs – it's very likely that Wanderers' achievement in 2014 remains the sole Australian success for at least another generation.
Embed from Getty Images
On the back of taking to the role of club figurehead so well at Wanderers, there was little surprise to see Popovic's name linked the Selhurst manager vacancy after the departures of Tony Pulis and Neil Warnock. However, Popovic explained that is was the first of those two vacancies, caused by Pulis' season-eve resignation that created the most in depth discussion with Palace powers that be. The club wanted a quick appointment but Popovic was located in China ahead of a crucial Asian Champions League quarter final and reluctant to leave the team on the eve of such a significant match for Wanderers and Australian club football.
Another factor was, with only days left before the transfer window closed, both the club and Popovic were concerned how required transfer dealings would be concluded with such a quick turnaround. In retrospect, the fact that Messrs McArthur and Zaha were brought to the club in those crucial days highlights just how precious time was at that stage.
When Warnock left, just three months later, conversations were had again between Popovic and the club but not to the extent of August's discussions despite the chairman of Wanderers publicly stating that the club would not stand in their manager's way should the Palace job be offered. Popovic, clearly a perceptive character, suggested that the deal to bring Alan Pardew in from Newcastle was clearly Palace's preference from the start and conversations with him no more than a contingency.
Popovic has since tested himself outside of Australia by taking the manager's job at Karabükspor in Turkey. That spell only lasted two and a half months and nine games as a result of madcap board politics but Popovic speaks fondly of the challenge. He made it clear that the experience has not put him off testing himself abroad again and if an opportunity presented itself in Asia, the Middle East or Europe, he'd certainly consider it.
For now, "Popa" is very content at Perth Glory. In 2019, he led the club to their first A-League Premier Plate but unfortunately the Grand Final was lost to Sydney FC on penalties. During my visit, in November, Glory hadn't started the new season especially well and the successes of the previous season looked a long way away. Positively, performances either side of Christmas have seen six wins on the bounce and Glory cementing themselves in the berths for the end of season play offs.
It was great to meet a figure still so fondly thought of by Palace fans so far away from home and as my time with Tony drew to a close, I asked for a summary of his time at Palace. His answer brought a huge smile to my face.
"The best".
N.B. Interview held in November 2019 and published in February 2020. Tony Popovic left Perth Glory by mutual consent in September 2020 to take over at Greek club, Xanthi.
---