Former Crystal Palace sporting director Iain Moody has lifted the lid on the text-gate scandal which ended his spell with the Eagles. He speaks exclusively to FYP's Matt Woosnam.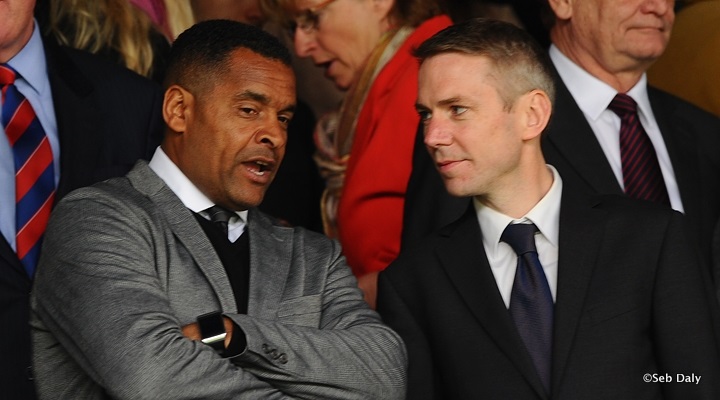 The 40-year-old joined Palace in October 2013, when the club was in the midst of searching for a new manager to replace Ian Holloway who left after a 4-1 drubbing at the hands of Fulham. But Moody lasted only 10 months, and he left the club following the leak of alleged sexist, racist and homophobic text messages and emails exchanged between himself and former Cardiff manager Malky Mackay which denied Mackay the opportunity to become Palace manager.
Whilst he offered no excuses for his behaviour, he sought to explain the reasons behind it.
He said: "I think football is an intoxicating environment, both as a fan and as someone who works there. It's a very strange world that I had 10 years of without a break. It's been quite nice in some ways to devote myself to my kids and my wife in the last four or five months.
"In life most people you meet are good people, there are some who aren't and never will be. I think good people sometimes do bad things. It doesn't mean that they are no longer good people and I think everyone has got something you can refer to in your own past to say why did I do that?
"I think we can all look back on experiences of reacting to situations in a particular way and thinking 'god there's no way I would do that again', or even as has happened to me, reading back things and not even recognising that it was me who said them, thinking… and I'm not denying it was me, but that's unrecognisable and it's not a reflection of where I am and what I stand for, and the education that I have had; and I don't mean necessarily formal education but upbringing.
"I'm the father of two young kids at the moment and it's become the most important thing in my life that there is a proper framework or behaviour and expectation for them to be good people. So there's a distortion. People get distorted then things that people do are interpreted in a distorted way."
Moody and Mackay are both subject to investigation from the Football Association following the texts. Proceedings remain active, and he was reluctant to discuss the situation but insisted he was keen to help the FA in any way he could.
He resigned from his position at Selhurst Park, and admits he considered it previously when other issues arose, including the allegations that he had obtained the Cardiff City team sheet prior to Palace's 3-0 victory at the Cardiff City Stadium in April.
"I was conscious throughout my time at Palace that there were various storms that occurred around me," he added. "I was conscious throughout my time there, it sounds contrite but the owners had been so good to me from the day I came in. The first day I met Steve [Parish] I was conscious that I didn't want to be a problem. It's got nothing to do with Palace really. I said to Steve on many occasions 'I don't want this ever to be awkward; if you think that the problem of having me here outweighs the benefit of having me here I will just go'. The story should never be about me, all the people who have done my job well in the past, no-one knows who they are."
He asks me if Dan Ashworth walked in would I recognise him, and although I know who he is talking about, I have to concede I do not know what the director of Elite Development for the FA, and former West Bromwich Albion sporting director looks like.
To emphasise his point, he adds: "Yet he is held up as one of the forebears of doing the job well. Nicky Hammond at Reading has been there for ten years and not many people would recognise him. I don't ever want to be the story, and I was my own worst enemy in that in some ways, and I would act differently if I did it again now.
"There was kind of an understanding that I'll just go, I'll just go. Steve throughout [the previous issues] was like 'no, no, no, I want you to stay, you're doing a good job, we need you.' But that was a little bit there and then. I didn't want Palace… they were looking for a manager at the time, the season had just started, transfer window open, there was a lot of stuff going on and I had become a story and I didn't want to be a story that impacted on Palace.
"So as soon as I knew what was going to happen in the press I spoke to Steve and said 'I will just go'. From this day I will just go and I won't bother you again, and that's kind of what happened."
"I was disappointed [to leave Palace]. I had a 10 fantastic months and I loved all the people. There's brilliant people everywhere at the club, it's quirky, it needs a bit of work, a bit of love but they've got absolutely the right people doing the right things for the right reasons, and it's not often I can say that."
Read the full interview in issue 42 of Five Year Plan, out vs Everton on 31 January and available around the ground at Selhurst Park.
---